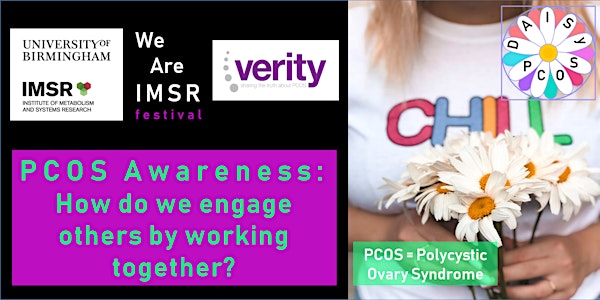 We Are IMSR: PCOS Awareness - how do we engage others by working together?
About this event
Join us for a special 1-hour workshop in collaboration with some of the DAISy-PCOS Leaders and Kristine Stacke, a charity representative from Verity - The UK PCOS Charity, as well as researchers working on the DAISy-PCOS research project in the Institute of Metabolism and Systems Research (IMSR) at the University of Birmingham.
We will discuss what polycystic ovary syndrome (PCOS) is and why it is important to engage other people on this important topic.
In particular, we'll explore Awareness Months and Events: We'll discuss what motivates people to take part in awareness-raising events and we'll even dream up ideas for how to engage others by working together in friendly and informal breakout discussions.
This is a free, event and all are welcome. We would particularly like to encourage people with polycystic ovary syndrome to join us, as we would love to hear your views and ideas for how to raise awareness and engage wider society on PCOS.
Schedule:
12:30-12:40 Welcome & brief background on PCOS
12:40-12:50 Examples from Verity - past & future
12:50-13:20 Brainstorming session where you can get involved and feed in ideas or just listen in if you prefer
13:20-13:30 Final thoughts and goodbyes
Sign up now and we look forward to having you join our ZOOM event on June 19th at 12:30 pm!