Refund policy
Contact the organiser to request a refund.
Eventbrite's fee is nonrefundable.
Inspiring speaker event hosted by Noisily X The Future Is Beautiful as we explore the theme WE ARE NATURE.
About this event
Featuring: Adah Parris, Bruce Parry, Charlotte Pulver, Chris Park & Jimena Paratcha (hosted by Amisha Ghadiali of The Future Is Beautiful)
Saturday June 12th - 5pm BST, 12pm EST
The recording will be sent to everyone who registers (so don't let timezone stop you!)
Theme: We Are Nature
The lives of every living organism on earth are magically interwoven, delicate energetic threads knitting our ecosystem together into a planetary intelligent super organism.
When we look deep enough within ourselves, the understanding of this truth is inherent to our very being. However, destructive patterns of behaviour stemming from separatism and duality – ego and greed – are threatening this fragile living network.
Now more than ever before, it is time to activate from within, opening ourselves to the innate wisdoms that surround us; to receive, feel and manifest this intelligence as our own networks become alive with resonating vibrations – soft healing power growing from the roots up, as nature intended. A new narrative we can all be part of.
`We invite you to reconnect with this ancient wisdom. To celebrate the interconnection of all living beings and our planets beauty and abundance. To recognise the importance of re-rooting, grounding and opening ourselves to the frequencies, intelligence and infinite potential of life.
To mindfully heal, regenerate and transform our living story.
Speakers:
Each of these speakers have been featured on The Future Is Beautiful podcast. They will each be present on the pilgrimage in Avebury, if you wish to join us live there. We have a small number of tickets available here.
Adah Parris: Futurist, Cultural Strategist, Systems Designer and Artist. A polymath and enthusiastic curator of people, patterns and stories. Her current interest lies in the anatomy of transformation and innovation, from ancient wisdom, natural systems and indigenous community practices to digital and emerging technologies. She has been longlisted as one of the Most Influential Women in UK Technology, as one of TED Talks Global Emerging Innovators and as one of the UK's Top 100 Black and Minority Ethnic (BAME) Leaders in Technology.
Bruce Parry: Film maker, Explorer and Journeyer. Bruce has been making documentaries now for a couple of decades. What started out as a simple desire for adventure developed into a deep love for humanity and nature, and the kind of response that comes with having seen first-hand the affect our way of life is having on the world. Bruce has lived with indigenous peoples the world over and has undergone male rites of passage with many of the tribes he visited.
Charlotte Pulver: At the heart of things is a modern day alchemist and change maker; being born into the Pulver lineage of apothecarians. She has a background in natural healthcare, studying and practising various medical systems of healing for 20+ years. Her love is rooted in making medicines for people which she sells through 'Pulver's Apothecary'. She has been hosting water ceremonies and pilgrimages for many years; currently writing a book on London's springs and wells, and helped co-found The Fellowship of the Spring, a group championing water guardianship in the British Isles.
Chris Park: As a druid priest Chris has worked as a celebrant, teacher & guide. With different hats on he is a professional storyteller, musician & ceremonial piper. Steeped in British & European folklore his life and work ranges from arts and craft, ancient technologies & eco-building to apitherapy, educational projects, ceremony & pilgrimage. A prolific beekeeper, he is often seen extolling the virtues of bee products, mead and the traditional honey drinks of this honeyed isle.
Jimena Paratcha: Transformative Events Producer and active Community Leader. As Founder of Action for Brazil's Children's Trust, Jimena guided the NGO to become a founding partner of Street Child United, a global platform voicing the rights of young people at risk around the world. After 20 years working in the social justice sector, Jimena turned towards the emerging environmental crisis campaigning for Fossil Free Sussex and Ecocide Law. Jimena has nurtured a keen interest in diverse healing and energy-work modalities becoming initiated into the Siddha Kundalini lineage and Nature Mysticism of Andean Peru. She bridges Indigenous traditions in the UK as a Guardian of the Yawanawa, Huni Kuin and Tukano people of Amazonian Brazil and is a partner of the Akasha Retreat Centre in Rio de Janeiro, a trustee of TreeSisters and a founding member of Friends of the River Medway.
Amisha Ghadiali: facilitator and host of the globally acclaimed podcast The Future Is Beautiful. She is interested in where our inner and outer worlds dance. She also works one to one with her Beautiful Leadership Mentoring programme which supports the transforming of unconscious patterning, opening up new qualities within and anchoring daily practice and rituals which support a lifestyle that recognises the sacred, the importance of intuition and creates deeper connection and embodiment of what this time calls forth in us. This is accompanied by The Beautiful Leadership Immersion which covers themes including decolonisation, vision and edgewalking. Amisha wrote a book called "INTUITION" during the global lockdown of 2020 which was recently published by DK Books.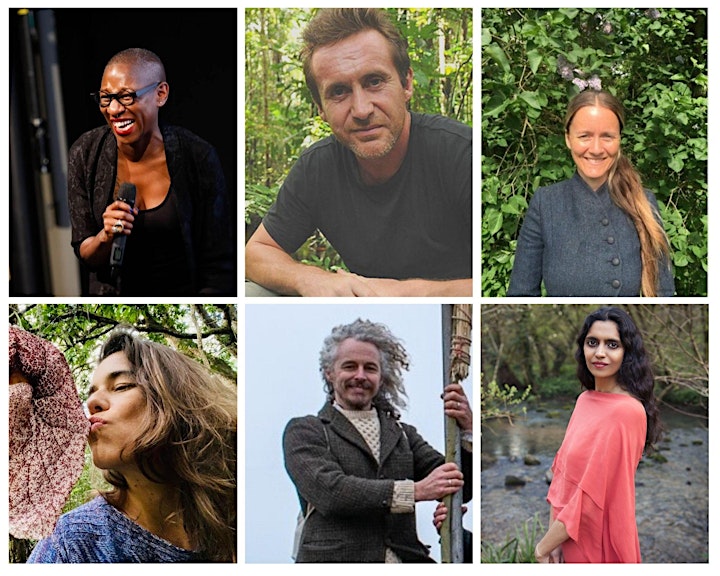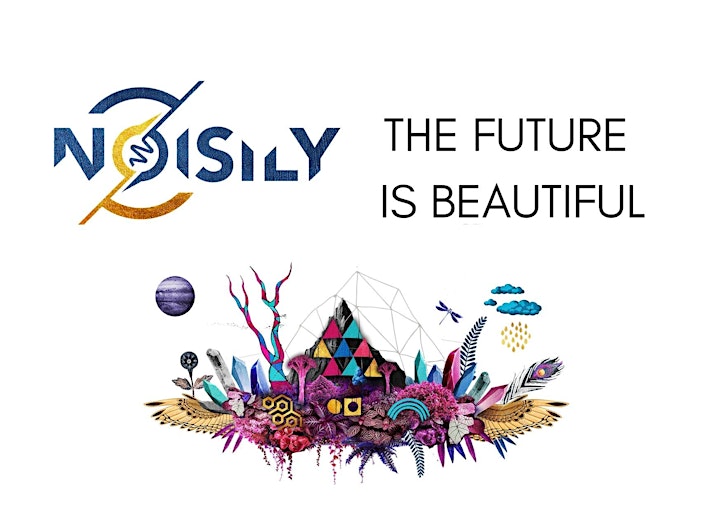 This event is being hosted by:
Noisily:
Noisily is a festival that celebrates the individual, cultivates understanding in the collective, and explores what it means to be human in today's World.
Grounded in 5 core pillars (Inclusion, The Environment, Wellness and Education, Community and Creativity), we strive to stand on the edge of knowledge, and to share that knowledge and information with the intelligent, open minded people who come to the Coney Woods each July and join our festival family.
The theme of the Mind Body Soul area of the festival this year is WE ARE NATURE.
The Future Is Beautiful:
How will you create beauty in the world?
The Future Is Beautiful is a podcast and community that explores the most necessary and complex questions of our time. From healing trauma to birthing vision to new technologies to ancient wisdom - it's time for us to move beyond silos and into an integrated way of being.
On the podcast we explore the weave between activism, the sacred, creativity and regeneration. The people, projects and ideas we meet here are challenging the dominant world story and creating a beautiful future.
Beyond a podcast, our focus is on fostering a global community embodying the wisdom that lives in all of us. We host experiential events, online courses, and have a collaborative book.