Description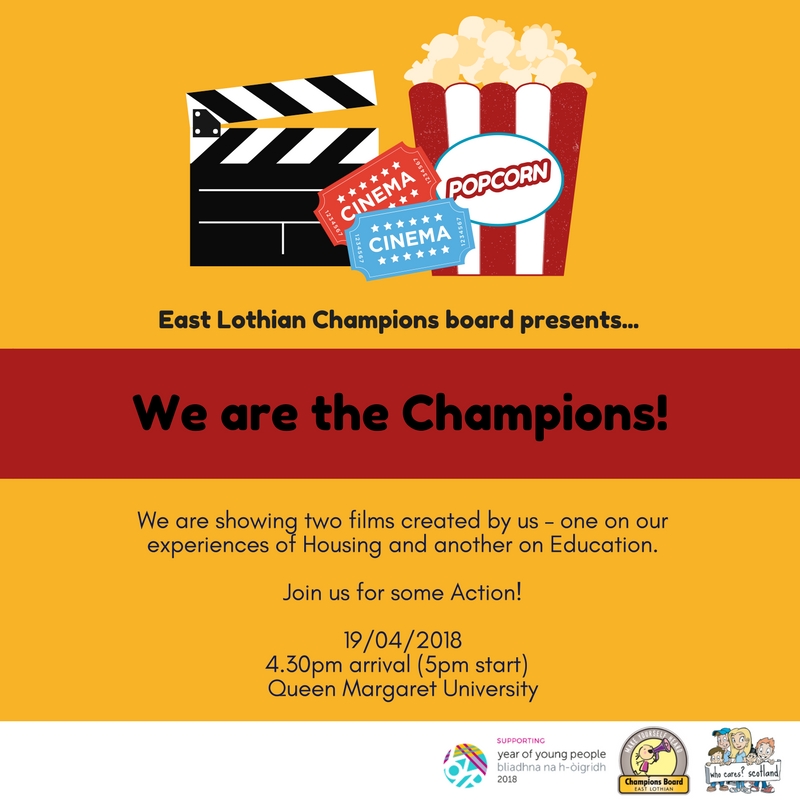 East Lothian Champions Board Presents: We are the Champions!
The amazing young people of East Lothian's Care Experienced Champions Board invites you to our upcoming Year of The Young People 2018 supported, red carpet style film premiere 'We are the Champions'. After the showing of the films you will hear from our wonderful guest speakers, then followed up with a drinks reception and a chance to find out what other Care Experienced young people from the South East have been getting up to. The young people will take to the stage along with our corporate parent ambassadors to showcase the two short films the Champions made with the help of Graham Drysdale from Queen Margaret University, which touch on issues relating to Education and Housing, and how these issues affect Care Experienced young people. We will also be using this event to present all the hard work and successes our Champions Board has put in and achieved since we became active campaigners influencing change for Care Experienced young people in East Lothian and in Scotland
After the premiere, we will be using the videos to educate corporate parents from Education and Housing by showing them at workshops we have planned for the rest of 2018.
**Confirmed Guest Speaker- Bruce Adamson (Children and Young People's Care Commissioner)**
This event is a casual event, which means suits aren't mandatory!
There are limited space for tickets unfortunately - so please be mindful when signing up for tickets if you are unsure if you can commit to attending our amazing event.