WE CAN DO BETTER THAN THIS - BOOK LAUNCH - Voices on the Future of LGBTQ+ Rights. with Amelia Abraham, Shon Faye, Yasmin Benoit, Adam Eli
About this event
WE CAN DO BETTER THAN THIS - DIGITAL BOOK LAUNCH
Join us for celebration, conversation, and readings (over Zoom)
Tuesday June 22nd, 6.30 pm – 8 pm, UK time
Hosted by Shon Faye, featuring Amelia Abraham, Yasmin Benoit, Adam Eli, and more
In partnership with Gays The Word and Vintage Books with donations and funds raised in support of The Outside Project
Below is the zoom info you need to attend the event on Tuesday. Please do still book for the event and - should you wish to - hit that DONATE option and join all the other people who have so kindly given to the Outside Project. Thank you!
The event kicks of at 6.30pm UK time. Please don't join the webinar before 6pm or you'll get an error message. Join after 6pm and you'll see a 'waiting to start' message until we go live.
Attendee link
When: Jun 22, 2021 06:00 PM London
Topic: We Can Do Better Than This - Launch Event
Please click the link below to join the webinar:
https://zoom.us/j/95112672615?pwd=bnFhTkRlWjJ3aE5QRWVCYXJpRTVmdz09
Passcode: WCDBTT
We talk about achieving 'LGBTQ+ equality', but around the world, LGBTQ+ people are still suffering discrimination and extreme violence. How do we solve this urgent problem, allowing queer people everywhere the opportunity to thrive?
In We Can Do Better Than This, 35 voices explore this question. Through deeply moving stories and provocative new arguments on safety and visibility, dating and gender, care and community, they map new global frontiers in the fight for LGBTQ+ rights.
Moving from the UK and USA to Russia, Bangladesh and beyond, this is a guide to understanding the crucial issues facing LGBTQ+ people today. But it's also a passionate call to action and an important manifesto for how - together - we can start to create a better future.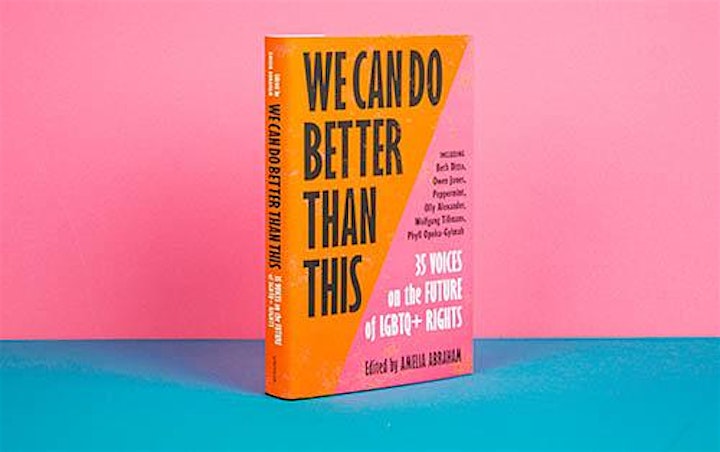 'Carefully considers and tries to find solutions to the issues of repression and violence facing LGBTQ+ people across the world . . . This is a book that aims to break down prejudices and understand the root problems and how to solve them. Moving, personal and political.' - Stylist
'This powerful collection of essays brings together an array of vital voices reflecting on LGBTQ+ equality . . . This book is a pressing and necessary call for progress in LGBTQ+ rights.' - Porter, 10 Motivational Books to Inspire Change in 2021
So please join us online on Tuesday June 22nd from from 6.30pm to discover more about this vital new book, to hear from some of the powerful voices it contains and to take part in this important on-going discussion.
Simply register for the event either for FREE or by selecting to donate an amount of your own choice to The Outside Project. We'll then send you a confirmation email and folllow-up with details of how you can further support this charity and the book. A link to the zoom webinar will be sent to you 48 hours prior to the event and then again just beforehand.
The Outside Project is an LGBTIQ+ Community Shelter, Centre and Domestic Abuse Refuge in response to those within the LGBTIQ+ community who feel endangered, who are homeless, 'hidden' homeless and feel that they are on the outside of services due to historical and present prejudice in society and in their homes.
In addtion, for every online order for We Can Do Better Than This placed though Gay's the Word's website from June 7th to June 25th Gay's the Word bookshop will be donating 10% of the cover price to The Outside Project
We Can Do Better Than This is edited by journalist and author Amelia Abraham
Shon Faye is a writer, presenter, editor, journalist, artist and comedian and author of a forthcoming book, The Transgender Issue
Yasmin Benoit is a British Model, writer and Asexuality Activist and the creator of #ThisIsWhatAsexualLooksLike
Adam Eli is an American activist and writer known for his work in LGBT activism. His first book, The New Queer Conscience, was released in June 2020
They are just some of the contributors to We Can Do Better Than This, which also includes writing from:
Peppermint - Wolfgang Tillmans - Olly Alexander - Jonathan Anderson - Pabllo Vittar - Naoise Dolan - Amrou Al-Kadhi - Shura - Beth Ditto - Owen Jones - Riyadh Khalaf - Tom Rasmussen - Mykki Blanco - Phyll Opoku-Gyimah - Travis Alabanza - Mazharul Islam - Kate Bornstein - Fox Fisher - Hanne Gaby Odiele - Sasha Kazantseva - Andrew Gurza - Holland - Levi Hord - Juliet Jacques - Leticia Opio - madison moore - Matthew Riemer (@LGBT_History) - Vincent Desmond - Juno Roche - Bobbi Salvör Menuez - Carl Siciliano
Organiser of WE CAN DO BETTER THAN THIS - Launch Event