We, From Kronstadt | Films of 1936

Tuesday, August 27, 2019 at 8:30 PM (BST)
Event Details
We, From Kronstadt (1936)
by Efim Dzigan

88 mins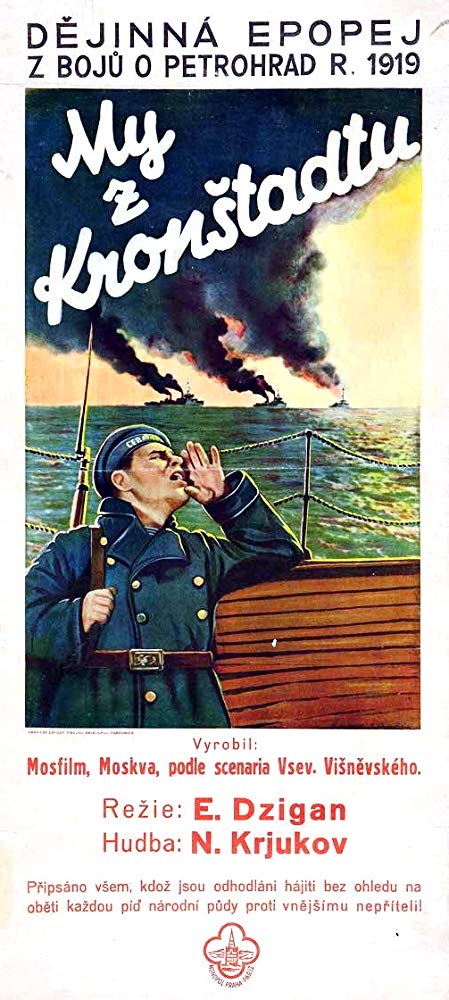 A unit of sailors from coastal Kronstadt is mobilized to defend Petrograd from the White seige against it. This confrontation underscores the contemporary need for Soviet vigilance against current enemies. 
My iz Kronshtadta was written by Vsevolod Vishnevsky, who at 17 had fought in the First World War and, as a Red, in the 1917 revolution and subsequent civil war. Efim Dzigan's strikingly beautiful film owes much of its authenticity to the experience that informed Vishnevsky's script. However, Dzigan's filmmaking also is wonderful.
Consider the Baltic Sea approach of the White vessel to Kronstadt: three shots, beginning with a long-shot of the ship, followed by progressively closer shots of it. The ship appears to move effortlessly screen-right throughout the sequence; stealthy silence further renders the movement dreamlike. The camera does not move, and therefore the ship's progress becomes an invasion of space: an eerie and powerful evocation of the idea of invasion as well as an action suited to that idea. 
Many other scenes are equally memorable: the Kronstadt detachment and other Red warriors sleeping on the floor and steps of the children's home, and they and the young children interacting the next morning; the advancing singing battalion, their voices struggling against the din of gunfire (thus associating the Reds with art and its affirmation of life), with the added poignancy of the death of one of them—a final stilling of his voice; the drowning murders of all but one of the captured sailors, each with a heavy rock tied to him and his hands tied behind his back, some pushed from a ledge into the sea, others electing to drop of their own accord; their caps washing to shore; dressed as a woman, the sole survivor's rowing to Kronstadt against a turbulent tide; the tracking shot of an expanse of slaughter; the Red band playing music as battle rages; the final battle, with Reds marching and cowardly Whites (in contrast to Reds earlier) leaping to their deaths into the sea. The film ends as one marching sailor asks aloud of all Soviet enemies, "Who will take Petrograd now?"—a stirring finish to an irresistible film. 
---
  The film starts at 8.30 PM
_
Please do not eat in the cinema.
_
Please DO NOT book a seat if you are not sure of your availability. Seats are limited and each booking reduces the number of seats available to others. If you cannot attend, please cancel your reservation as soon as possible by going to "MY TICKETS" on the email from Eventbrite; this will release your seat to someone else.

If the film is SOLD OUT, there will be an automated waiting list, which will contact you if/when a seat becomes available.
_

Upon leaving the cinema, please make a donation towards our running costs and support your club. 
Thank you!
_
Save This Event
When & Where

Sands Films
82 Saint Marychurch Street
SE16 4HZ London
United Kingdom


Tuesday, August 27, 2019 at 8:30 PM (BST)
Add to my calendar
Organizer
Sands Films Studio is a film production facility servicing films and TV since 1975. The Studio is also home to The Rotherhithe Picture Research Library which is an educational charity providing a free visual reference library to designers and students. Since 2005 Sands Films Cinema Club has provided regular programmes of film screenings and live events with a non-commercial agenda of culture, education and politics. Most screenings are free and supported by donations, subscribers and shareholders. Visit Sands Films website to discover ways of getting involved with Sands Films.