About this Event
❤️ We Love Soul & Active Love presents… A January Payback Party Featuring Special Guest PA By 🎤Janet Kay "Queen Of Lovers Rock" ❤️💛💚 On Saturday, January 25th 2020, at the fabulously gorgeous and classy Trent Park Country Club.
Featuring a mixture of We Love Soul resident 🎧 DJ's, alongside regular and new guest DJs including 🎧 Smoove Grooves 🎧 DJ Flip celebrating his birthday. Also, Doreen will be hosting her earthday celebrations on the night!
****SPECIAL GUEST PA******
Come and kick start the New Year with our Special Guest PA for the night none other than 🎤 Janet Kay 'Queen of Lovers Rock' performing 'Silly Games'!
After making an initial impression at friends band rehearsal, Janet was introduced to the reggae legend, the Late Great Alton Ellis. That meeting resulted in Janet recording a cover version of Minnie Ripperton's 'Loving You' (produced by Alton Ellis), which became a reggae smash hit spending many weeks at No.1 in the reggae charts.
The following year, 1978, saw Janet record 2 more cover versions, 'I Do Love You' and 'That's What Friends Are For', again, both spending weeks at No.1 in the reggae charts.
In 1979, Janet made history by becoming the 'First British born Black Female Reggae Artist to have a No. 1 in the British Pop Charts' – Music Guinness Book of Records. The song 'Silly Games', (produced by Dennis Bovell) was a hit not only in the UK but also in Europe.
Janet's songwriting prowess became evident on the release of her first album 'Capricorn Woman'. The album was and still is a best seller. All the songs except 2 were penned by Janet Kay.
In recognition of 4 decades of hard work and service to the British Black Music sector, in particular for popularising Lovers Rock globally and putting Brent on the musical map.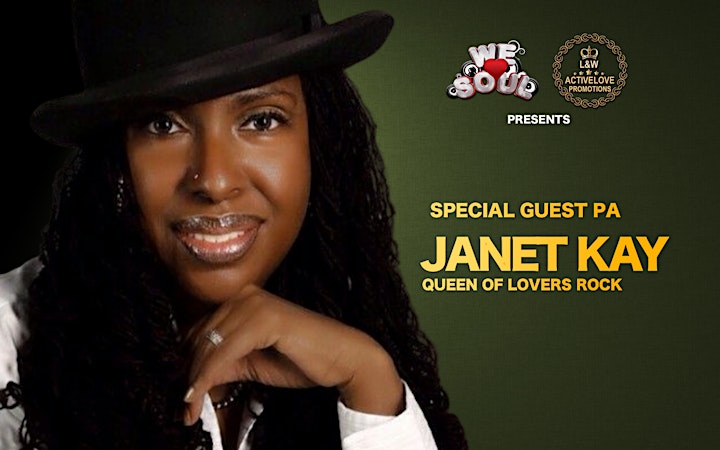 ****DJS IN ATTENDANCE ******
🎵🎶🎵🎶🎵🎶
80's SOUL / 90's R&B / PARTY ANTHEMS / SOULFUL HOUSE / REGGAE
🎧 Bigger | Sammy Confunktion
🎧 Sticko Zaza | Antonio Pascal
🎧 Aitch B | DJ Ratty
🎧 DJ Flip
🎤 Hosted By: Champain
Advance Tickets £10 / £15 OTD
Free Buffet 9-11 pm
Dress Code: Smart & Stylish
Over 25's – PHOTO ID ESSENTIAL
@ Trent Park Country Club
Bramley Road
London, N14 4UW
⏰ Time 9 PM – 4 AM
NEAREST UNDERGROUND STATION
OAKWOOD – PICCADILLY LINE (24HRS)
FREE ON-SITE CAR PARKING
For More Information, Birthday & Group Bookings Contact:
☎️ 07836 383222: WE LOVE SOUL
☎️ 07740 173380: ACTIVE LOVE
ABOUT THE VENUE – TRENT PARK COUNTRY CLUB
Trent Park Country Club offers a unique and premium restaurant, bar and event space. There's a stunning new and exclusive restaurant 'Lily's Lounge' where you can relax in comfort and choose from a carefully-created and indulgent menu that brings together an elegant fusion of Asian and British dishes. It is perfect for brunch, lunch and dinner.
The bar is open until late and stocks everything from specially-selected house wines to premium champagnes such as Cristal. It offers a wide drinks selection, including both classic and our own innovative cocktails.
We look forward to seeing you there.
______________
We Love Soul is one London's most popular over 25's soul nights out!
Beginning in May 2009 as a monthly session. The night was specifically formulated to appeal to an over 30's clientele who were still seriously in to getting out and partying to quality dance music. The nights featured; Soulful House & House Classics, Soul, Funk, Disco, Boogie, Rare Groove every 3rd Saturday of across two floors in Shoreditch.
In May 2010 the event moved to Hidden in Vauxhall, where the availability of three rooms, instead of two allowed the night to expand its music policy to encompass R&B, Swing, Party Anthems and Reggae. Also to add variety to the proceedings the musical configuration the rooms were rotated so one event's Soul, Funk, Disco & Boogie room would be another event's Soulful House or R&B room
To date we have incorporated regular live performances to many of our events; ranging from great soul legends from the States to the very best homegrown UK talents i.e. Evelyn 'Champagne' King Lillo (USA) / Thomas (USA) / Omar / Don-E / Juliet Roberts / Rose Windross (Soul II Soul) / Shaun Escoffery / Leroy Burgess (USA) / Howard Johnson (USA) / Kenny Thomas / Mick Murphy (The System) (USA) / Pauline Henry (The Chimes) / Loose Ends / James D-Train Williams (USA) / Shea Soul / Junior Giscombe / Michael Watford (USA) / David Joseph (Hi-Tension) / Ingrid Mansfield-Allman (The Voice of Southern Freeze) / Phil Fearon … to name just a few. We Love Soul prides itself on providing top quality musical entertainment and strives to ensure that the DJ's avoid playing the cliché, run of mill tracks that are heard far too often.
The DJ lineups regularly include (on a rotational basis) an array of some of the UK's most reputable DJs such as; Paul Trouble Anderson / Aitch B / Mastermind / Sammy Confunktion / Bobby & Steve / Jigs / Fitzroy the Buzzboy / Clemy Riley / Jazzi Q / Gordon Mac / Bigger / Neil Pierce / DJ Vbyz / Sy Sez / Norris Da Boss Windross / Stumpi / Johnny Reckless / Dezi D / Victor Anderson / Sitcko Zaza / Mike Gee/ Jerry Bascombe/ Steve Sutherland…and many more...
_______________
CONNECT WITH US
Follow Us On: Instagram
Follow Us On: Facebook
Follow Us On: Twitter
Subscribe On: YouTube
Follow Us On: SoundCloud