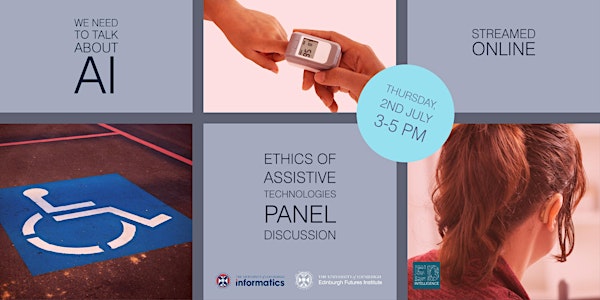 We Need To Talk About AI: Ethics of Assistive Technologies
Sixth in a series of public discussion, this event will be streamed live - https://www.youtube.com/watch?v=02UhnG5cUbk&feature=youtu.be
About this event
From hearing aids, pills dispensers, mobility devices to screen readers and voice recognition software – assistive technology is widely used these days. It allows people to live healthy, productive, independent, and dignified lives. According to WHO, over 1 billion people worldwide need 1 or more assistive products. By 2030 more than 2 billion people will need at least 1 assistive product due to ageing global population and a rise in noncommunicable diseases.
Artificial Intelligence is poised to provide excellent opportunities for new assistive technologies. There are, however, ethical implications of such technologies. Privacy and ability to give consent are among some controversial issues, along with reducing human contact and contributing to the loss of skills.
Our panel will discuss a broad range of innovations in assistive technology for assisting with physical disabilities, autism and other developmental conditions, long-term neurological conditions such as Parkinson's and dementia, mental health, care in old age and learning difficulties. What are the ethical and design considerations for such assistive technologies? And how will they develop?
Come and join the discussion.
This event is co-organised by EdIntelligence (Machine Learning Society), School of Informatics, University of Edinburgh and Edinburgh Futures Institute.
Panel
Anja Thieme
https://www.microsoft.com/en-us/research/people/anthie/Frank Brozhttps://researchportal.hw.ac.uk/en/persons/frank-brozCarol Chermazhttps://www.enrich-etn.eu/users/carol-chermaz/Verity Ward
http://acornsnetwork.org.uk/
NB. This event will be streamed live, and may be recorded.
➡ More info about the series: https://www.ed.ac.uk/informatics/news-events/public/we-need-to-talk-about-ai
➡ More info about this event: https://www.ed.ac.uk/informatics/news-events/public/we-need-to-talk-about-ai/ethics-assistive-tech
​