A week-long event for Talking the Truth about Racial Equity in Global Development.
About this event
THE EVENT FOR TRUTH TELLING IN GLOBAL DEVELOPMENT
We Need to Talk: Talking Truth on Racial Equity in Global Development is a week-long event hosted by the Racial Equity Index on the one year anniversary of the formation of our BIPOC-led Collective.
From 28 June to 3 July, we are coming together to host a series of conversations on the reality and impact of racism in global development. Hear from anti-racist, experience-led, and restorative justice activists and leaders of the sector and the members of the Racial Equity Index collective throughout the week. From Monday-Friday, the Racial Equity Index will convene a series of 1-hour conversations presenting the work of the Collective and findings of our Global Mapping Survey, along with our observations about the realities we faced as we have set about building the first ever BIPOC-led and created Index for racial equity in global development; challenges shared by all those who seek to create transformative change in this space. On Saturday, the Racial Equity Index will host a 4-hour long conference, with the first hour a healing space open only to those identifying as BIPOC and the 3 remaining hours open to all for discussion, reflection, acknowledgment, and accountability on the deep, pervasive, systemic, and intentional racism in the global development sector and how we can work collectively to dismantle it.
Hold Space. Be Anti-Racist. Be Accountable. Reflect. Listen. Learn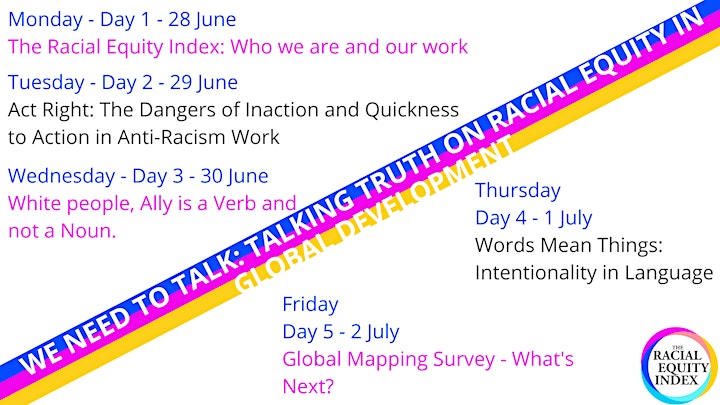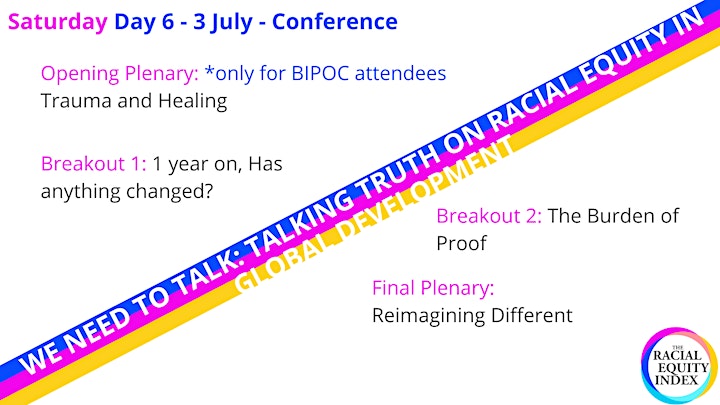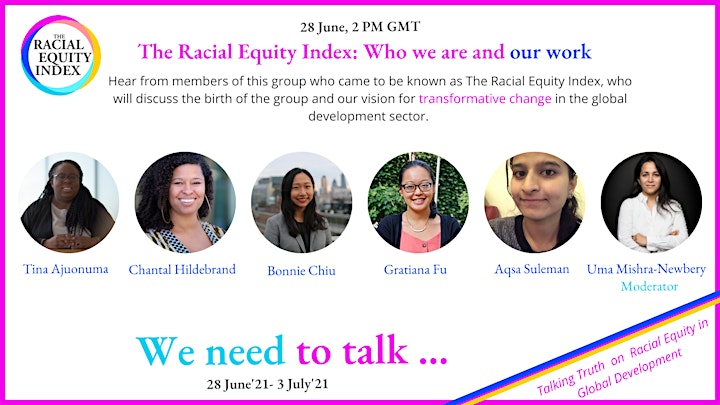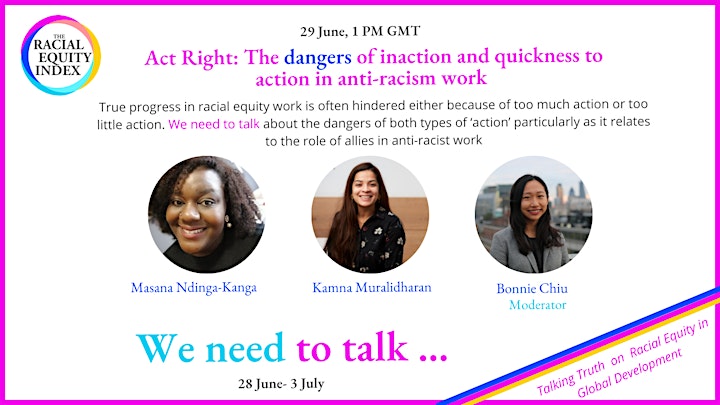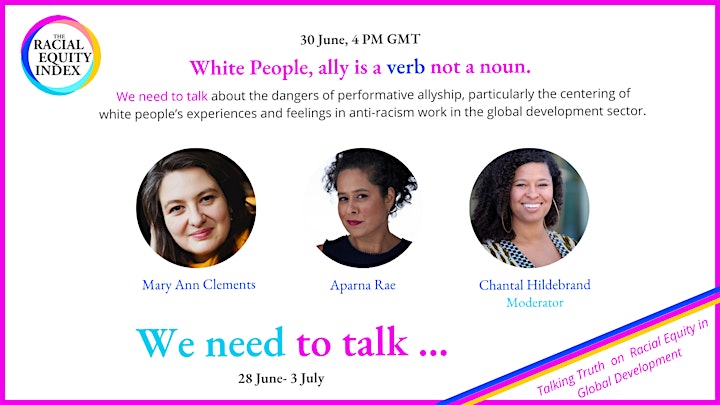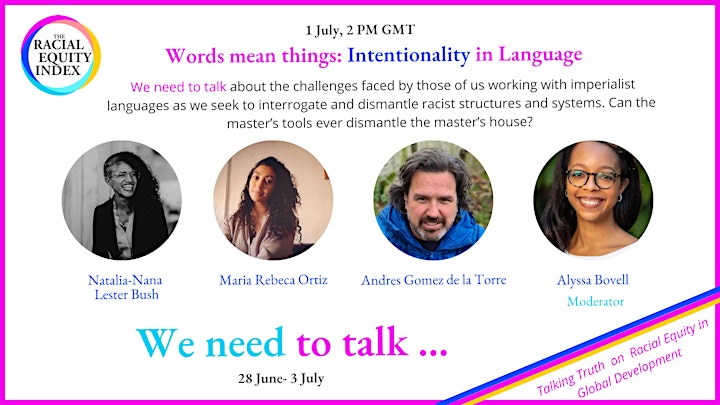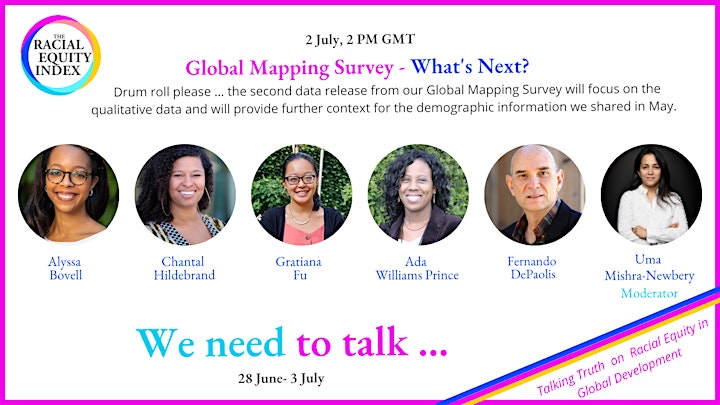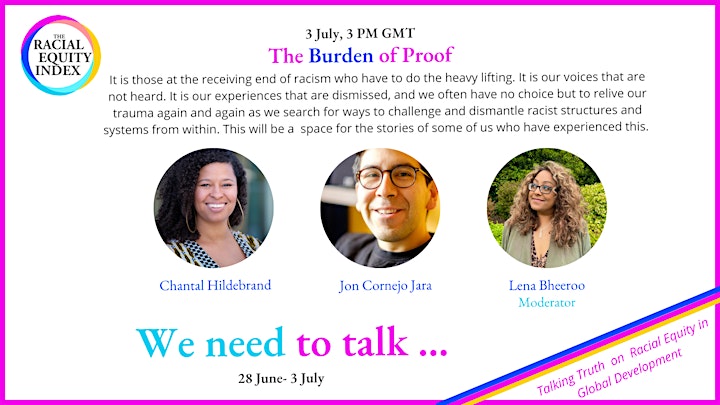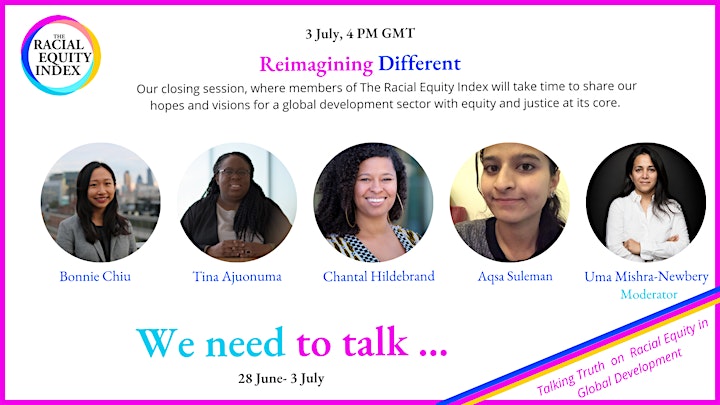 FAQs
Who is the Racial Equity Index
We are a volunteer-led collective of Black, Indigenous, and People of Colour in the global development sector, who have come together to produce an Index measuring racial equity in the global development sector. We are building a coalition of change makers to create greater accountability, embed racial equity into global development practice, dismantle structural racism and create a more equitable system and culture, with justice and dignity at its core.
Who should attend We Need to Talk: Talking Truth on Racial Equity In Global Development?
This event is for anyone anywhere in the world who is committed to transforming the existing racist culture and practice in global development, through reflection, challenge, and action. You might work in the global development space, or work generally within the space of racial equity and justice. You might just have started in this work, or have been engaging in this fight for a while. You might be looking to engage in hard conversations, or you might be looking for a space to listen, reflect, and process. Anyone is welcome as long as they enter this space with intentionality, compassion, and a willingness to change and to create change.
What format will the sessions take?
The sessions taking place on Monday through Friday will be 60mins. They will feature a panel discussion with an opportunity for questions and contributions from the audience. The sessions taking place on Saturday will be a mixture of panel discussions and more interactive sessions.
Isn't it unfair to have a BIPOC people-only session?
Honestly, if you think this then our event is probably not for you. The act of fighting for racial justice is triggering and trauma-inducing for those from BIPOC communities with lived experience of racism, racial exploitation, and racial violence and so creating spaces for communal self-care is a key and necessary element of our anti-racist practice.
How do I join and access the panels and webinars?
All the panels and webinars are ticketed and you can purchase tickets via our Eventbrite page. All ticket holders will receive a zoom webinar link 1 week before the event along with a 24hour reminder email.
How much do the sessions cost?
We are creating a sliding scale of ticket prices to ensure as many people as possible are able to attend. You are able to purchase tickets for selected sessions or the entire weeks worth of activities. If you are a team leader or manager in a global development organisation you can purchase a book of tickets for your team, for individual sessions or the entire week. You can also sponsor tickets for others who might not be able to afford them. If you would like to support the broader work of the Racial Equity Index, you can also make a general donation when purchasing your tickets. If you are unable to afford tickets, we will also be providing a limited number of tickets for free.
What are the timings of each event?
Most Monday-Friday sessions will be held between 1-3pm GMT. As we work to confirm the time and coordinate with all speakers, all Eventbrite registrants will be sent the final calendar invite via Google Calendar which will contain the Zoom Webinar link. If any Monday-Friday event is scheduled outside this window (again we are working hard to confirm times w/in this window but cannot guarantee this due to the global nature of our speakers) we will notify all registrants for that day. This calendar invite will be sent out 1 week before the event. If you are no longer able to attend once the event time has been confirmed, please note that the recording will be made available to all registered for viewing post the event for a period of 30 days. The Saturday event times will follow the times listed on our website and Eventbrite page.
Will the sessions be recorded and can I access them post event?
We will be recording the sessions and will make them available after the event for all ticket holders for a period of 30 days.
What are your accessibility accommodations?
Each of our sessions will have closed captioning in English as standard. If you have any additional accessibility requirements, please specify when making your booking and we will do our best to accommodate.
Organiser of We Need to Talk: Talking Truth on Racial Equity in Global Development