Description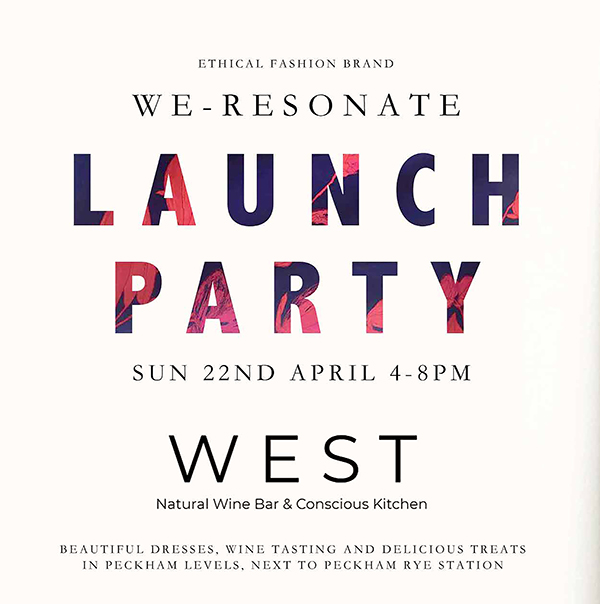 On Sunday 22nd April, on World Earth Day and the Eve of Fashion Revolution Week We-Resonate invites you to celebrate it's launch, the future of ethical fashion and thank it's supporters.
See the collection at www.we-resonate.com.
The party will be held 4-8pm at WEST, a natural wine bar and conscious kitchen located in Peckham Levels, the newly opened creative hub and social innovation.
Tap into summer by trying on We-Resonate's gorgeous ethical dresses whilst sipping on natural, organic and biodynamic wines, meet the founder and enjoy the atmosphere with friends.
We-Resonate is an elegant, zero waste clothing brand. Each piece is handcrafted out of rare vintage silks, hand-selected by a former Alexander McQueen Print Designer and all handmade in London. Each piece is the only one of its kind, celebrating accessible luxury & individuality.
We support Fashion Revolution Week (23rd -29th April) when #whomademyclothes campaign kicks off – marking the anniversary of the Rana Plaza factory collapse, which killed 1138 people and injured many more on 24th April 2013. We join the movement towards sustainable fashion and to end exploitation of people and the environment.
Register for special offers on the day and we can't wait to see you there!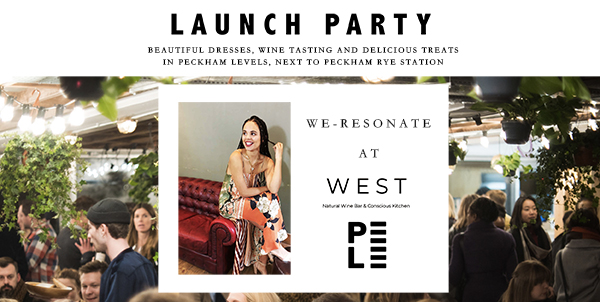 How to get there
The nearest station is Peckham Rye. Follow the entrance to PeckhamPlex Cinema, turn right to continue the alley and enter through the colourful stairs (to your left) to Level 5, enter and we're up the stairs!
http://westwinekitchen.com
https://www.peckhamlevels.org
Organiser of We-Resonate Launch Party
Lizzie Clark is the founder of We-Resonate, Mindset Coach and Senior Creative Designer. After ten years, working in New York + for McQ Alexander McQueen, Lizzie founded her sustainable womenswear brand, coaching and self connection workshops.
~

We-Resonate began as my answer to the fashion industry, to lift the meaning of clothing and value the materials already here. However the answer doesn't start at what clothes we buy, but by knowing what is important to ourselves and how we (uniquely) wish to experience life ~ Lizzie
Follow the journey here - Instagram