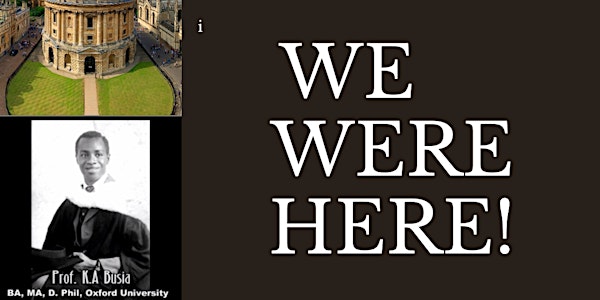 WE WERE HERE! - AFRICAN SCHOLARS AT THE UNIVERSITY OF OXFORD
Africa has a long tradition of sending its sons and daughter to the University of Oxford starting with the first black scholar
About this event
Africa has a long tradition of sending its sons and daughter to the University of Oxford starting with the first black scholar, Christian Frederick Cole, from Sierra Leone, West Africa in 1873.
Hertford College is delighted to welcome historian, author and the Founder and Director of Black Oxford Untold Stories, Pamela Roberts, for this lecture exploring the path, structural racism, and barriers navigated by several African scholars, who came to the University studied, and succeeded.
Pamela Roberts FRSA, FRHistS
Pamela is an award-winning creative producer, historian, author, and Eccles Centre Visiting Fellow at the British Library. Her work has challenged the historical and traditional structures of one of the oldest universities in Britain as the founder and director of Black Oxford Untold Stories. Through its delivery of workshops, lectures, and events programme, Black Oxford Untold Stories has contributed significantly to disrupting the traditional narrative and visual imagery of the University of Oxford.
Pamela's seminal work as the initiator for formal recognition for Christian Frederick Cole resulted in the acquisition of a memorial plaque at University College, unveiled in October 2017.