Description
Wealth Etiquette exists to financially educate, equip and empower you to become financially successful and transform lives.
---
One of the ways in which we support you as a member of this thriving group is by providing wealth consulting support. This enables us to provide personalised financial guidance to maximise your wealth and impact.
Financial Poverty or Financial Prosperity - The choice is yours.
Joining Link
Click here to get to wealth mastery support link and click on eTraining (top right-hand corner).
About the Session
One of our financial experts will address submitted questions and queries that will help members to create, build, protect and better utilise their wealth.
Who Is It For?
Private members who have questions about any of the following or you would like to listen to the financial support given to other members on:
the wealth mastery programme
content on the wealth platform
any of the financial words
any of the social media financial tips
What we teach, train, consult and coach on:
How to have tens of thousands more through net income teachings
How to have impeccable financial management
How to have superior financial goal-setting
How to use financial statements
How to never be financially vulnerable again, but be financially stable at the very least
How to implement the World's Number 1 Money Management System
How to become debt free
How to improve your credit rating
How to have financial peace of mind
How to grow an income source
How to develop more sources of income
How to start and grow a 6 figure business
How to retire comfortably and earlier
How to leave a greater financial legacy for your loved ones
How to have financially accountability to speed up the journey to financial success
How to stay extremely motivated
How to stay financially informed
Pre-Session Task
What would you like the wealth consultant to address?
You must send your question/query to us when you register via Eventbrite. If you do not have one, you can type in 'Listening'.
Empowering you to properly manage your finances.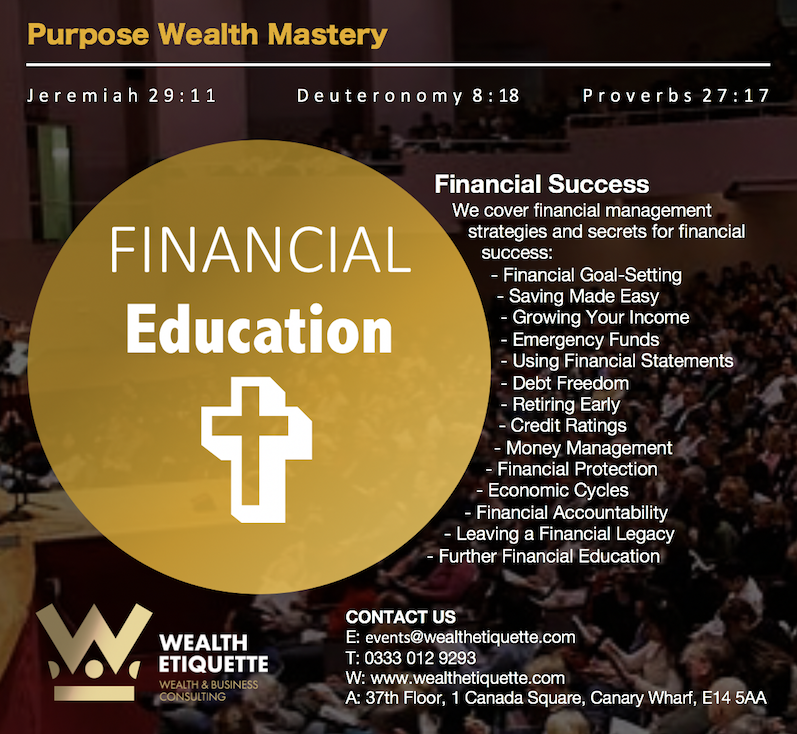 Register to boost your wealth score so that you can have a personally, financially and spiritually fulfilled and abundant life.
Contact Us
E: events@wealthetiquette.com
T: 0333-012-9293 / 0774-900-6900