Boost financial confidence, clear your path to financial success, gain knowledge & skills to accelerate wealth & create an exceptional life
About this event
It is time to stop waiting and start creating a life of more financial choices, confidence and freedom for yourself so you can start to live the life you love.
It has been proven over time that there is a way of being that creates financial success. Successful people are not different, they just do things differently.
That difference is the mindset!
Those who experience financial success simply possess a different wealth mindset and I want to share that with you so you can unlock your financial potential, finally breakthrough to financial success, make the progress you are capable of and live your preferred lifestyle of financial joy with ease! No longer will a little financial emergency throw you off, no more living on default, but in control and in charge of your experience of life!
No more recycling the same financial goal year after year simply because you could not see your intentions through. This training will give you the wealth mindset, investment knowledge and skills and leave you inspired, empowered, mentally equipped and confident to go after every financial dream you have ever had...the difference is this time you will achieve it!
I will share with you a scalable, repeatable strategy of investing on the stock market without losing sleep over your investment portfolio. You will be on your way to building your wealth and achieving sustainable financial health and well being now and in the future.
Let me help you create your new reality, your wealthy life .. your life as you have never known it before, experiencing a new level of freedom and financial confidence to live life on your terms!
It all starts with the mind, change you mind - change your life.
In this Masterclass you will learn how to master your money, eliminate limitations, breakthrough any hold backs from the life you want to live and clear the clear path to your financial freedom.
I cant wait to welcome you!
Dedicated to women's wealth elevation..
Sevelina
Bachelor of Commerce (Finance)
MSc Wealth Management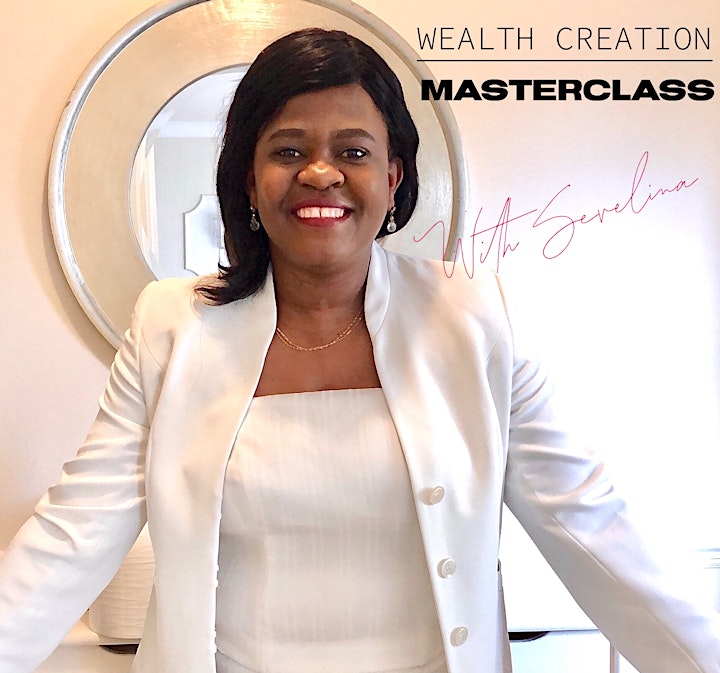 Organiser of Wealth Creation Masterclass - How to Create Financial Success Investing
Sevelina is a multi passionate entreprenuer with a mission to enrich the quality of life for woman everywhere. To see women living their fullest life, embracing every aspect of a successful womans world in business and life. To see women live a complete maxed life of abundance and impact.