Wealth Investing Network, Bloomsbury: Brian Mayne's Life Mapping
Description
The Wealth Investing Network (WIN), Bloomsbury brings together like-minded people from all walks of life to exchange ideas, enhance knowledge and explore the journey of wealth creation. Hosted by Jo Akhgar and Matt Baker.
This month, we promised you a surprise VIP guest... Well, we are thrilled to reveal that we have the one and only... Brian Mayne speaking!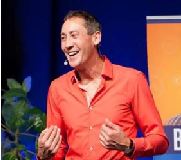 As we near the end of 2018 it's time to take stock of the year and look to our plans for 2019. Brian will be helping us do that through the craft of life-mapping; who we are being to achieve the life we choose. So, whatever your wealth, health or other goals - achieved or yet to be achieved - this event will help you review and refocus.
It is an event NOT to be missed.
Book your tickets at https://bloomsburywin.eventbrite.co.uk
Wealth is not a singular thing and we will tackle this at every meeting by taking a specific topic/s and inviting experts to share their thoughts and experiences.
Wealth starts with you, it happens with others! So, whether you're a budding or veteran wealth creator, this meeting is for you!
We can't wait to see you there.
Jo & Matt
#WINBloomsbury #winningwithwealth