Description
What does Wear Your Happy REALLY mean? How can women embrace the changes in our lives and truly celebrate ourselves as our body changes? Wear Your Happy LIVE! is an evening with women at its centre. You will meet others who share many of your views on aspects of style, fashion and wellbeing, particularly as we age. By the end of the evening you will:

Understand how to make conscious clothing choices that truly uplift your mood.

Understand how to reconnect with style and fun without sacrificing comfort.

Understand how our fashion memories can help us heal and allow us to grow.
This will be a participatory evening. There will be a talk, discussion, a style clinic, plant-focused nourishment and refreshments within a nurturing, friendly atmosphere. There is also a (cashless) bar where you can purchase additional drinks throughout the evening, should you wish.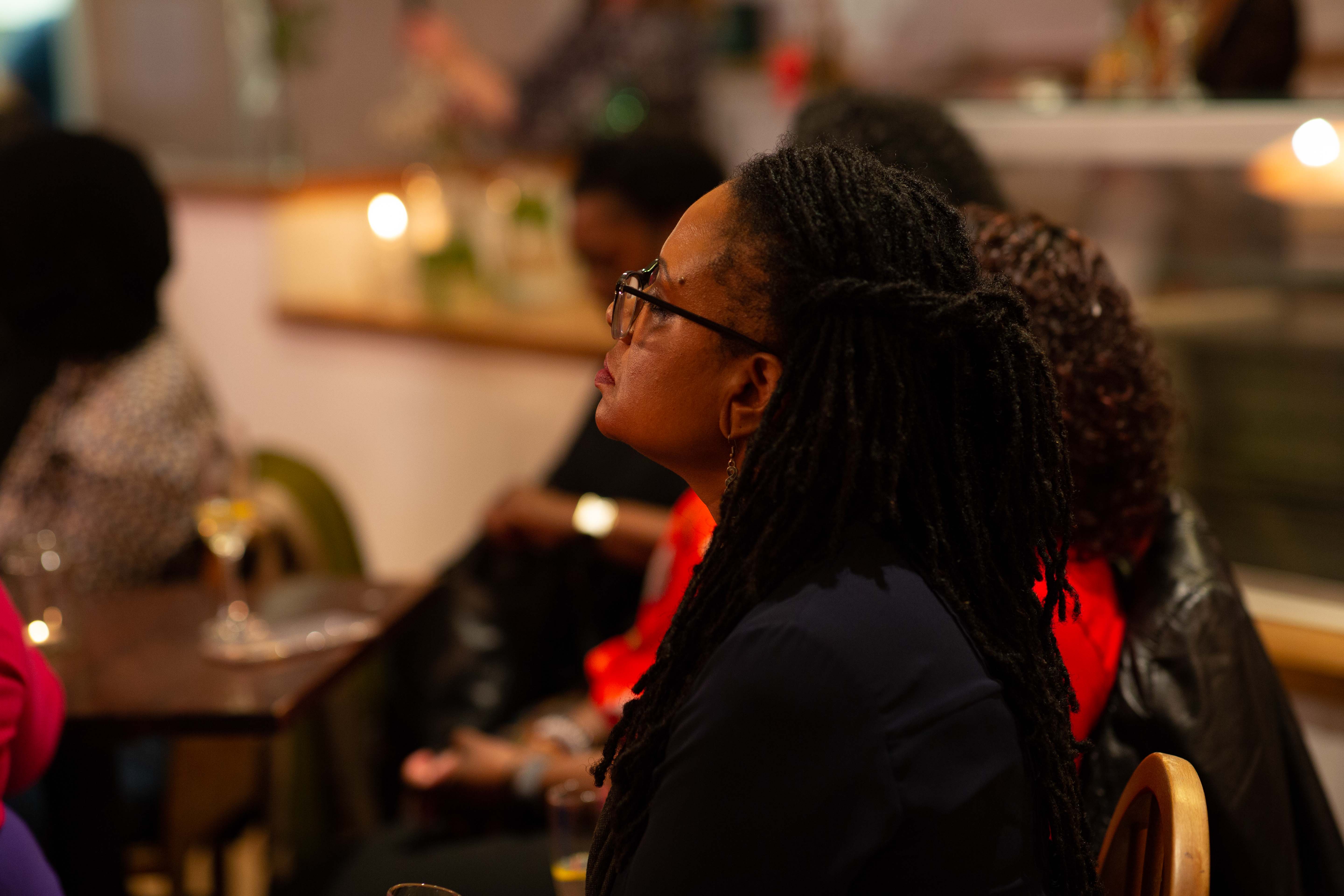 We are encouraging guests to follow Wear Your Happy ideals. Wear items that are personal to you and lift your mood. If you're happy, we are! We hope that some of you may wish to share your fashion memories or journeys on the night.*
About the host, founder of Reddskin UK, Karen Arthur.
Karen is a Fashion designer, Sewing tutor and Author of e-book '8 Ways to Wear Your Happy'. A strong advocate of the many ways in which fashion and craft can aid positive mental health. She constantly encourages women across social media to dress mindfully using the tag #Wearyourhappy
Brown and Green LIFE is set in Crystal Palace Park in South East London and is served by nearby trains and buses a few minutes walk away. There is also a car park attached.

Newly opened in Spring 2019, with its views across the lake and park and its own treehouse style private bar, Brown and Green LIFE is perfectly suited to this exciting event. LIFE Upstairs also has a stunning balcony overlooking the lake and dinosaurs. All areas of LIFE are fully accessible. Please note that, in line with its sustainability policy, Brown and Green LIFE is cashless so takes electronic payments only.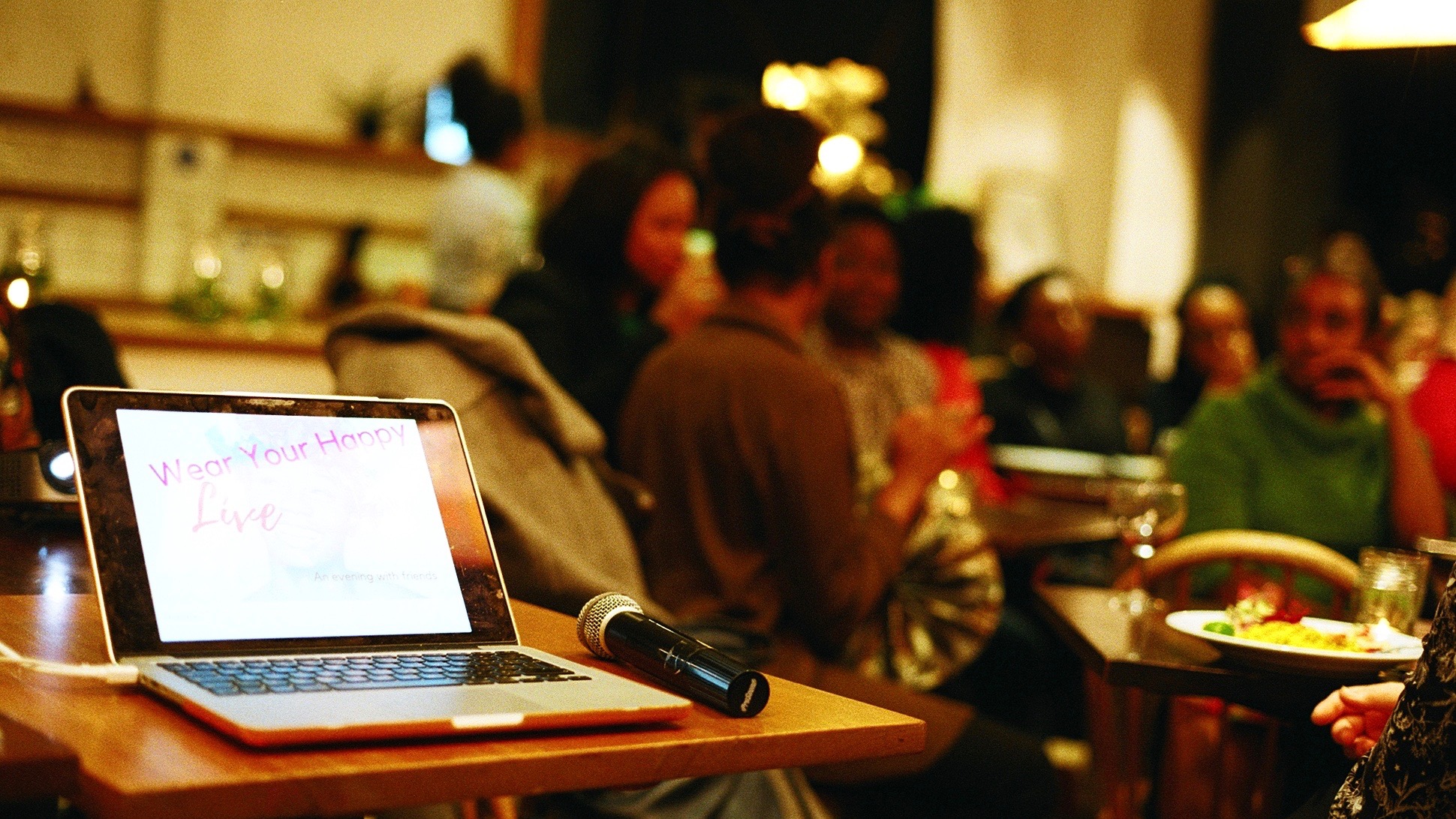 Praise for Karens previous Wear Your Happy LIVE event:
"I attended with my friend, who enjoyed it so much she thanked me for telling her about the event".
"It was a really beautiful night, really inspiring and I felt so looked after!"
"...the whole atmosphere was just amazing, super fun and friendly".
"The vibe created was warm and sociable, (as I attended alone) and I do feel if there were regular events, it would foster the opportunity to make some great friends. As well as get some great health and well-being tips. You can tell, it had been lovingly 'put together'."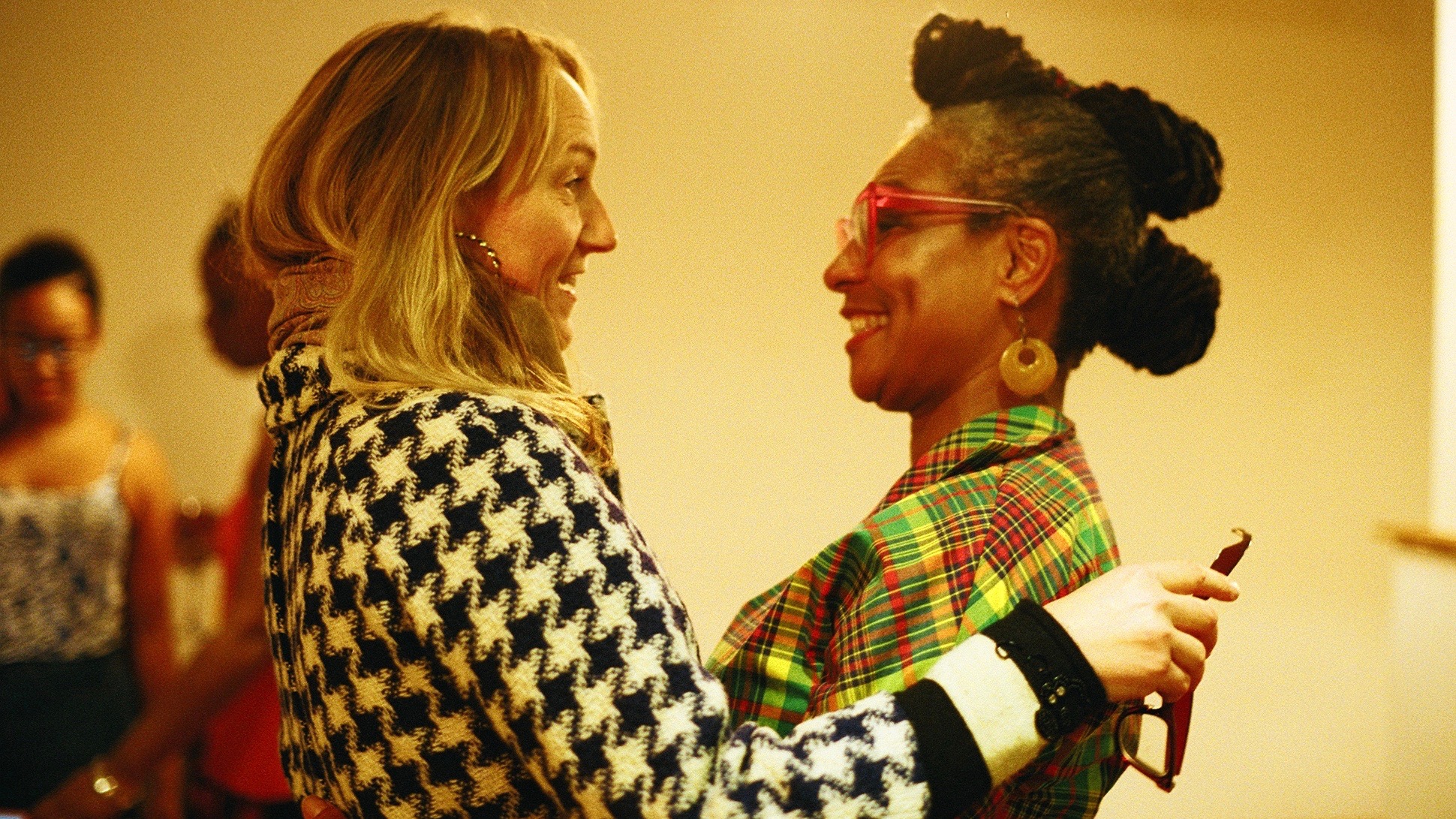 *Please note that this event may be filmed for promotional purposes and by attending you give your consent to be included in any footage.
FAQs
Are there ID or minimum age requirements to enter the event?
People who idenitfy as womxn 18 years and above.
Is the event really for women only? Can men attend on the night?
Men are NOT excluded. We would prefer they attend with a female partner or friend. Please be mindful that it is a women-centric evening and some content may reflect this.
What are my transport/parking options for getting to and from the event?
There is parking available inside the park. Vehicles are left at owners discretion. The venue is less than 3 minutes walk from the carpark..

Trains: Penge West rail station is 5 minutes walk. Penge East station is 8 minutes walk
Buses 176 and 197 serve Thicket road. The entrance to the park is opposite.
You may email hello@reddskin.co.uk for specific travel advice from your area.
What can I bring into the event?

Bring yourself. Wear your happy. We encourage you to take photos and use social media with the #wearyourhappylive tag.

How can I contact the organiser with any questions?
Please email hello@reddskin.co.uk

What's the refund policy?
You may receive a full refund up to 7 days before the event.

After this you may transfer your ticket to another named guest by emailing hello@reddskin.co.uk at no extra cost.

Do I have to bring my printed ticket to the event?
No. In fact we would prefer you didn't. Because environment. However do have your ticket ready to display on your mobile device or tablet on the evening. We will be able to check you name against our own list.

Is my registration fee or ticket transferrable?
You may transfer your ticket to another named quest by emailing hello@reddskin.co.uk up until 24 hours before the event at no extra charge.

Is it ok if the name on my ticket or registration doesn't match the person who attends?
Sorry this won't be possible. Please contact hello@reddskin.co.uk to transfer a name up to 24 hours before the event.

Organiser of Wear Your Happy LIVE! A vibrant evening with Karen Arthur
Menopausal. Funny. Stylish.
Karen Arthur is a 57 years young fashion designer, a sewing tutor and the mother of two grown ass women. She is of Barbadian descent.
                               *      *      *      *      *      *      *      *     *     *
Karen was a full time teacher for 28 years. A pastoral leader for 15 of those. She been sewing for over 40 years and now creates beautiful clothing for women who appreciate hand crafted care and slow fashion . Karen teaches people of all ages to fall in love with their sewing machines and runs workshops students about sewing, textiles and fashion.
                                  *      *      *      *      *      *      *      *     *     *
Karen says "I believe passionately in the power of clothing and accessories to enhance your mood and uplift you spirits. Be it colour, fabric or a memory, whatever we adorn ourselves with when we do so we can decide to stand up, stand out and feel wonderful. I want to reach out to women with a love of style who are fed up of being made to feel 'eccentric' simply for wearing their truth. I am an abuse survivor and a positive mental health advocate. I kicked Anxiety and Depression to the curb a few years ago. I still spar with my mood on a daily basis. I make conscious clothing choices to help me stay mentally upbeat. I wrote an e-book called '8 Ways to Wear Your Happy'. I am fully committed to designing the rest of my life the way I want to live. I only wear what I love".
                                    *      *      *      *      *      *      *      *     *     *
Karen runs a monthly craft social - Tuesday Thrills - for crafty people who need a break and a laugh. She is also 1/3 of @Craftmoves committed to ending loneliness in London through craft.
                                     *      *      *      *      *      *      *      *     *     *
She has recently had two articles written about her work in @actualsizemagazine and @lewishamledger  and was featured on the cover of the latter and @goldie_magazine , a new glossy celebrating the over 40s, at the end of last year. A subsequent article about craft, aging and loneliness was published in their January issue.
Karen speaks publicly on Wear your happy, style, ageing and loneliness.

This group is primarily (but NOT exclusively) for:
- women who love feeling dressed up but not trussed up.
 -women who are nearing, experiencing or leaving menopause and feel sidelined by society.
 - women who have no intention of becoming invisible.
 - women with an interest or passion for style and fashion but refuse to stick with 'The Rules' (whatever they may be!).
 - women who have or are experiencing a dip in their mental wellbeing and need a boost or some supportive encouragement.
I aim to enable women to celebrate how remarkable we are. I encourage all to come along  to my events wearing your HAPPY!