Location
Stour Space
7 Roach Road
London
E3 2PA
United Kingdom
Launch event for an exhibition exploring the legacies of the Bauhaus weaving workshop. With performances by Raisa Kabir + Julie Rose Bower.
About this event
To celebrate 100 years of Bauhaus, we're bringing together performance artists, visual artists, community groups and craft practitioners as a response to the women's weaving workshop...
The women of the Bauhaus had no real other choice but to work in weaving. As painter, Oskar Schlemmer, said in 1920: 'Where there's wool, there's also a woman who will spin it, even if it is just to pass the time'. The weaving workshop that emerged in the Bauhaus was artistically progressive but lacking in gender parity. Yet, many made it a radical site of experimentation and exploration including Anni Albers, Gunta Stölzl, Michiko Yamawaki, and Lilly Reich.
This exhibition considers the legacies of crafting and weaving from modernism to the contemporary, both celebrating and challenging the avant-garde work of the weaving workshop.
The launch party will see performances by Raisa Kabir and Julie Rose Bower, DJs as well as a chance to explore the exhibition late & meet the artists...
Performance times on 1st Nov:
7:30pm Raisa Kabir, 'TWO LOOM CLOTH', an active 'weaving a politics of craft and healing' intervention.
Participants will weave as a group and practice using their bodies collectively in response to materials. A collaborative weaving workshop, using a two person back strap loom. This way of weaving is an action in understanding the collaboration, tension, energy and production needed to create a two loom cloth, woven from both sides. Engaging with material beyond the body, as a way of thinking through methods of making, that are not related to function or production, but to facilitate space for healing, contemplation, and exploring the act of weaving together as a collective practice.
If you would like to take part in this performance, please email us an expression of interest: decoratingdissidence@gmail.com
9pm Julie Rose Bower, 'Ticket to America', live sound weaving.
A performance installation monitoring the live-crochet of a curtain of sound. Julie Rose Bower amplifies the sound of the stitch to explore where the sensual meets the political in feminine cultures of craft. Inspired by Anni Albers' creation of a sound-proofing fabric to improve the acoustics of an auditorium – a project that one contemporary called her 'Ticket To America' (Albers subsequently emigrated to escape Nazi Germany) – this noisy craft production stimulates the senses of sight, touch and sound to invoke the immediacy of creativity's transformative potential and the making process itself as a migratory act.
Exhibiting artists include:
Madi Acharya-Baskerville
Betül Aksu
Majeda Clarke
Fiona Curran
Michelle House
Sarah Joy Ford
Seungwon Jung
Kristen Kong
Naa Teki Lebar
Kelly Ruth
Sophie Skach
Camilla Tonder
Hannah Waldron
& a screening of the documentary Güzel Derman (devised, directed and produced by Nataša Cordeaux, Cheyenne Ritfeld & Ricarda Theobald)
Full exhibition runs: 30th October - 6th November, during Stour Space opening times.
'Something speaks to us, a sound, a touch, hardness or softness, it catches us and asks us to be formed' – Anni Albers, 'Material as Metaphor' (1982)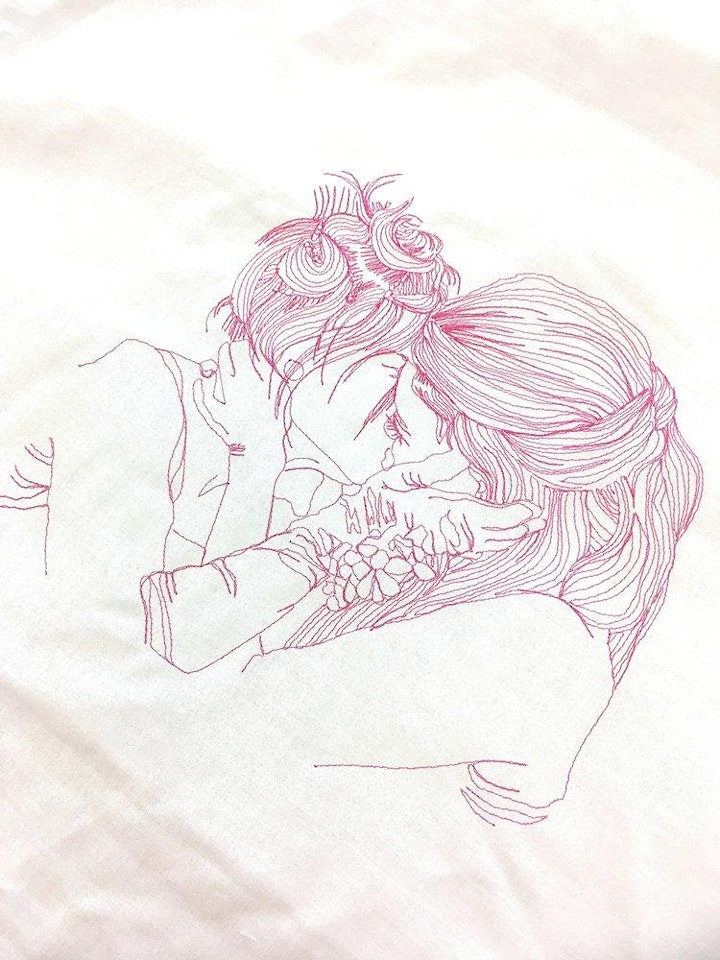 Detail from 'Sixteen Love Poems' by Sarah-Joy Ford