Digital Networking Meet up For Women In Business
About this event
Om Digital Digital Divas Networking Community is for sharing and developing digital skills. Our aim is to provide you with a focus and help with Digital work.
Join our open mind online community where you will meet small business women owners from all world.
We will discuss Social Media and Management
We will discuss Search Engine Optimization (SE0)
We will discuss Content Planning
We will Discuss Facebook Marketing
We will discuss Etsy SEO, Reels, Video Marketing And Much More!!
We will support you, will up skills you and help you reach your goals.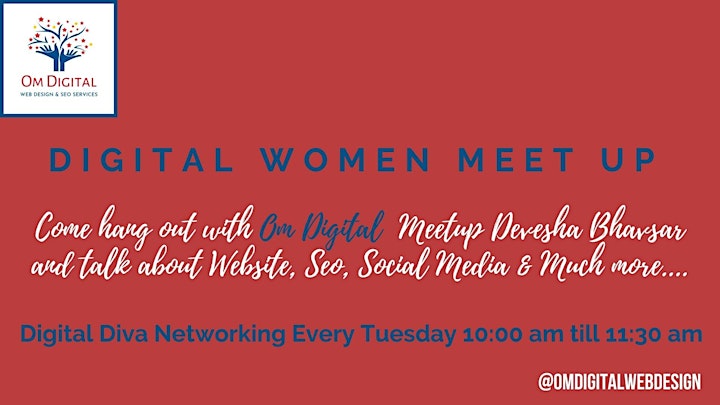 Organiser of Web Design, Seo Services and Social Media Set Up - Digital Networking
Welcome to Om Digital Diva Networking Meet up!
Are you a business owner and struggling with Digital Work?
Are you struggling with Social Media Content?
Are you struggling with Branding And Content Marketing?
Are you struggling with Basic Search Engine Optimization(SEO)?
Are you struggling with your online website?
Do you want more Digital Knowledge (free) traffic to your website?
All your questions can be answered in our Digital Dival Online Women Only Meeting By Om Digital.
You will meet ladies from all over the world who will share their digital tips and you can share yours
Gain the knowledge to do SEO yourself.
These meet up will help give you a head start with your online presence.
There is no right and wrong! Lets network and learn as much as we can from our digital diva ladies!