Description
Following a tweet by Michele :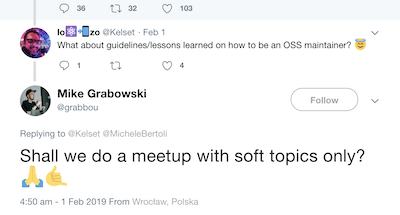 we decided to organize an event about what it means to manage Open Source projects.
We all use Open Source software in our daily job and we often forget what happens behind the scenes. Let's hear directly from the maintainers!
Our speakers will be Lorenzo Sciandra (Software Engineer at Formidable and React Native core team member) and Mike Grabowski (CTO at Callstack and React Native core team member).
Schedule of the evening
18:30 - Doors will open. Welcoming drinks and pizza.
19:00 - Mike Grabowski - The untold benefits of Open Source
19:45 - Some more pizza and drinks
20:00 - Lorenzo Sciandra - How to prove that OSS === bacon in 10 simple steps
20:30 - TBA, are you a core contributor or a maintainer of an OSS project and want to share your experience with the attendees? drop us a line hello@webdeldn.rocks
21:00 - End of the meetup
---


The untold benefits of Open Source

Mike Grabowski
Mike is a Software Developer with passion to Open Source. He started contributing to the React Native community right at its beginning, being one of the first developers to ever use it in production. Shortly after, he co-founded Callstack - a React Native development shop - to help other developers and the community get their React Native development up to speed. When not working (and doing any of OSS work), you can find him on a race track taking his car to its limits.

Twitter: @grabbou
Github: github.com/grabbou

Medium: medium.com/@grabbou

---
How to prove that OSS === bacon in 10 simple steps

Lorenzo Sciandra
Lorenzo decided to use React Native for a project a few years ago. He hasn't stopped since - which allowed him to become a Software Engineer for Formidable and to help out the Facebook team in maintaining React Native itself and the React Native Community. When he's not tweeting, he's busy thinking about his next tweet.
Twitter: @kelset
Github: github.com/kelset
---
Sponsor
The sponsors of the evening will be Octopus Investments and DAZN. Octopus Investments will kindly offer the space, while DAZN will provide food and drinks.
Thanks from WEBdeLDN for hosting us.