Webinar 1| Kolkata's Wetlands: Women Confronting Climate Change
About this Event
As part of an international online conference led by Women for Water Partnership (WfWP) in conjunction with its partners NetWwater (NWW) and Soroptimist International of the Southwest Pacific (SISWP).
This event was supported by SEI Asia's Strategic Collaborative Fund, which aims to foster regional cooperation and policy dialogue for sustainable development and environmental sustainability, through capacity building, knowledge sharing and increased collaboration.
This webinar introduces a case study presentation, reflecting the present realities of the women, water & climate change nexus, and the on-the-ground challenges and solutions taking place. The webinar joins case presenter, with an expert, and a young water professional, to explore 'The Way Forward'- including stakeholder relationships, and opportunities to re-create and implement the model to respond to differing community needs.
6 October - 8 am BST | 9 am CEST (Europe) |12.30 pm Sri Lanka | 2 pm Jakarta | 3 pm Kuala Lumpur
Climate change and Water security continue to be the most acute and critical development issues in South and Southeast Asia. In spite of growing numbers of people emerging out of poverty, water insecurity remains and, in some cases, has been exacerbated. During the past 20 years, the two main water and climate related disasters – floods and droughts – have caused more than 166,000 deaths, affected another three billion people, and caused total economic damage of almost US$700 billion. With the current on-going Covid-19 pandemic, the demand for water has never been more acutely felt, with hand-washing remaining the most important factor in containing the spread of the pandemic; Asian countries such as India are amongst the hardest hit as large segments of the population live in overcrowded urban slums or remote rural areas with very poor health facilities. This series of webinars takes a closer look at projects taking place that amplify the voices of women, increasing the participation of women in the water and climate sectors, and take steps towards the development of sustainable solutions to today's water and climate crisis.
Webinar 1 - East Kolkata Wetlands: A Case Study
This webinar will present a case study from the East Kolkata Wetlands, the largest ensemble of sewage-fed wetlands by the side of a city, with a wetland community that understands how to utilise the environment for beneficial use. Employing waste generated – both solid waste and liquid sewage - the community has set an enviable excellent example of re-use, perhaps a lesson for the world. Standing as 12,500 hectares of waste recycling and fertile landscape, and one of the foremost examples in the world of a wetland ecosystem, the wetlands are the city's protection against climate change; a low-carbon option for wastewater treatment and sequestering carbon, and women play an unmistakable and significant role in the landscape.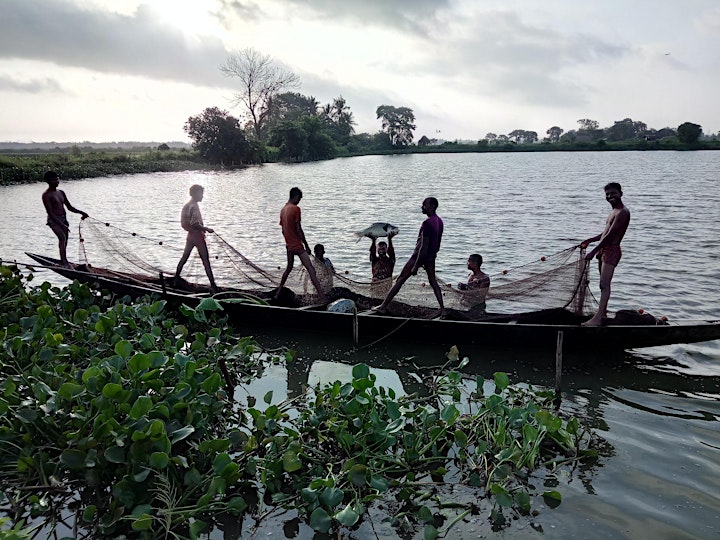 Case Study Presenter
Dhruba Das Gupta
Project Fellow, IIEST, Shibpur. Project Director, Society for Creative Opportunities and Participatory Ecosystems (SCOPE)
Dhruba Das Gupta has a background in rural development, with additional qualifications in community management and basic coursework in anthropology, and works primarily with the wetland community of the East Kolkata Wetlands—the largest ensemble of sewage-fed wetlands in the world. These wetlands are nurtured entirely by the community, armed with valued experience and experiential knowledge, and women play an integral role in the conservation of these wetlands through their livelihood activities. Dhruba has a dual role in these wetlands, both as researcher and as conservation/community worker. The latter role is carried out through the non-profit Society for Creative Opportunities and Participatory Ecosystems (SCOPE), which during these Covid-19 times and the Amphan calamity, has helped women by giving them support in building a roof over their heads and seeds for the monsoon crop.
Discussant
Dr. Missaka Nandalochana Hettiarachchi
Senior Fellow in the Environment and Disaster Management (EDM) Program, World Wildlife Fund (WWF), U.S.A.; Adjunct Associate Professor in the School of Science and Engineering, James Cook University, Australia; and Visiting Scholar at the Institute of Sustainability and Energy, Northwestern University, U.S.A.
His areas of expertise include: environmental management and policy, environmental engineering, and disaster management. He has developed guidelines for environmentally responsible disaster management for various projects, specifically on flooding. He has also engaged in training and policy advocacy with local partners in countries across the Asia Pacific. He has published in numerous journals and has received several awards such as the International Research Award on Water Resources for Young Scientists by the International Foundation of Science in 2006; and later in 2014, the University of Queensland Future Leaders Award. In that same year, Missaka obtained a PhD from the School of Geography at the University of Queensland, Australia.
Moderator
Dr. Priyanie Amerasinghe
An Emeritus Scientist attached to the International Water Management Institute at its headquarters in Sri Lanka.
A public health specialist by training, Dr. Amerasinghe carries out research studies in the broad area of human and environmental health in many countries. Her research interests cover urban and peri-urban ecosystems and their ecosystem services, with special reference to natural resource utilisation by underserved communities, wise-use and conservation of wetlands, environmental drivers of antimicrobial resistance linked to health and nutrition. As such, she works with multidisciplinary teams. Dr. Amerasinghe also works very closely with government departments and research institutions, and engages in public policy advocacy in the areas of her research. Prior to joining the International Water Management Institute, she has worked in foreign and local University systems for 25 years, and brings with her extensive academic and administrative experiences. She has published widely.
Young Water Professional
Ms. Mukta Akter
Executive Secretary of Bangladesh Water Partnership, a partner country of Global Water Partnership (GWP).
Ms. Akter has over 10 years of experience in strategic programme planning, implementation, monitoring and evaluation; high level coordination and liaison with organisations involved in the Integrated Water Resource Management (IWRM); capacity building through training, advocacy; and awareness raising on water and climate change issues, including adaptation and women's economic empowerment; building partnerships with local government agencies, and academia. She is deeply involved in promoting and empowering youth and women through implementing WASH projects and adaptation strategy on climate change impacts, with special emphasis on grassroots communities. As a youth ambassador, she has participated in several national and international conferences. Because of her significant involvement in youth activities, she has been designated as the Youth Focal Point of GWP-South Asia since 2013. Ms. Akter holds a Master in Economics from National University, Bangladesh.