Event Information
Refund policy
Refunds up to 7 days before event
Eventbrite's fee is nonrefundable.
We are delighted to invite you to our [online] webinar on Treating Obsessive-Compulsive Disorder (OCD): The brain-science of recovery
About this event
 (Your webinar link will be sent to you a day before the event)
Certificate of attendance will be issued (up to 2.5 CPD hours). Everyone interested in the subject is welcome. 
 The learning outcomes include:
In-depth understanding on how OCD affects emotions, cognition and behaviours
The regions of the brain involved in OCD and how to calm them down
Key neuro-transmitters involved in obsessions and compulsions and how to rebalance them for recovery
The links between OCD and Trauma, and ways to achieve recovery
Steps and meditation exercise to shrink the inner critics that often fuel obsessive and compulsive symptoms
The links between OCD and PTSD
Full meditation exercise for easing obsession and compulsion 
Full meditation exercise to heal toxic shame that drives OCD symptoms
Learn about how to gradually rewire the brain for OCD symptoms relief
Learn about The OCD Cycle and how to break it.
Understand The O.C.D. Recovery Framework: The step-by-step guide for taking control of obsessive and compulsive symptoms)
Other focuses:
How to avoid the typical mistakes made in treating OCD.
Demonstration: Using electro-encaphalogram (EEG) to view brain activity and stimulate neuro-plasticity
How Much Does a Ticket Cost?
Early bird registrations from £28+vat+fee. It will go up to £56+vat+fee if you book late 
For professionals as well as those interested in the subject...
This course attracts both professionals and interested individuals interested in mental health, continuing professional development, and in effective recovery techniques.
TESTIMONIALS: What Previous Attendees Are Saying:
"Training was excellent, fascinating material around brain activity, neurological pathways and focusing the mind. Really helpful for client work especially the link between OCD and Trauma." Laurie L. Therapist (24/6/20)
"A great all-round presentation on a complex subject, clearly explained, gave me lots to think about and apply to my therapy practice. So many added bonuses as well. Wale is so generous with his slides, website videos, meditations and information that I can tap into. The counselling profession is an expensive venture and when someone is as generous as Wale, I truly appreciate his support and encouragement of other colleagues. I am very grateful." (20/6/20) Dawn L., Counsellor and Psychotherapist
"I found this course really insightful. I have attended other courses and this one really tied in nicely. I feel there is still a lot to be understood in treating OCD and removing the stigma attached to this so I found this really helpful and understanding that this is a brain-driven disorder is really important. As with all of these courses I love the information provided about how the brain interacts and responds together with the practical exercises at the end. Wale always explains these subjects in a really easy and logical way. I would totally recommend this to anyone with an interest in understanding OCD on a professional or personal level. I'm looking forward to attending more of these training events." Diane M. (24/6/20)
"Brilliant informative course." Samantha C. (24/6/20)
"I really enjoyed the webinar this evening. It was incredibly informative and easily understood. You have a great way with words. I especially liked the fact that OCD is a brain driven condition and not a weakness of the personality.  So many people struggle with the shame that comes from struggling with OCD or any mental disorder and the self criticism.  Self compassion is so important. Your descriptions of the how the brain works with regard to OCD was really useful and for clients it will be so useful for them too, to understand what is actually happening.  The challenge response makes so much sense and using the 15 min rule alongside therapy will prove to be invaluable to clients struggling with OCD. Finally the video at the end was so powerful. Thank you and I look forward to listening to you again." Sian M. (24/6/20)
"Wale is an excellent course leader and structure and information on and off the course is hugely helpful and insightful for my professional practice. There are addition helpful recourses that come with the course including full meditation recording for easing OCD symptoms for sufferers and reducing trauma-related toxic shame that drives OCD symtoms. They also come with individual scripts for therapists to use to help their clients" Rebecca, F., Psychotherapist
Brilliant, explained everything so clearly, it all made sense and felt I went away with something practical and useful. Sharon C. (23/2/21)
Excellent, informative and compassionate. I feel more equipped to use the knowledge, insights and resources from this training in my work with clients. Alice A., Trainee Integrative Counsellor (23/2/21)
Good course. I picked up new learning and some good techniques for enhancing my existing practice. Thanks 😊 Clare L. Psychotherapist (23/2/21)
Very interesting enjoyable, well delivered. Good spacing and method of getting us in groups to consolidate learning during sessions. Gave space to think about questions too. Well managed timing. Sarah S., Psychotherapist/Counsellor (11/1/21)
The metaphor as the brain parts being similar to a receptionist, a security guard etc was a stand out way of helping me understand the function of each part of the brain. Saoirse M., Trainee Counsellor (11/1/21)
Brilliant style of teaching. Really well explained. Unique way of helping you understand the brain and its functions. Julie C., Therapy Manager of Private Addiction Unit (11/1/21)
This course was very well balanced and interesting and gives a good understanding of the condition. Cathy L., Counsellor (11/1/21)
I found it extremely interesting and informative and look forward to utilising some of the resources provided. Josie F. (11/1/21)
The presenter was extremely knowledgeable, and I learnt some really key things that I wasn't aware of, particularly in relation to neuroscience. Excellent course - thank you! Amanda E., Counsellor (11/1/21)
I was amazed at how much I did not know about OCD. Wale was a great host, easy to understand and answered our questions. I am grateful you are sending the video footage to look at the neuroscience slides again! Heather S., Student CBT Therapist (11/1/21)
Excellent webinar, Wale is extremely knowledgeable with a brilliant way of explaining complex brain mechanisms in a user-friendly way. I feel I have gained a lot form todays webinar and have booked onto two more PTSD and Trauma. Thank You 😊 Carol D., Counsellor & Trainer (22/12/20)
Hugely informative and helpful structure to help support individuals with OCD. It was brilliant; thank you. Nikki R. Parent of children with OCD (23/11/20)
Always find Wale's course very informative and helpful in understanding topics and imparting this info onto clients. Kirsty L., CBT Therapist (23/11/20)
This course was excellent, with a clear structure, and all concepts explained with relatable examples. Having access to the recording was invaluable. Also, the meditations are a fantastic resource, making the course an even more worthwhile investment. Would highly recommend to any mental health professional or to anyone interested in this subject. Nicola M. (27/10/20)
Love listening to Wale, he has a lot of knowledge on every subject he talks about and makes it easier to understand. The neuroscience is interesting and explained well. June C., Counsellor (23/11/20)
Absolutely brilliant, loved the webinar, it was my first and definitely won't be my last. I really like the way Wale interacted with us, explained the information in a way I could understand but also using the correct names / terms. A lot of the information will support me to support clients in a more intellectual way as well as sharing an ease with them and the importance of self-care compassion. Ty L., Counsellor (23/11/20)
This is my second training with MindBody Breakthrough. I have attended the Trauma one too. I found both very informative, specifically the neuroscience part which is something I wasn't taught during my training". The use of metaphors to describe brain functions is very effective to understand something otherwise quite tricky and I personally also find it entertaining which I feel helps to consolidate the learned information. Thank you very much for the resources and for delivering such lighthearted but very informative training sessions. Valentina C., (27/10/20)
I really enjoyed the course it was very informative and delivered brilliantly well, thank you. Elle M., Counsellor (29/9/20)
These courses represent excellent value. The information is trustworthy and well-researched, the delivery is professional and clear, the information is well-explained and the solutions are easy to apply. Beth P., Coach (29/9/20)
I love Wale's courses - this is the 3rd one I have done. Well done for managing this under the current restrictions and use of zoom. Sarah S., Psychology Student (29.9.20)
I'm drawn to the terms self-compassion, self-awareness and agency, which were used in the presentation. I would hope to enhance these for aclient presenting with OCD in therapy. I am hopeful with this fundamental medical understanding to use the resources provided in a responsible and effective way. I have to admit to feeling uncomfortable around the medication and supplement section, as I would not feel qualified to suggest these however, good to know I could recommend that a medical professional could advise around this area. Joyce P., Counsellor (31/8/20)
I really liked the session and the practical tips. I agreed with so much of what was being said it was like a light bulb being switched on when you talked about how the brain has started to function and how we can essentially retrain the brain to work better over time. It gave me renewed hope for a brighter future and freedom from OCD - for that I am grateful. I'm still uncertain regarding chemical imbalances and reduced serotonin, I guess I need to research this more, but overall I found the information regarding the brain and its functions fascinating however, and I'm going to dig deep and implement the changes suggested. Thank you very much – really insightful. Helen L., Trainee Counsellor (31/8/20)
Really interesting and enjoyable course – thank you. Glesni P. Counsellor 31/8/20
This session was fascinating, I have not stopped talking about it. The trainer was clearly very knowledgeable and intelligent and explained things using analogies that were easily recognised in everyday life. It has given me a much wider understanding of OCD, its genetic and environmental causes and the treatments that are available to support change. As a practising counsellor, I chose the course to support a client with OCD and I found it very helpful, thank you. Jo Hepworth., Counsellor (23/7/20)
"I would like to say this is my 3rd session with Wale; the amount of information in the time allocated with plenty of breaks, and without overwhelming reflects great skill at time and information management for such in-depth and complex subjects. He makes enormous subjects captivating and manageable." Nia G.
"It was a very informative, well presented and entertaining course and a great format to get good information quickly." Tony C., Counsellor and Psychotherapist
"I would like to say how impressed I was with the webinar. It was very well organised with good slides. Wale has a great delivery of the topic and you can clearly see how knowledgeable he is. I would definitely recommend it and will be looking at others to book on to. The information was really good and delivered in a way which was understandable. Very enjoyable webinar." Thank you. Paula B., Therapist
"Thank you so much for an excellent course! Once again, a clear, concise and comprehensive presentation of OCD." Julie W.
"The webinar for OCD today was fantastic. Very informative." Monika S.
"The content and delivery of the course exceeded my expectations. I will definitely recommend this course to everyone interested in mental health." Lisa, T., Sufferer
"This course is very informative and useful. I enjoyed learning about OCD recovery information to try and help my partner with this condition. This info needs to be taught everywhere so that people can understand OCD and how to help people with the condition." Sam, R., Registered Nurse/Partner of Someone Who Has OCD
"A very interesting course giving both an overview of OCD and more detailed information on treatment protocols."Elizabeth, E., hypnotherapist and Counsellor
"I learnt a good amount of information on the brain and how OCD is present in the way the brain functions" Karen, O., Coach/Therapist
"Great insight into OCD. highly recommended for people with OCD situation and those who help others with OCD. Nesheta P., Sufferer
"Excellent course, excellent tutor. Very informative and Knowledgeable. Refreshing, informative, fun and professional." Lorraine R., Clinical Hypnotherapist
"I have had personal traumatic experiences in my life and OCD. The course was very informative. It has helped me a lot. Thank you.." —R. Silver, Sufferer
"Such an enlightening course! So well delivered."—T Smith, Hypnotherapist
"Very comprehensive and understandable. Really excellent course. Wale was very knowledgeable and excellent to listen to."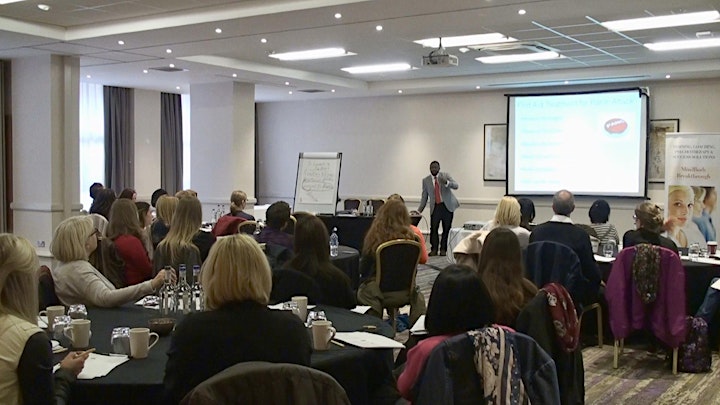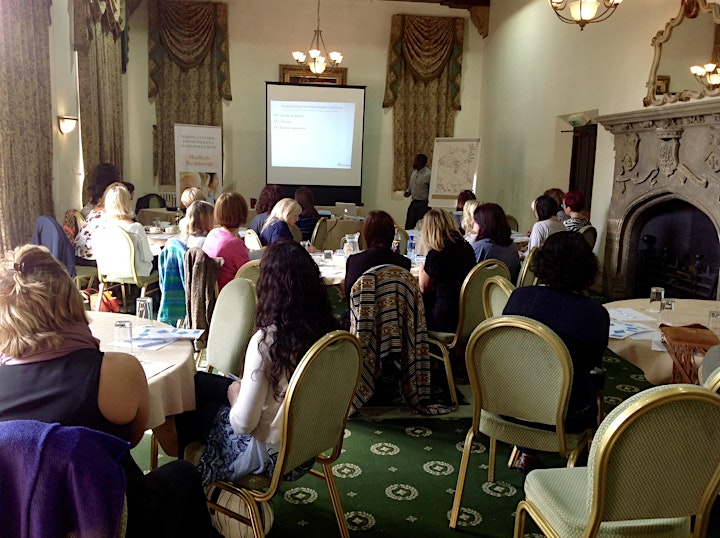 Why don't you come and judge for yourself? 
If you feel this course can benefit you or any of your family members, friends or colleagues, why don't you let them know about the event and give it a try? 
Those who have attended the event in the past always said that they were glad they made the investment even though they were a little bit unsure at the start (See previous attendees feedback below).
WHAT TO DO NEXT 
All you need to do is to register your ticket to attend this event now.  The event is expected to be oversubscribed as there are very limited spaces. So book your seat now to avoid disappointment. Please only register if you are sure that you will be able to attend this event. We really want every ticket taken to be used on the day. Thank you for your co-operation.
WHY IS THE EVENT SUBSIDISED AND WHAT'S THE CATCH?
The first reason this course is subsidised is networking. Relationships are very important. In a live event like this, there is ample opportunity to connect with like-minded people, share experiences, get motivated and discover what is working for others. I have been able to meet and connect with some amazing people in events such as this one.
The second reason why this is a subsidised event is the feedback that we get from our attendees. This is extremely useful. It helps us improve our courses and get better in serving others.
IS THIS GOING TO BE A HARD SELL?
We practise authenticity because that is one of our highest values. MindBody Breakthrough does not use hard selling tactics because manipulation eventually leads to failures and stress at some point down the line. 
If you enjoy the day and think that any of our materials, online courses or future workshops can be beneficial to you personally or to your work, then we can discuss options once you have completed this full day. We just want you to come and enjoy the day, acquire additional helpful skills and make new friends.
Spot allocation is on a first-come-served basis due to limited availability. If you are planning to attend please reserve your spot now.
A certificate of attendance will be issued.
I look forward to seeing you there,
Best regards,
Wale Oladipo
Director & Lead Trainer Mind Body Breakthrough
Terms and Conditions
Cancellation:
Cancellation charges are applied in all cases. We regret that this has to be done. All bookings involve administrative costs and it is difficult to fill vacant spaces as a result of late cancellations.
Cancellation charges are applied based on when the written cancellation notice is received. See the following refund rates:
Over 2 weeks' cancellation notice: Full refund

1-week cancellation notice: 50% refund

Less than 7 days cancellation notice: No refund unless in exceptional circumstances, for which a medical certificate may be requested.


Alternatively, a substitute delegate can be named at any time before the course. There will be no extra surcharge for making a substitution.
No refund will be payable for non-attendance or if no prior notice of cancellation is given.
The refund will be issued after the course.
Pictures/Videos:
Please be aware that from time to time the presentation (online or offline) may be photographed or filmed for educational, quality or promotional purpose (this happens occassionally). MindBody Breakthrough takes confidentiality very seriously and aims to use any films or photos that may be taken according to the strict terms and conditions on live events. For case study clips, permission will be sought from individuals involved before the clip of that matter is used.
(Webinar)Course Recording Provided to Attendees:
The course recording provided at the end of the webinar must never be shared with others who have not registered for the course themselves. The terms of usage is restricted to the person who has legally registered for and attended the course. Therefore sharing our course (webinar) recording to non-attendees is strictly prohibited. We recommend that all interested individuals should register and attend the course themselves.
Date and time
Location
Online Webinar (MindBody Breakthough)
15 Queen Square
Leeds
LS2 8AJ
United Kingdom
Refund policy
Refunds up to 7 days before event
Eventbrite's fee is nonrefundable.
Organiser of Webinar [2.5Hrs]: Treating Obsessive-Compulsive Disorder (OCD)
FEEDBACK FROM ATTENDEES
"Excellent course with an excellent style of teaching." -Dr Ikram D, General Adult Psychiatrist
"It was brilliant. The fact that it was delivered in a modern, light hearted way was a brilliant surprise. I have aspergers but I came for my anxiety. It was so nice to touch upon that too and see the links." --Anonymous, Sufferer
"The day was inspiring and thought provoking. The content was supported with facts and a clear process for application, so its more realistic to be able to apply or at least start to apply and move forward. Also good handouts and follow up material. Excellent! Many thanks." --J. Douglas, Police Officer (Met Police)
"Extremely happy with the delivery of information. I suffer from anxiety myself and also studying counselling. So it was for personal as well as education advancement." --Lesley M., Sufferer/Counselling Student
"I have both anxiety and ADHD and can't get NHS help as I don't have a permanent address. I loved this course! I learnt loads and realised a lot about my past. Even thought there was so much to take in, I was able to concentrate on the things that applied to me which was good." --Ellie Rose Guillory, Artist/ Performer
"I came for professional reasons and gained so much in a personal way. Thank you." -- Janet B., Programme Lead for Foundation Degree in Counselling
"An anxiety course, well presented with encouraging and appropriate content - pitched at the perfect level!" K. Holmes, Physiotherapist, Mum of Autistic Child
"Although I came specifically to support my friend I got so much out of the course myself and tools to use to help other families." Esther H., Director of the Square Peg
"Excellent! Very absorbing. I have so much enjoyed this course and I learnt so much despite having attended many seminars over the past 30 years." Anonymous, Therapist
"I really enjoyed this course - very worthwhile. The way Wale linked the neurophysiology/science with the psychology/feelings/emotions was excellent.." Helga W., GP
"I was very impressed with the content and the style of presentation. Pitched at the correct level and the atmosphere was relaxed and informal while extremely professional." - Sarah R., Prof. Dip Psy C (Paediatrics)
"I learned more this afternoon than in 2 years at the university studying CBT. Intellectual but not intimidating. L. Fraser, Private Cognitive Behavioural Psychotherapist
"Delievered in a very engaging and interedting way. Great for everall understanding and tools to equip others for change." -- Anonymous, GP
"Hi Wale. 3 days on from the course in Sunderland and friends and family can already see the difference in me. I'm calmer and a lot more collected and not as irrational, impulsive or explosive. Thanks so much for opening my eyes to what's going on in my head. Now I have a better understanding, I feel much more empowered to take the control back and get that Amagdala put back in its place. I know it's early days but I'm feeling a lot more grounded and if I have a bad day I feel much better equipped to deal with it. This has opened my eyes in ways I didn't think were even possible. Thanks so much for everything. I haven't managed to incorporate everything yet, but the building blocks are there. It really was a brilliant workshop and one I'm so glad I attended. I've started spreading the word about how wonderful it was and mentioned the webinar and the next course in January to people I know who would benefit from it. Keep up the good work and I hope you have continued success with the workshop. I'm happy for you to put these comments on your website etc if it will help raise its profile. God bless you." — Anonymous, Sufferer
"I have learnt a significant amount in a very short space of time. Great course!" N. Armstrong, Higher Asistant Psychologist
"Excellent course. Very interesting. It should be compulsary for CAMHS (CYPS) as they don't know enough about ADHD!" -- Mum of an ADHD child
"Excellent presentation of complex subject. Enlightening and interesting. Thank you!" --- Professor R.D. Plant
 "Very interesting! I would recommend to others." -- C. Wilson, Safeguarding Education
"I have a son with ADHD and I work in a primary school. It was very interesting to learn about brain parts and how these impact on ADHD. Very clear and interesting. -- S. Farnham, Mum of an ADHD Son
"Brilliant! Tons of info - very engaging speaker. Intense information delivered well. Thank you!! S. Lewis, Counsellor
" Really enjoyed the course - very useful, relaxed, friendly and informative. Well paced delivery too. T. Corfield, adult with ADHD
"Dear Wale,
I attended your course in Birmingham last weekend and feel I need to express my upmost gratitude to you as you have totally inspired me.
After losing my dad nearly 3 years ago I have suffered with severe morning anxiety. I now practise and teach kundalini yoga, Sound healing, meditation and reiki which has helped to relax me but not cured me. I just couldn't understand why until I attended your course.  Wow is all I can say. Since last weekend using positive visualisation and have started week one of your programme I have not woken up once with anxiety !!!!! I even used your visualisation technique in my sound class last night and the feedback was amazing!  You've inspired me to study this more and pass it on to clients that attend my classes.  I have highly recommended they attend your next session when you come back to Birmingham.  Life changing.
Thank you from the bottom of my heart. 
Forever grateful,
D. Greaves, EX ANXIETY SUFFERER!"
"An excellent workshop, well delivered and informative. Very knowledgeable presenter. K. Walsgrave, Sufferer, Artist
"I attended the course in Cambridge because as a GP I see lots of anxiety patients and  I suffer with anxiety myself. The course was really useful with lots of practical advice. I ave gained loys of insight. Very engaging and excellent info." --E. Thijskens, GP
"Hi Wale,
I have completed the 21 days deeper mind flip meditation. I am so pleased with the results. I can now go to the gym and many other places without having a panick attack, I am also more confident. The meditation helps with my sleep as I listen to it before sleeping, this helps me relax. I will carry on listening to the meditation to flip any other negative thoughts.
Thanks you for your help am very grateful to you." 
A. Garrod, Ex-sufferer
"Interesting and thought provoking..." J. Lewis, Chief Executive, Doncaster Mind
"Wale, it was an insightful and excellent presentation yesterday. As a Dr it was very useful to gain an insight into your F.E.A.R. model. Hope to use the F.E.A.R. model in practice. Keep up the good work. Vishal." Dr V. Banypersad, GP
"Thank you for the incredible course you ran yesterday. I learned a lot. I went on the course to learn about GAD to help others but also to help myself. Your course really helped expand my knowledge base. I feel the FEAR model will help with a more general type of anxiety for those I know. Thank you once again for a wonderful event and your great books."  -- C. Bersani
"I originally booked this as I thought it would be a great add on to my mindfulness teaching. However, I have had quite an anxious year and realised after booking that it is me that needs it most. Wale was great and had a great teaching style." -Claire H, Mindfulness and Meditation Teacher
"My name is Lydia and I attended your Treating Generalised Anxiety Disorder Workshop on the 21st April 2018 in Maidstone. Although I attended your course mainly for my own professional development, I have also been struggling with anxiety and depersonalisation for many years, so believed your course would be helpful with regards to that too.

I can honestly say that helpful is an understatement, and your workshop has completely transformed the way I have been thinking recently. Not only has it given me an understanding of the causes of GAD, I found the idea of placing doubt in the amygdala particularly fascinating. I am forcing myself to push past the avoidance techniques I have developed over the years, in order to allow myself access to opportunities I would have previously feared. This combined with your Imaginary Desensitisation Technique means I am no longer completely afraid of my anxiety but instead I am in the process of developing a more positive mind.

During the relaxation you conducted within the workshop, my Flip word was 'acceptance', as I have been in denial of my anxiety for years and fearful of admitting it. Although only on day 10 out of 21 of your FEAR cycle, I am already starting to feel a change in my mindset and can only describe myself as feeling more comfortable in my own head. I hope to soon be able to talk to those around me about how I have really been feeling, in order to progress my acceptance further.

Another aspect I particularly liked was seeing the volunteer's brain on the projector, and with all the parts of the brain firing depending on questions asked, it was truly fascinating!
I have a presentation in a few weeks as part of my degree course and was thinking of basing part of it on the professional and personal journeys I have made both within, and since, your workshop. You have made such a difference in the way I am approaching things, and I have just signed up to start running two new clubs at the primary school I work at, something I could definitely not have done without your knowledge and help.

Although I was unable to say so at the end of the workshop, you were truly inspirational and I hope to attend many more of your workshops in the future.

Thanks again "

Lydia SLaughter
"The course was really good. I liked having a course tutor who had actually experienced these issues! He answered the questions well and I liked his style of teaching." -- Sally M,. Sufferer
"Wale is incredibly knowledgeable and engaging. I learnt a huge amount and was reminded professionally of a huge amount. Great content, great presenter, great experience." --Dr R. Uys, Director of Rene Uys Counselling Services
"Exceptional events which tackles a complex subject in a much easier to understand way. Fantastic value for money event by an extremely knowledgeable and articulate presenter. I would strongly recommend this to companies, counsellors and sufferers. -- Lorraine M., General Manager
"Great. Wale is an excellent teacher. Very informative, useful knowledge. I would highly recommend anyone to attend this course for self-improvement and/or to help others. Brilliant.!  --Caroline M., Sufferer
" Hi Wale,
I attended your Mind body breakthrough workshop on treating GAD and panic disorders in the week and I wanted to say a huge thank you to you.  I have Asperger's syndrome and Bipolar disorder along with a number of physical and other mental disorders and I have never been able to find a therapist who really understands the complexities of the comorbid conditions which affect the anxiety I face so decided I needed to get a new perspective on it.   I have tried all manner of therapy up to now with no relief and being left with desperation and frustration. I find my brain concentrates more on analysing the therapist and type of treatment rather than the treatment itself, which has proven extremely counter productive as it promotes the paranoia element in me and gives the anxiety more energy and justification. I struggle greatly to take in very basic information but oddly can understand extremely complex information so when you began explaining the science behind anxiety it really started to make sense to me and has given me a new understanding as to why it happens and a realisation that there isn't going to be a miracle cure. I am going to research a little myself now as it has raised my interest and thirst for knowledge. 
The relaxation session you did with us was a very enlightening experience indeed. I was too embarrassed to speak up in the group as I cannot express myself verbally well at all and would not have made any sense, however I wanted to let you know my experience of the session.  Being autistic and highly creative  (my creativity in the art of conceptual photography) I am extremely visual in my thought process and therefore able to envisage elaborate scenarios in my head. Whilst I struggle to explain them verbally I can see them very clearly.   However during the process I could see a dandelion flower swaying gently in the wind, it had been through its transformation from a yellow flower gaining the energy to change and had gone into seed ready to start its new life. I was one of those dandelion seeds leaving the safety of the stem in which I had grown and I was floating above the ground with the breeze and had no fear of my destiny or worry of my ailments, I was strong and safe with a new chance for a fresh start at that moment. my flip happened, I became strong and unique (rather than weak and strange). I did have to ground myself by holding on to the table cloth as It was almost like an out of body experience, but very pleasant and I was the most relaxed I think I have ever been (very different to the dissociation that I struggle to comprehend a lot of the time). If someone had told me I would be in a room with people I do not know with my eyes closed, feeling so as relaxed as I was  I would never have believed them. Being around people is one of my greatest fears and I am extremely proud of myself for not only coming along but staying for the duration also and I thank you for giving me the insight in order for me to try and flip my mindset. I am hoping to put into practice the FEAR model techniques for myself and also try to help my teenage daughter who has Autism also. 
One of my fine art conceptual photography self portraits is named 'Face your Fears'  I shot it a few years ago and it was actually fully based on anxiety and panic! it has far more meaning to me now and I have had it printed and framed now and up on display, so again thank you for that. 
Kind regards"
Kyla S., Sufferer
"Excellent! I really enjoyed it and believe I will be able to affect change in my life with these tools." - Sam H., Company Director
"The course was well delivered - No jargon. Easy to understand. Good discussions. Good handout to take away and practise. I liked the fact that the tutor will email a recording to practice at home. -- Janice B., Bar Attendant
"Great workshop, leaving feeling revitalised with some useful tools to think about." -- Ellen M., Company Director
"After personally experiencing anxiety, a friend recommended that I attended with her. Very helpful to find out helpful tools and examples and to discuss with the group around the table. Wale Oladipo created a very calm and relaxing easy atmosphere - presented very well. Jonathan W., Sufferer, Handyman, Property Developer, Artist, Father
"Really enjoyed the course. Very in-depth and focuses on solutions and understanding underlying reasons for difficulties. Very well presented and clear."  - M. Bilbe, Complementary Therapist/Hypnotherapist
"A very succinct and clear teaching about anxiety which is useful and a practical tool I will use in my practice." --Susan D., CBT Therapist
"Absolutely fantastic day. So well delivered and easy to understand. Really made me understand myself a lot more too." -- Alex W., Registered General Nurse & Clinical Hypnotherapist
"I found this course very useful, easy to follow and apply. Treating GAD and Panic was phenomenal for me as I have a daughter going through anxiety attacks and depression." --N. Dorin, Mental Health Nurse
"Good opportunity to refresh on neurological information on how our brain works in related to anxiety recovery." -- K. Burch, CSE Counsellor
"I personally enjoyed the course and learnt new ways to discuss with patients how to handle thoughts and the inner critic." --Julie L., Team Manager, CBT Therapist
"Great learning about what anxiety is and how to deal with it. Nice to have the lecture notes to refer to when needing help. interesting to learn about the science behind anxiety." Katie A., SEO Executive
"Great insight into coping mechanisms. Enjoyed the content." --Sarah O., Sufferer
"Honest, humorous, knowledgeable tutor. Informative, practical simple tools to use." T. Gibson, Counsellor & Psychotherapist
"Excellent delivery. Power-point was also excellent. Charismatic. Good balance of tasks and listening. Food for thoughts and practical help," Sufferer, Primary School Teacher
"Easily digestible and applicable. Delivered by experienced teacher/professional - consolidated knowledge from different modalities and philosophy." L. Grimsey, Alcohol Worker/Counsellor/Psychotherapist
"This workshop was a pleasant surprise because it fits in so well with the workshops/programmes/1-1 sessions I run for children/ adults in emotional wellbeing, would love to do more courses." J.Wilson. Kidsskills4life
"I attended the course to gain deeper understanding of anxiety, but got more valuable information." Anonymous, Emotional Wellness Coach
"This course provides an alternative model based on CBT and person-centered approach to dealing/managing GAD/panic. Knowledgeable tutor! Anonymous, Clinical Team Leader
"A good start to discovering more to help clients in this area." Anonymous, Psychotherapist
"I have gained some knowledge that I can use in practice to support clients. " Anonymous, Counsellor
"The course material was very informative and clear, catered for visual and auditory. The F.E.A.R. model  makes sense. The examples used gave clear understanding of what was being said." Anonymous, Counsellor
"The tutor was informative and engaging. An opportunity to gain professional development in my approach to managing clients with anxiety." I. Gill, Counsellor
"Approachable presenter. Information very accessible. I highly recommend this course. " Anonymous, Life Coach
"I attended this course to help young people I work with and myself. Glad I came." Anonymous, Residential Childcare worker
"Interesting and thought provoking." V. Moulton - Humanistic Psychotherapist
"I really enjoyed the course. It brought together many strands of my training and I am looking forward to using aspects in my practice when treating anxiety." Anonymous, Counsellor
"Useful practical information that I can use in my practice." Anonymous, Psychotherapist
"Very informative. Collaborative teaching technique. Very enjoyable theory and subject matter. Cross-over with other techniques too. I will be able to link with existing knowledge." K. Knight, Psychotherapist abs Clinical Hypnotherapist
"Excellent. I have previously attended Wale's course. Wale presents very well. Makes the subject understood and interesting, I would recommend to others." D. Davies, Mental Health Nurse
"I enjoyed this event - well delivered in a pleasantly informal way." E. Crafts, Chiropractor
"Very informative. Easy to understand. I would definitely be able to use the steps in practice. Would recommend this course." J Rogers, Counsellor/Psychotherapist
"Excellent presentation. Very knowledgeable presenter."  E. Walker, Support Workers
"I was genuinely pleased with the course content and the delivery by Wale Oladipo was good. He clearly has a great deal of knowledge about the subject which came through." I.Rose, Counsellor
"Some really excellent points and a very easy to operate model which I can see myself applying in part or in whole. Course tutor is very easy to understand and learn from." N. Clark, Psychotherapist
"Enjoyable intro into helping people deal with anxiety and panic." J. Cox, Practice Nurse
"Really good content to help those in private practice." - N. Gill, NHS - IAPT Psychological Therapist/Interpersonal Psychotherapist