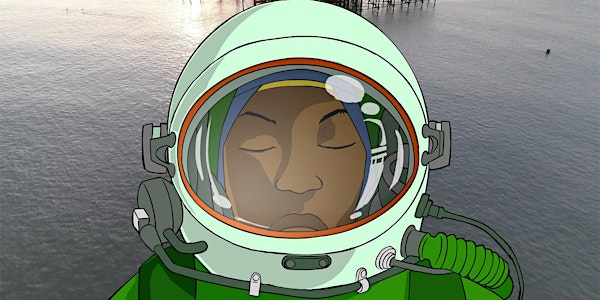 Webinar: Artists and Animation- Larry Achiampong and Wumi Olaosebikan
Location
Film London
Morris Place
London
N4 3JG
United Kingdom
Hear from artist Larry Achiampong and illustrator and animator Wumi 'Wumzum' Olaosebikan about their careers and collaboration together.
About this event
Hear from Award winning artist Larry Achiampong and illustrator and animator Wumi 'Wumzum' Olaosebikan about their career histories, experience working with film and animation, and their creative collaborations together. This Zoom Webinar will give you the opportunity to learn more about a career in the art and animation industries, and how to work with experimental film.
Larry Achiampong's work 'Reliquary 2' features a series of animated sequences by Olaosebikan unseen drone footage from Achiampong's personal archives, complemented by an original score composed and performed by Achiampong. The piece acts as a response to COVID-19 and the subsequent lockdown. Watch a clip here.
Please use this link to join: https://us02web.zoom.us/j/89023780438 There will be an opportunity to ask questions as part of this event.
This event is presented by Film London Artists' Moving Image Network, and Film London's Equal Access Network.
Larry Achiampong is a British Ghanaian artist whose work includes moving image; sculptural installation; photographic and painted collage; audio and visual archives; live performance; spoken word; recorded sound bytes and composed score.
Wumi "Wumzum" Olaosebikan is a Whitechapel-born Nigerian-British illustrator, muralist, and animator who specializes in character & world design. Wumzum's craft has taken him across 4 continents and takes inspiration from a range of sources: the visual language of comic books; the interactivity of video games; the dynamism of graffiti artists; and the freedom & fluidity of the London Jazz scene.
Wumzum's recent work includes a motion comic for Lewisham Homes & The Albany's Creative Coding Collective, design work featured in Frieze Magazine and Somerset House, and a commission for the BBC series Noughts + Crosses. His work often finds him collaborating with and providing artwork & animation for musical artists & producers such as Swindle, Juls, the Steam Down Collective and Wonky Logic.
The Film London Artists' Moving Image Network (FLAMIN) was launched in 2005 as a one-stop resource to provide artists working in the moving image with access to funding, guidance and development opportunities. Through unique commissioning funds, FLAMIN has commissioned over 150 productions, and supported the careers of countless other artists with programmes of one-to-one advice sessions, residencies and workshops.
Film London's Equal Access Network (EAN) is supported by the Mayor of London. Through it, we work to ensure the capital's screen industries represent the diversity of the city itself. Our core aim is to promote equality, inclusion and diversity: We want the EAN to be the link in an industry network for those that don't have it.
Still from Larry Achiampong 'Reliquary 2' (2020)