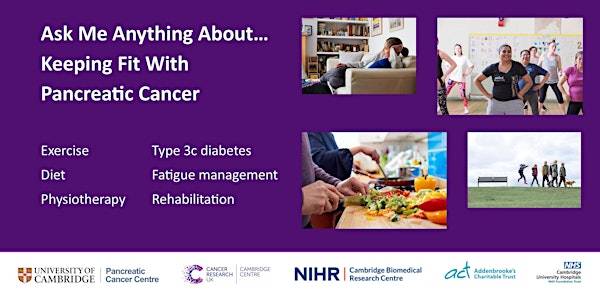 Webinar - Ask me anything about... keeping fit with pancreatic cancer
Join us online for this free webinar hosted by the Cambridge Pancreatic Cancer Centre on World Cancer Day #worldcancerday
About this event
Learn more about what you can do before, during and after treatment for pancreatic cancer to improve your ability to withstand forthcoming treatment and improve outcomes.
Our panel of experts are:
Nicola Day: Clinical Specialist Physiotherapist in oncology rehabilitation and exercise
Édáin Martin: Respiratory Specialist Physiotherapist; Surgical Physiotherapy team lead
Laura McGeeney: Pancreatic Cancer Specialist Dietitian
Claire Traub: Specialist Occupational Therapist; Enhanced Supportive Care Service / Breathlessness Intervention Service
You will be given the opportunity to submit questions to our panel when you register for this event, plus you can ask questions live on the day.
The goal of the Cambridge Pancreatic Cancer Centre is to be a focal point of multi-disciplinary excellence for the translation of pancreatic cancer research, facilitating collaboration between Cambridge academics, clinicians and external partners. To learn more about us, visit our website.