Webinar: Child Sexual Exploitation Awareness

Tuesday, 6 October 2020 from 09:30 to 12:30 (BST)
Event Details

ONLINE TRAINING - CHILD SEXUAL EXPLOITATION AWARENESS 
Child Sexual Exploitation (CSE) is something that anyone working with and/or living with children and young people should have knowledge of to help keep them safe. 
This online workshop has been designed to raise awareness about the complexities of CSE and develop the skills to identify and respond appropriately. This includes what the term means, different models of child sexual exploitation, key risks for vulnerable children and young people, ways that perpetrators use social media to target and how to identify potential signs of on and offline grooming. 
Delivered by a professional with over 15 years' experience in safeguarding, the workshop offers guidance for having protective conversations and explains the UK laws intended to safeguard children as well as best practise in responding to CSE and where to report concerns.
With a perfect blend of theory and practical skills that you can use with young people.
This training consists of real-time sessions & techniques, discussion groups and opportunities to practice and network with each other.
A must for any teacher or youth engagement worker
LEARNING OUTCOMES:
Raised awareness about Child Sexual Exploitation models and basic strategies to safeguard children and young people

Understand how and where young people can be at risk

Know basic legislation intended to keep children and young people safe

How to identify some of the potential signs and symptoms of CSE

Where to go for advice and support and inform them where to report any concerns.
This training can be linked to your continued professional development CPD and is a great way to network with other professionals
WHAT ARE THE TEACHING METHODS? 
The session combines various teaching methods, including:
•               Presentation.

•               Discussion.

•               An experiential exercise.

•               Small group and pair work.

•               Whole group discussion.
TESTIMONIALS
"Outstanding course!! very engaging and charismatically delivered"
"Brilliant trainer; was kept engaged whole time and right levels of opportunity to participate. Trainer had very good knowledge on subject and how we can help young people"
"Excellent course; very detailed knowledge and explanations to ensure understanding"
"Excellent! Down to earth approach"
"Good pace and excellent resources!"
SUITABLE FOR: 

Practitioners working with young people in groups or 1-1 settings, e.g. school staff, youth workers, residential care workers:
Class teacher

Learning Mentor

Pastoral Lead

Teaching Assistant

Family support Worker

Headteacher

Assistant Head

Social Worker

Nurse

Support Worker

Youth Worker

Parents & Carers
PLEASE BE AWARE
This workshop discusses pornography, a topic that some people may find sensitive for a wide range of reasons including faith, gender and culture.

No pornographic or explicit images are included or referenced.

The ethos throughout is to support young people to build positive relationships based on mutual respect, affection and trust.
YOUR FACILITATOR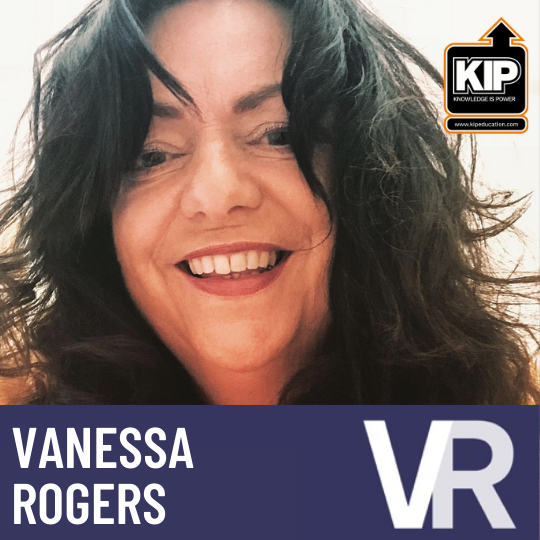 Vanessa Rogers is a nationally acclaimed youth work trainer and author with experience of managing a wide range of services for young people (11-25), including early intervention, youth offending and targeted services. She is best known for creating practice-based educational resources for youth workers and teachers, published worldwide by Jessica Kingsley Publishers. These provide creative ways to engage young people in learning about traditionally emotive topics including relationships and sex (RSE), pornography and peer domestic abuse to develop the life skills to make healthy, positive choices. 
She continues to work with young people across the UK on a commissioned basis, is a fellow of the Royal Society of Arts (RSA) and sits on the council for the Institute for Youth Work (IYW). 
https://www.jkp.com/uk/we-need-to-talk-about-pornography-1.html 
ABOUT OUR TRAINING
At KIP Education, the experiences of professionals, and the young people they work with, are at the heart of our training programme. Each year we deliver training to over 10,000 professionals, and our expert trainers give you the practical skills to support the young people you work with.
Our training courses are designed to build your understanding of key issues & give you the confidence to make a difference in young people's lives.
KIP Education CIC is a boutique provider of innovative learning solutions for all organisations large or small. Our customised offerings are focused on reducing the cost of training while maximizing results.
KIP Education can provide training in your area for small or large groups.
To arrange a course please contact us.
For more information please visit our training course page.
Save This Event
Organiser
KIP EDUCATION CIC provides training for professionals throughout the United Kingdom.
KIP Education's detailed training empowers professionals to take on sessions and interventions that they may have previously found awkward or out of their skill's zone. Each course provides not only up-to-date information, they also encourage professionals to take on these challenges and create effective and interactive lessons, sessions and workshops that staff and young people will enjoy.