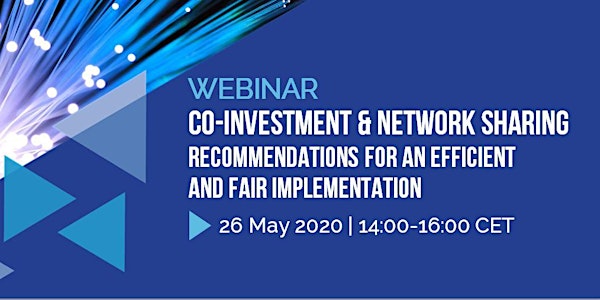 WEBINAR | Co-Investment & Network Sharing - Recommendations for an Efficien...
Sales Have Ended
Registrations are closed
Registration for this event has closed. If you wish to participate to this event please contact lvs[at]cerre[dot]eu
Description
With recent efforts to build a better connected Europe, co-investment for very-high-capacity networks and network sharing agreements in mobile markets have emerged over the last years. The new European Electronic Communications Code indeed introduced new rules for such co-investment with a view to achieve the Gigabit Society targets for the European Union. The deployment of 5G mobile technology across Europe is likely to push operators to share even more of their infrastructure in the future.
Co-investment and network sharing bring strong efficiency benefits to operators. But there remain concerns that it may also harm competition, by reducing infrastructure-based competition, and thereby investment incentives. It may also facilitate collusion between co-investors.
This webinar will present and debate the findings of a new CERRE report providing recommendations for efficient and fair implementation of 'Co-investment & Network Sharing' agreements in Europe.
This new report, co-authored by CERRE Joint Academic Director, Prof. Marc Bourreau (Télécom Paris), Prof. Steffen Hoernig (Nova School of Business & Economics) and Winston Maxwell (Director, Law & Digital Technology Studies, Télécom Paris), analyses the implementation of co-investment and network sharing agreements and provides concrete recommendations to improve the trade-off between risks and costs.
This webinar is held under Chatham House Rules.
---
Don't miss out on our next activities, register to our
newsletter
!