Webinar: "C.S. Lewis Theological Imagination" with Michael Ward #BigRead13

Wednesday, 27 March 2013 from 16:00 to 17:00 (GMT)
Event Details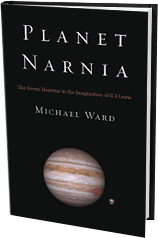 Have you ever read The Narnia Chronicles? Have you been following them along for #BigRead13 (you don't need to have for this)? We have a treat for you next week... Dr Michael Ward has agreed to give a 30 minute webinar followed by Q&A on the topic of "C.S. Lewis Theological Imagination".
Details
The award-winning Planet Narnia and The Narnia Code argue that Lewis secretly constructed the Chronicles of Narnia out of the imagery associated with the seven heavens of the medieval cosmos.
But is it really possible that Lewis could have invented and kept such a secret?   Why would he have been so interested in medieval cosmology?  What are the seven heavens?  How come nobody has noticed this secret before?  Does this hidden theme matter?  How does it relate to Lewis's Christian beliefs?
Reviews
"Stunning . . . Reading the Narnia books will, in the best sense, never be the same again."  N.T. Wright, University of St Andrews
"Compelling. . . . Michael Ward's stunning work of scholarship has shone a celestial light on the Chronicles of Narnia, and it will undoubtedly send many old friends of Narnia back through the wardrobe to explore the land again with new eyes." Mike Starkey, Church Times
Questions
We are also grateful to Sheridan Voysey for agreeing to mastermind the questions, so please do let us know - before or during the talk - what you'd like to know?
How do I join in?
The session is easily accessible online. Michael and Sheridan will be based in Oxford, whilst Bex will be managing the software from Durham - so you can join wherever you are in the country.
Date: Wednesday 27th March 2013 (note date change)
Time: 4-5pm (staffed from 3.30pm)
Location: Webinar Online
Very simple to use (instructions here) - follow the guest log in instructions - the chat window is also available for your use.
Cost: Free
Organiser
CODEC is based at St John's College, Durham University, and explores the interfaces between the Bible, the digital environment and contemporary culture. Our research focuses upon theology, preaching and discipleship in a digital age.