Webinar: Cyber Security - Minimise Risk in Today's Culture of Computing
Description
Webinar Duration: 45 mins. + Q&A
Time & Date: 17th November 2017 1pm - 1.45pm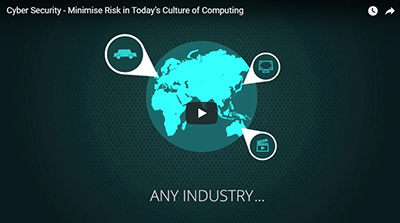 Who is this for?
This informative session will benefit anyone who wants to learn how to minimise risk in today's culture of computing, where cybercrime has become commonplace. Whilst the session will introduce some basic elements of networks with some technicalities of the Internet, no programming or technical knowledge is necessary to attend. The webinar is themed around raising general awareness in some of the key areas of Cyber Security.
Overview
With cybercrime making headline news, it is more important than ever to be aware of our own digital footprint and the impact that it can have on our surroundings. Cyber Security is a market that has grown more than 35 times in the past decade, and is set for exponential growth with spending on products and services to eclipse $1 trillion worldwide.
Many users aren't aware of the cyber threats lurking on the Internet, cybercrime and malicious hackers target regular people like you and me far more frequently than we would like to think. This bitesize webinar aims to provide information and advice, along with some easy steps to help minimise risk in today's often confusing cyber landscape.
The webinar covers:
Fundamentals of Cyber Security
Motivations of a hacker
Top 3 cyber threats we face right now
Easy smart solutions to implement right away
Why education in programming is not getting it right
What do the numbers look like now, and in the next 5 years

Major corporations: cyber security budgets announced
How much can cyber damages cost
Cybercrime statistics

Bonus topics

Recruitment and the job market for cyber security
How Artificial Intelligence is being used to help combat cybercrime
News watch