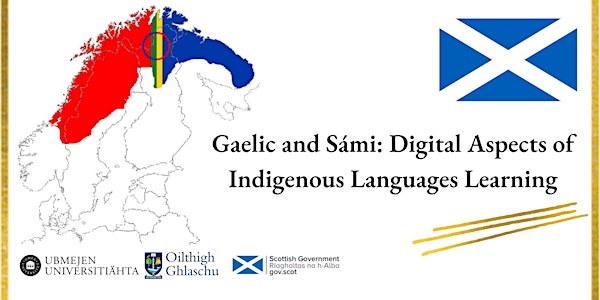 Webinar: Gaelic and Sámi: Digital Aspects of Indigenous Languages Learning
Gaelic and Sámi: Promoting Mutual Learning in the Protection of Indigenous Languages
About this event
The School of Social and Political Sciences at the University of Glasgow warmly invites you to the second webinar organised as part of the project Gaelic and Sámi: Promoting Mutual Learning in the Protection of Indigenous Languages, conducted in partnership with Várdduo Centre for Sámi Research, Umeå University, Sweden.
One feature common to both Gaelic and Sámi language promotion has been the development of online teaching and learning and various digital resources to support this. This webinar will specifically reflect on recent experiences in this area. Online teaching and learning enable more efficient use of limited resources in a context where speakers of the languages have become increasingly territorially dispersed in terms of residence. The value of such provision has also been demonstrated by the Covid-19 pandemic, which has prompted further innovation in the digital realm. At the same time, in various European contexts, the pandemic highlighted issues around equitable access to technology (and, for linguistic minority communities, access to public health information in one's own language). The wider question also remains as to whether fully online modalities can provide the same quality of education as more traditional, in-person provision. Participants are invited to reflect on examples of good practice but also on issues and challenges within the field, with particular reference to experiences during the Covid-19 pandemic.
Panellists:
Coppelie Cocq, Professor in Sámi studies and digital humanities, Umeå University.
Conchúr Ó Giollagáin, Professor of Gaelic Research, University of the Highlands and Islands.
Ellacarin Blind, Officer for Cultural Affairs at Sámiid Riikkasearvi
Mark McConville, Research Associate / Project Manager (Celtic and Gaelic), University of Glasgow.
Peter Steggo, Minority Coordinator, Umeå Municipality.
Jim Whannel, Bòrd na Gàidhlig.
Format:
09.30-10.30: Opening statements by panellists and initial Q&A
10.30-10.45: Break
10.45-12.00: Roundtable discussion (panellists and online participants)
This webinar follows on from the first event in the series - Gaelic and Sámi: Sharing Knowledge on Promotion of Indigenous Languages, held on 16 February 2022. The two events form part of a wider project comparing current institutional arrangements for the maintenance and revitalisation of Gaelic and Sámi cultures, with a focus on languages. The project assesses the suitability of these arrangements in relation to challenges faced by speakers of these Indigenous languages and reflects on possible new or supplementary approaches that could help to realise the potential cultural, social, and economic added value of linguistic diversity. The project as a whole is supported by the Scottish Government Arctic Connections Fund 2021-22 and arises out of the activity of the COST Action European Non-Territorial Autonomy Network (ENTAN – www.entan.org). It seeks to bring together academic experts and practitioners from Scotland, Sápmi, Sweden and beyond to boost public awareness and support knowledge exchange and mutual learning on best-practices to promote Indigenous languages.