Join us for the LongITools Webinar "Health and Environment Dynamics: Translating Exposome Research to Support Integrated Policymaking".
About this event
The aim of the workshop is to raise awareness of the importance of the exposome with policymakers. We will explore how research outputs could contribute to reducing the burdens associated with the epidemics of chronic cardiovascular and metabolic diseases.
The workshop, an EU Green Week Partner Event organised by the LongITools project, is the start of a journey to connect science and policymaking. LongITools is a member of the European Human Exposome Network, the world's largest cluster of innovative projects studying the impact of environmental exposures on human health. This network will play a critical role in delivering impactful exposome research and supporting infrastructure which will contribute to European competitiveness.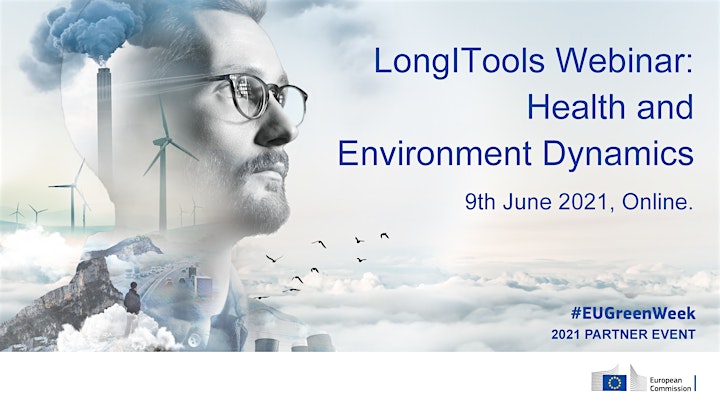 The specific focus of LongITools is to study the life-course health and environment dynamics, which include exposures such as air pollution, noise pollution and the built environment, in the context of the epidemics of obesity, diabetes, and cardiovascular diseases. The project is applying empirical research methods to understand the dynamic pathways that develop between our health and the environment through life.
Taking an exposome approach, also referred to as complex systems theory in policymaking, it links individual and societal health to the environment to define disease trajectories. This will ultimately inform policymakers about the barriers and opportunities to build more resilient environment and health systems.
The workshop will cover:
The burden of non-communicable diseases (NCDs) in Europe and the role of the environment in influencing NCDs now and in the future;
An introduction to the exposome concept, the LongITools project and the European Human Exposome Network;
The importance of data and participatory research in Europe;
A panel discussion to explore the challenges faced by policymakers and researchers and how we can best ensure that scientific results lead to effective policy decisions with a positive impact on the health of European citizens.
Speakers and panellists confirmed:
Sirpa Pietikäinen, Member of European Parliament;
Dr Rupert Suckling, Director of Public Health, Doncaster Council, UK;
Joana Lobo Vicente, Expert in Chemicals, Environment and Human Health, European Environment Agency, Denmark;
Jacqueline Bowman-Busator, EU Policy Lead, EASO, Brussels;
Professor Sylvain Sebert, LongITools Project Coordinator, The University of Oulu, Finland;
Jayne Evans and Johanne Boulding, Beta Technology, UK.