Description
WEBINAR: Marketing & Technology Book Club
'Hacking Marketing' Q&A with author Scott Brinker
This is part of our marketing & technology book club. Once (occasionally twice) a month we recommend a book for everyone to read based on feedback from all of you, plus our editorial team. We will then run a webinar Q&A with the author of the selected book a month later where you can ask them your questions. Sign up to get updates: www.martechalliance.com/bookclub.
Join Scott Brinker author of 'Hacking Marketing' to ask questions on how to apply software–inspired management concepts to accelerate modern marketing.

Author Bio: Scott Brinker. VP platform ecosystem at HubSpot | chair of #MarTech conference | editor of http://chiefmartec.com | Previously CTO at ioninteractive.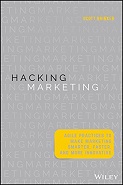 Book: Hacking Marketing will expand your mental models for how to lead marketing in a digital world where everything including marketing flows with the speed and adaptability of software.

Registration: It's free to register but limited tickets available, it's advisable to confirm your place ASAP to avoid disappointment.
Our webinars are powered by Zoom, confirmation and reminder emails will come directly from that platform.