Practitioners of the immigration and public law team, Samina Iqbal and Pierre Georget
About this Event
Goldsmith Immigration and Public Law Team is delighted to be collaborating in this webinar with three major forces in the world of immigration detention.
Experienced practitioners from the immigration and public law team, Samina Iqbal (Joint-Head of Team) and Pierre Georget will provide an overview on Unlawful Detention and Bail.
We are also delighted to welcome as part of our panel
Jesuit Refugee Service UK - who will provide an insight into the Detention Estate in light of the Napier/Penally Barracks and their work there.
Pierre Makhlouf, Assistant Director, BiD, will provide an overview of detainees in prison and their different treatment, celebrating a recent victory in the High Court. Pierre will also look at 'what to watch out for' when it comes to the encroachment of immigration detention on bail.
James Wilson (Acting Director, Detention Action) will speak about the impact of COVID-19 on detention and his organisation's legal challenge in March-April 2020. He will also provide an update on parliamentary work pushing for a 28-day time limit, and give an overview of DA's work on alternatives to detention.
We are also delighted to fundraise on behalf of these three organisations - we would encourage a suggested donation of £5 to the organisation of your choice (click on name(s) below):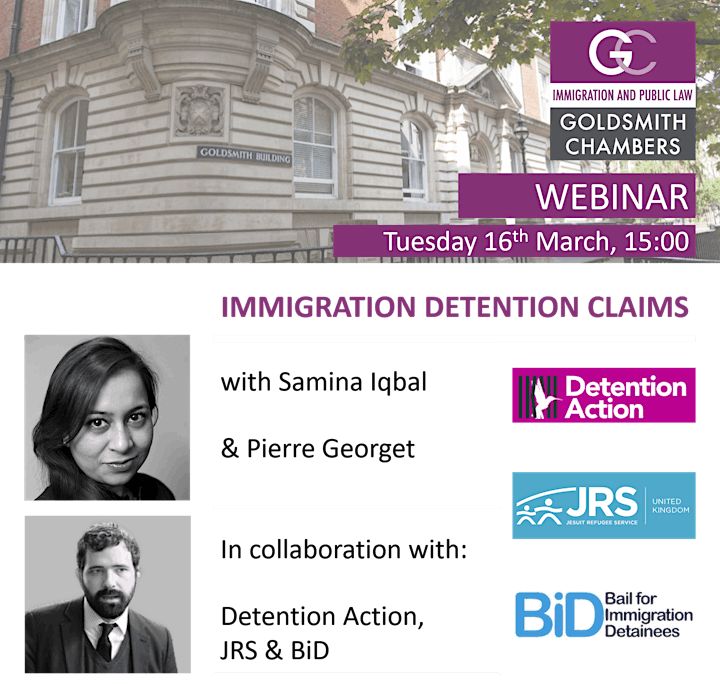 ---------
FAQs
How do I access the event ?
The event will be hosted by Zoom which is a video calling platform. You will be sent joining instructions in a separate email once you have registered for the event. You will need to click on the invitation link and follow the instructions to access the live event.
Do I have to appear in person on video or audio ?
Please feel free to sit back and listen! There will be also a Q & A function (in the zoom Q & A box) available during the event.
Is there a cost for me to attend ?
No, the event is FREE.
Will the event be recorded ?
Yes, please contact us if you have any difficulties with this.