This webinar delivered by Prof Bridget Emmett, Dr Dario Fornara and Prof Greg Keeffe will provide an introduction to the EU Soil Mission.
About this event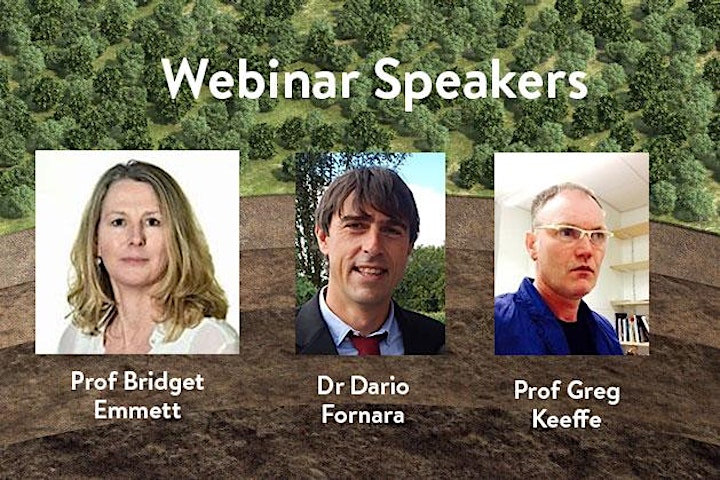 About the speakers
Prof Bridget Emmett, UK Centre for Ecology & Hydrology – Bangor, Wales
Prof Bridget Emmett is Head of Soils and Land Use Science Area for Centre for Ecology & Hydrology. She has responsibility for 60 staff across 3 CEH sites working in a mix of research areas involving all aspects of soil health and land use including various aspects of ecosystem services, natural capital and the land-sea interface. She is the site lead of the UKCEH Bangor station.
Research Interests:
Soils, biogeochemical and ecosystem science. Specific topics include; impact of land management on natural capital and ecosystem services; change in soil structure and function; impacts of nitrogen pollution; impacts of climate change on soils and ecosystem function; new knowledge systems exploiting advances in computer science. Science focus is on biogeochemical cycling and implications for ecosystem structure and function including the nitrogen cycle, carbon cycle, vegetation composition, water quality and greenhouse gas emissions. Techniques include national-scale surveys and monitoring; large long-term, field-scale manipulation experiments; range of field and laboratory techniques including the use of natural and enriched isotopes at the field scale and collaboration with ecosystem modellers.
Approx. 160 publications including 4 in Nature.
Affiliations: Member of the EU Mission Board on Soil Health and Food
Adviser for the UK Parliamentary Inquiry into Soil Health (2016) and a contributing author to the 3rd Climate Change Risk Assessment for the UK.
Dr Dario Fornara, AFBI, Principal Scientific Officer, Sustainable Agri Division
Dr Dario Fornara was awarded a PhD in Ecology from the University of Pretoria, South Africa in 2005. In 2006 he was awarded a Marie Curie Post-Doctoral Fellowship of the EU to spend between the University of Minnesota (USA) and Lancaster University (UK). In 2009 he was offered a Lectureship position in Terrestrial Ecology at Ulster University. Since 2014 he has been working in AFBI as project leader of the Terrestrial Ecology and Soil Biogeochemistry research programme. In 2014 he received a Recognition of Achievement from the British Ecological Society, for a Research Paper award: Fornara D. A. and Tilman D. (2008), most highly cited research paper published in Journal of Ecology between 2008 and 2013.
He has been involved in different Networks of Excellence including the (1) Technical Advisory Group (TAG) on Soil Carbon Stock Changes of the Livestock Environmental Assessment and Performance (LEAP) Partnership promoted by FAO, (2) Working Group of the Global Soil Partnership (GSP) on Soil Organic Carbon (SOC) management at the regional and sub-regional scale, and (3) Integrative Research Group of the Global Research Alliance. At the moment is leading AFBI's involvement in the H2020-SFS-2019-1 COFUN – EJP Soil project: "Towards climate smart sustainable management of agricultural soils" (€80m among 26 EU partners).
Prof Greg Keeffe, Professor of Architecture & Urbanism, QUB
Greg Keeffe is Professor of Architecture + Urbanism at Queen's University Belfast. He is an urban designer with expertise in productive and resilient cities. He is the designer of the Biospheric Project, a building integrated aquaponic farm and a member of the EU funded CityZEN Roadshow team that is employed to imagine carbon free, realistic, future plans for cities around Europe.