How can we support our own and our employees' wellbeing?
About this event
Who should attend the webinar?
Everyone! This webinar aims to support managers and their teams with their overall wellbeing and resilience.
Key Learning Outcomes
What affects wellbeing?
Recognising and dealing with stress
The pressure curve
Practical resilience strategies
Taking responsibility & control
Creating a safe and happy workplace for all
Additional Information
EXCLUSIVE OFFER: Free wellbeing and resilience E-Learning course with every Hybrid Manager or Change Superhero Actus Academy bundle. Support your managers this Autumn with flexible and highly relevant digital learning resources. Find out more.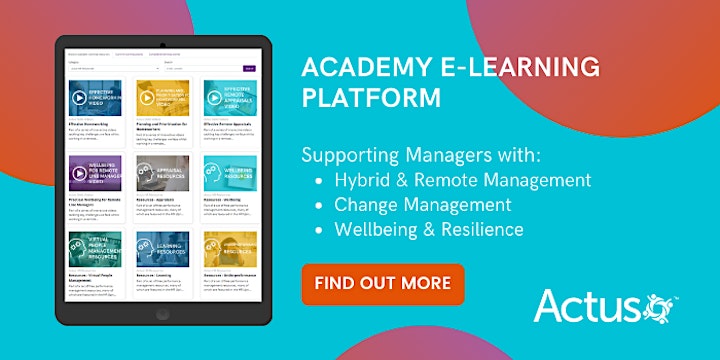 Organiser of Webinar: Practical Wellbeing and Resilience Strategies
Part of our ethos is to help build a better workplace for people, whatever their location. We achieve this by providing HR software covering Performance, Learning & Talent Management. Our suite of software products are also supported by open and bespoke training, consultancy services, and a variety of free thought leadership resources including free webinars, the HR Uprising Podcast, e-Books, white papers, and more. Why not take a look at our free thought leadership resources here?