Event Information
Refund Policy
Refunds up to 1 day before event
About this Event
Whether you want to consider a portfolio career in the future, or gain the benefit of adding a non-executive director (NED) role alongside your current role, this webinar is designed to get you thinking early about your path to the boardroom.
This one-hour webinar, organised by Women Talk Real Estate, will take a first look at some of the skillsets required to gain an appointment. These include the crucial difference in approach between executive and non-executive; the style and behaviour of successful NEDs; and some of the pitfalls to be aware of when seeking a NED position. Tips on how to use your networks, engage with headhunters and interview techniques will also be provided.
The webinar will be delivered by Marianne Macdonald, founder of Non-executive Directorships Consulting, a London-based advisory firm which supports senior businesspeople as they move into non-executive careers. She will be joined by Elisabeth Stheeman, who is an External Member of the Financial Policy Committee at the Bank of England and a portfolio NED with significant real estate experience. Elisabeth will draw on her own NED journey with insights and guidance.
This online session will be practical, informative and interactive and is tailored for women seeking to reach the boardroom as a NED, now or in the future. It will offer helpful insights to increase your success and knowledge, arming you with the right information and self-belief to move forward.
The webinar will cover the following topics:
• Non-executive style versus executive style and approach
• Key skillsets in the NED market and which skills to prioritise
• How to manage the board headhunter group
• Potential pitfalls
• How to access NED roles
• Q&A
Future workshop - Spring 2021
The webinar is the first part of an ongoing programme to offer female experts with a good understanding of the skills and experience required to pursue NED opportunities. This will culminate in a one-day in-person workshop, which we hope to deliver in early 2021. The workshop will provide information on board structures and governance, duties and responsibilities of NEDs, tips on interviewing and CV preparation; and the opportunity to critique your own skillset and meet like-minded professionals and seasoned board members.
Who should attend the webinar?
This webinar is designed for women from the real estate industry who are interested in exploring a non-executive career. It would also be valuable to women who wish to add to their portfolio or current NEDs who wish to expand or refresh their portfolio.
Who is running the course?
Women Talk Real Estate has partnered with Marianne Macdonald, a specialist non-executive career advisor, to deliver this webinar.
Marianne Macdonald is the founder of Non-executive Directorships Consulting, a London based advisory firm which advises senior businesspeople on the creation of non-executive careers. She previously spent seven years in the non-executive practice of The Zygos Partnership which, prior to its 2018 sale to Russell Reynolds, was the UK's leading board search firm in the non-executive space. Her search experience spanned all sectors, including real estate, and boards ranging in scale from FTSE100 to FTSE small cap, including family businesses, mutuals and markets. She met many of the active UK NED population in this role.
Before joining The Zygos Partnership in 2010, Marianne was a broadsheet journalist and latterly spent 10 years interviewing international leaders within the arts, media, politics and sports sectors.
She has a First in English from New College, Oxford, and a Diploma in Journalism from City University.
Alongside Non-executive Directorships Consulting, Marianne is an Ambassador for Nurole and a former Board Advisor for the search firm MBS Group and for BCKR, the organisation which works to help senior lawyers create a portfolio.
Guest speaker:
Elisabeth Stheeman, External member of the Financial Policy Committee, Bank of England and Portfolio NED.
Elisabeth is an external member of the Bank of England's Financial Policy Committee (FPC). She was appointed in November 2017 and started her role at the end of February 2018. She has been an external member of the Bank of England's FMI (Financial Market Infrastructure) Board since July 2017.
She is currently a member of the Supervisory Board of Aareal Bank AG, the third largest listed bank in Germany, and the deputy chair of the Risk Committee as well as a member of the Technology and Innovation Committee. She is also a non-executive director of Edinburgh Investment Trust (EIT) plc, a FTSE 250 listed investment trust, primarily investing in UK securities (total assets approx £ 1bn).
Previously, Elisabeth was a Senior Advisor to the Bank of England's Prudential Regulation Authority (2015-18). In this role she focused on governance across the UK's financial services sector.
She was also a non-executive director of the Board of Korian SA (2017-19), the CAC listed, largest provider of retirement and nursing homes in France and Germany and a member of the Supervisory Board and Audit Committee of TLG Immobilien AG (2014-18) , a publicly listed Real Estate company based in Berlin.
In her executive career Elisabeth was Global Chief Operating Officer for LaSalle Investment Management (2013-14), having previously worked Morgan Stanley for over 20 years (1988-2012).
Elisabeth is a member of the London School of Economics (LSE) Council, and a member of the LSE Finance and Estates Committee.
Women Talk Real Estate is a non-profit organisation dedicated to increasing the visibility of women in the European real estate industry. Our database connects female professionals with speaking and media opportunities and we provide training for successful stage and media presence.
www.womentalkrealestate.org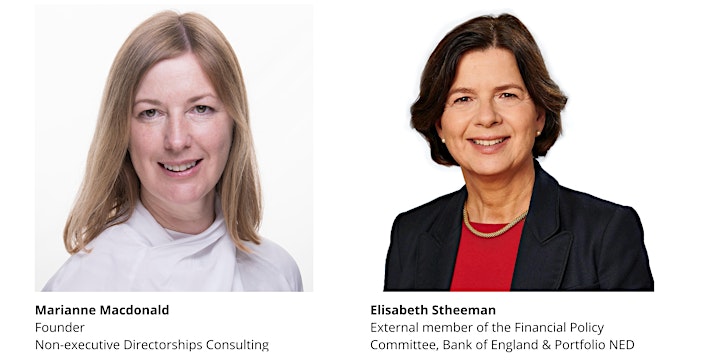 FAQs
How can I contact the organiser with any questions?
Please contact us on liz@womentalk-re.org
On what platform will the webinar be delivered?
The webinar will be broadcast via Zoom
Is the webinar interactive?
Yes, there will be the opportunity to ask questions via the chat function and verbally.
Will the session be recorded?
Yes, registrants are encouraged to attend the live webinar but it is also possible to register and receive a recording after the event.
What's the refund policy?
Women Talk Real Estate will issue a full refund for cancellations received no less than 24-hours prior to the scheduled broadcast start time.
Refunds will not be issued for cancellation requests received less than 24-hours prior to the scheduled broadcast start time.
You can transfer your place free of charge to a colleague/peer at any point whilst the registration is open.
All cancellations/transfers must be done through Eventbrite.
Contact liz@womentalk-re.org with any queries.
Date and Time
Location
Refund Policy
Refunds up to 1 day before event