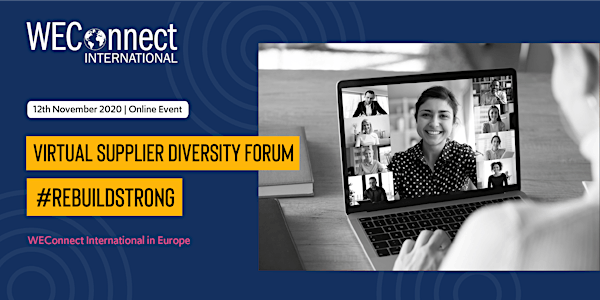 WEConnect International Europe Virtual Supplier Diversity Forum 2020
Sales Have Ended
Ticket sales have ended
Online bookings for the WEConnect International Europe Virtual Supplier Diversity Forum 2020 are now closed. If you would like to attend this online session, please contact Maggie Berry before 9am GMT on Thursday 12th November. Unfortunately, we won't be able to process any bookings after that time. Maggie can be contacted on mberry@weconnectinternational.org or 0044 (0) 7776 302 906 - thank you!
Join this online event to learn about growing and developing successful supplier diversity and inclusion programmes in Europe.
About this event
Please note - start time is 1pm GMT / 2pm CET / 8am EST; All times are listed as GMT; This agenda may be subject to alterations.
A more detailed agenda can be found online here: https://weconnectinternational.org/events/weconnect-international-europe-virtual-supplier-diversity-forum-2020/
Agenda
1pm - Welcome and Introduction
Maggie Berry, Executive Director for Europe at WEConnect International
1.10pm - RISE 2030 – A New Era of Shared Corporate Responsibility
Megan Stowe, Greater European Region Strategic Sourcing Director & International Supplier Diversity Manager at Intel Corporation
1.25pm - Supplier Diversity Insights and Panel Discussion
Discussion facilitated by Maggie Berry, Executive Director for Europe at WEConnect International; Panellists include:
• Eliano Apicella, Purchasing Director – Indirect Materials, Services, Energy and Investments at Barilla
• Andrea Fimian, EMEA Supplier Diversity Program Manager at IBM
• Grainne D'Arcy, EMEA Strategic Sourcing Manager and Supplier Diversity & Inclusion Lead for Indirect Procurement at Intel Corporation
• Timo Worrall, Director - Supplier Social Responsibility at Johnson & Johnson
2.05pm - The Barilla Supplier Diversity Journey
Eliano Apicella, Purchasing Director – Indirect Materials, Services, Energy and Investments at Barilla
2.15pm - Working Better with Women-Owned businesses to Improve Outcomes for All
Gill Thorpe – Founder & CEO at The Sourcing Team Ltd
2.45pm - Virtual Coffee Break
3.15pm - Promotion of Gender Equality in Private Supply Chains
Yas Banifatemi, Partner & Global International Arbitration Practice Group Leader at Shearman & Sterling LLP
3.45pm - Choice of Three Breakout Sessions
Breakout #1 - WECommunity Overview - led by Brittany Gonzalez, Membership Relationship and Supplier Inclusion Manager
Breakout #2 - European Collaboration Roundtable Discussion - led by Peter Zerp, Supplier Inclusion & Diversity Program Lead at Accenture
Breakout #3 - Developing a Successful Supplier Diversity Global Expansion Strategy – presented by Anna Hakobyan, Global Procurement Sustainability Lead at AstraZeneca
4.30pm - Virtual Coffee Break
5pm - Choice of Two Breakout Sessions
Breakout #1 - Supplier Diversity Best Practices – Starting Out - led by Selina McCole, Global Sustainable Procurement & Supply Chain Manager at Goldman Sachs and Andrea Fimian, EMEA Supplier Diversity Program Manager at IBM
Breakout #2 - Supplier Diversity Best Practices - Mature Programmes - led by Deaneesha Govender, Category Manager - Europe, Middle East and Africa at Intel Corporation and Debra Quade, Supplier Diversity Manager at Kellogg Company
5.45pm - WEConnect International: 2020 and Beyond
Rebecca Pearson, President and Chief Marketing Officer at WEConnect International
6pm - Closing Keynote from J&J
Timo Worrall, Director - Supplier Social Responsibility at Johnson & Johnson
6.15pm - Wrap Up and Thank You
Maggie Berry, Executive Director for Europe at WEConnect International
6.30pm - Close
Forum Sponsors:
A very big thank you goes to our Forum sponsors whose support is vital to this event and the on-going work of WEConnect International in Europe:
Platinum: Intel; Johnson & Johnson
Gold: AstraZeneca; Barilla; IBM
Silver: Dell; GSK; Goldman Sachs; Kellogg Company