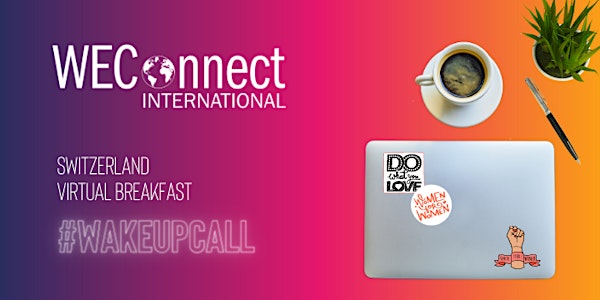 WEConnect International Switzerland Virtual Breakfast «Wake-up Call»
The event is free to attend but places must be booked online in advance. Zoom link will be shared before the event
About this event
WEConnect International in Switzerland is excited to host their first virtual event of 2021 bringing together our network of women-owned business. This will be an informal get together on Zoom during which we will share a brief update on the latest WEConnect International activities and there will be the opportunity for a short speed-networking / exchange with likeminded female business owners.
If you know of other women business owners in Switzerland who might like to join this informal gathering, please share these details with them – we'd love to have them join us!
The event will be conducted (mostly) in German.
WEConnect International virtuelles Frühstück «Wake-up Call»
Wo: Zoom - Link wird vor der Veranstaltung geteilt
Wann: Donnerstag, 4. März 2021 - 8.30 bis 9.15 Uhr CET
Die Teilnahme an der Veranstaltung ist kostenlos, Plätze müssen jedoch im Voraus online gebucht werden.
WEConnect International in der Schweiz freut sich, ihre erste virtuelle Veranstaltung im Jahr 2021 zu veranstalten, bei der unser Netzwerk von Unternehmen in Frauenbesitz zusammengeführt wird. Dies wird ein informelles Treffen auf Zoom sein, bei dem wir ein kurzes Update über die neuesten Aktivitäten von WEConnect International veröffentlichen und die Gelegenheit für ein kurzes Speed-Networking / einen Austausch mit gleichgesinnten Unternehmerinnen bieten.
Wenn Sie andere Unternehmerinnen in der Schweiz kennen, die an diesem informellen Treffen teilnehmen möchten, teilen Sie ihnen diese Details bitte mit - wir würden uns freuen, wenn sie sich uns anschließen!
Die Veranstaltung wird (meistens) in deutscher Sprache durchgeführt.
About WEConnect International
More information about WEConnect International and our work supporting female entrpreneurs can be found here: http://weconnectinternational.org/