Description
The Qualatex Wedding Series 1 course is designed to help you develop your portfolio, so you can WOW brides-to-be and increase demand for more creative and profitable designs!
Please note, this is NOT a beginners course. You will need to be able to correctly inflate and tie balloons, make clusters etc. If you are new to the world of balloons, the Fundamentals course is the best place to start.
By the end of the course you will:
• Understand the elements and principles of design
• Have the knowledge and confidence to create elegant and fun entrance archways
• Know how create stunning table top designs
• Have the knowledge of how to compose fantastic table decorations
• Feel confident in promoting and marketing your business
• Understand how to make the most out of attending wedding fairs
• Be able to describe your products and services in a manner that inspires your clients
• Have the hands-on-skills to enable you to tackle larger jobs with confidence
• Have had the opportunity to interact and connect with others in the industry, just like you!
• Have numerous photo opportunities to use for social media

Benefits of this course:
• Comprehensive information binder with course notes including completed job cost forms, resource references, two portfolio photographs and a CD with photographs of designs (one pack per company)
• Balloon Market / Qualatex Goodie Bag
• Exclusive discount to use at Balloon Market on the day (Place your order before 1pm on the day and you can have your order delivered to you to take away with you before you leave)
• Free 'All Day' refreshments including light lunch
• Ample free parking at the venue
• Easy access (only a few minutes from the motorway (J.2, M27) and 15 minutes from the train station / Southampton Airport and Ferry Terminal!)
This particular course will be taught by BMTV regular Sue Bowler CBA.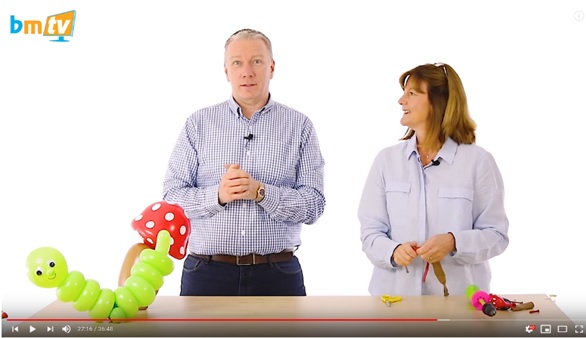 Instructor : Sue Bowler CBA
Sue Bowler is one of the stalwarts of the balloon industry with over 25 years' experience in the balloon trade as a trainer, blogger and inspirational balloon decorator. Her broad range of experience and keen eye for detail makes her the perfect trainer who really understands the needs and hurdles you are likely to encounter. Sue will effortlessly guide you through this engaging Wedding Series course, helping you to build on your existing knowledge to create stunning designs!
Want to find out what others think about their investment in training? Click the link below.