Wednesday Meetup: Leominster Action on Dementia and Heritage
About this Event
Leominster Meeting Centre is looking to the future, by turning to the past! We want to lead the way in improving access to Herefordshire's rich cultural heritage for those with a dementia, and their families. Heritage engagement might include new forms of volunteering opportunity, innovative dementia Cafés, heritage reminiscence work, or the use of interactive arts and technology, amongst others. We're designing a dementia and heritage programme, one that will support participants to lead the way in developing new forms of heritage engagement. As we develop the programme, we want to know what you think matters most in making this goal a reality.
Are you a passionate creative practitioner, designer, or innovator with a vision for how heritage engagement can help people adapt to a life with dementia?
Are you Herefordshire-based and want to work closely with Leominster Meeting Centre's amazing staff and members to develop new forms of heritage engagement that matter?
We are running a meetup at Leominster Meeting Centre on Wednesday 13th November (13:00-16:00), an opportunity to meet our members, find out more about the Meeting Centre model, and discuss the dementia and heritage theme together.
Programme Discussion Group
Building on the outcomes of this event, we will host a special programme discussion group (2nd December; 09:00-12:00) to explore the ambition, design, and funding of the programme in more depth. When you register for the meetup, there will an option to register for the programme discussion group as well.
Contact the Organiser
If you have any questions, please contact the events coordinator – Tim Senior – at team@supersum.works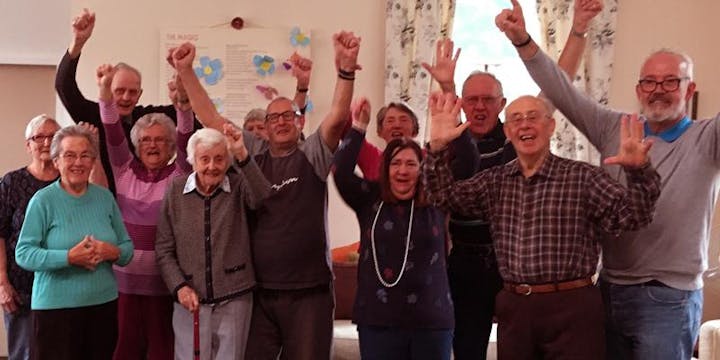 What is Leominster Meeting Centre?
Leominster Meeting Centre was established in 2016 as part of a European project to develop more effective community-based support for people living with mild-to-moderate dementia (meetingdem.eu). Now running as a charity, we offer exercise, educational sessions, one-to-one meetings with support workers and advisers, as well as therapeutic and creative activities. Our aim is to provide a safe place where people are supported to understand and adapt to living with memory problems. As such, our sessions build around the hobbies and interests of our members, and everyone is fully involved in shaping what happens in and around the Centre.
The Centre is open Tuesday to Friday 10:00-15:00 at The Old Priory Leominster, HR6 8EQ (Tel: 01568 368 180)