WeDO Scotland Conference 2015

Thursday, May 28, 2015 from 8:30 AM to 1:30 PM (BST)
Event Details
A Dragons' Den participant who turned down offers, another who made £120K profit in year 1 of trading, an economic overview second to none & an iconic multi-award winning Edinburgh business - this is the 2015 WeDO Scotland Conference 
This year, we have decided to change the format of our Annual Conference which will be a half day event rather than a full day.  With a fantastic line-up of speakers, the event will be an outstanding opportunity to hear from a wide variety of engaging, motivational & informed individuals.  This will of course, also be an ideal opportunity to mix, mingle and meet with a wide cross-section of Scottish entrepreneurs at what will be a highly motivating and inspiring event.
The day will start with tea/coffee and bacon rolls, followed by 2 of our speakers & our 'Pitching for Talent or Investment' from 6 of our Young Members.  There will then be a further coffee break before moving on to hear our other 3 speakers, followed by the presentation of our Lifetime Achievement Award.  The event will end with a buffet lunch which finishes at 1:30pm and attendees can re-convene at our Last Thursday Social Drinks event being held at Tigerlily.  
We are awaiting confirmation from our final 2 speakers and details will be posted ASAP.  A limited number of Early Bird tickets are available on a first come first served basis so book as soon as possible to guarantee your place.  This is what attendees said about our 2014 conference:
"I thought the event was brilliant.  Great venue, format, attendance and the speakers were inspiring and fun to listen to.  It is rapidly becoming a must attend conference for business leaders from the entrepreneurial ecosystem in our great wee country."  
"Very interesting event and very well put together.  I'm not sure that there are any other events in Edinburgh where you get so many successful business people with so much experience and knowledge, and, more importantly, willing to share their intellectual knowledge."  
"A very inspiring and thought-provoking day.  I made a lot of useful connections and I was particularly impressed by the wide cross-section of WeDO Scotland members."  
"Another enjoyable conference.  The presentations and workshops are always very interesting and leave you inspired.  Equally though, networking with other attendees and hearing about their great businesses is fantastic.  A great day."  
"I thought the whole event was superb and a template for how businesses and individuals of all shapes and sizes can get together, learn from each other and benefit everyone."
Click HERE to watch highlights from our 2014 conference.
 OUR SPEAKERS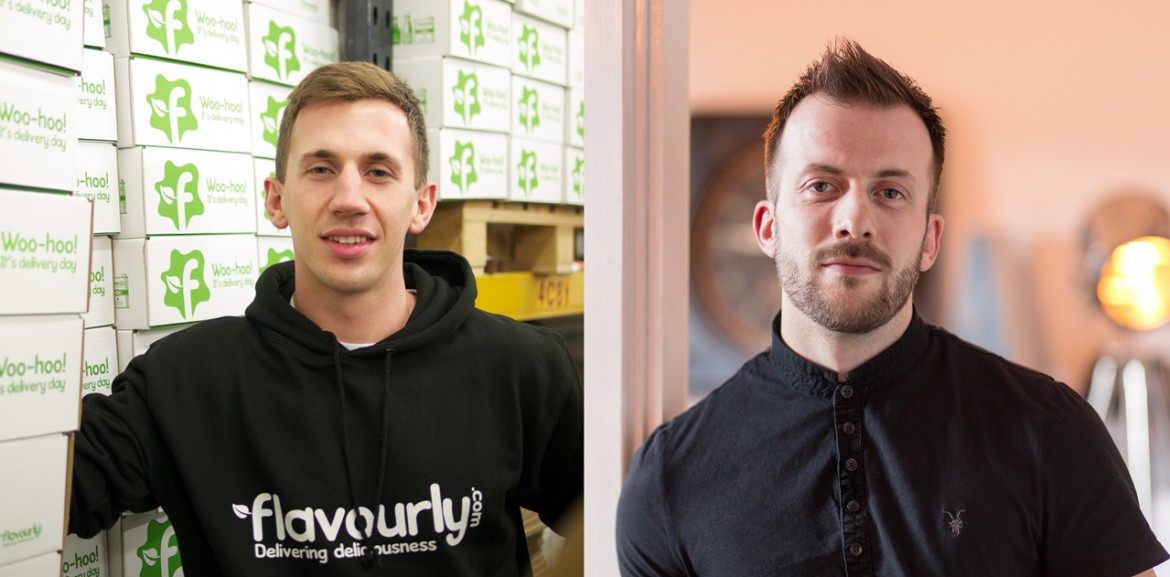 9:00am:  RYAN O'RORKE - FOUNDER OF FLAVOURLY & ANDREW DOBBIE - FOUNDER OF MADE BRAVE
Ryan O'Rorke is a multi-award winning internet entrepreneur born and raised in Edinburgh, Scotland. After dropping out of university at 24 and with a few hundred pounds in his pocket he went on to start Flavourly from his grandmothers garage.  Flavourly is now the largest gourmet food, snack and craft beer discovery service in the UK and is on track to hit £1m sales in 2015 - the company employs a team of 10 and has shipped out over 600,000 products to thousands of happy customers. 
In 2014, he launched a funding drive on Angels Den which was fully funded in under 22 hours - the fastest-ever equity crowdfunded project in the UK at that time.
He appeared on the BBC TV show 'Dragons Den' in February of this year where he received 4/5 offers and was branded 'The Dragon Slayer' as shortly after the show aired he went on to raise a further £500,000 through a live crowd fund, which was 7 times higher than he was offered from the dragons.
When Ryan is not glued to a computer screen driving sales or in the gym, he loves to sample new craft beers and help aspiring entrepreneurs.
Andrew Dobbie is Ryan's brother and they met for the first time only a few years ago.  Andrew was adopted at birth and they share the same birth mother.  Their relationship flourished as their respective companies began to take off, with the two discovering they share similar interests and entrepreneurial spirits. Andrew founded MadeBrave® with £1,000 in his bank account & a 2 week old baby,in his first year of business, he made a phenomenal £120K profit.
Andrew has been shortlisted for the 2015 Entrepreneur of the Year in Entrepreneurial Spark's Entrepreneuring Awards and won the Outstanding Contribution by a Young Business Leader Award in the Inspiring City Awards in 2014 as well as winning the Best Performing Business Award in the Glasgow Business Awards in 2014 - only 18 months after launching the business.  
Andrew is a Graphic Designer & Photographer by trade and left a Creative Director role to flex his creativity and grow a brand to be proud of.  36 months and 20 full-time staff later, he's done just that.  Attracting clients such as The SSE Hydro, Arup, Scottish Canals, Scottish Renewables, Bowmore Whisky, Airspace and more, MadeBrave® has certainly made an entrance in the Scottish creative scene.  
9:40am:  YOUNG MEMBERS 'PITCHING FOR TALENT OR INVESTMENT' PRESENTATIONS
Hear pitches from 6 of our Young Members who are either looking to attract Non-Exec Directors/Advisers/Mentors or are looking for investment.  The pitches will each last 5 minutes and will take place directly before the mid-morning coffee break to enable interested parties to speak to any of the young members whose pitches are of interest to them. 
10:15am:  COFFEE BREAK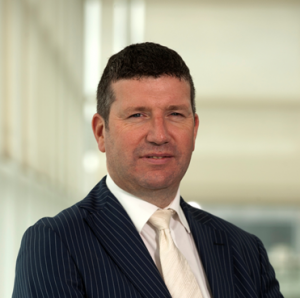 10:30am: GORDON DEWAR - CEO OF EDINBURGH AIRPORT
Gordon Dewar took up the post of CEO of Edinburgh Airport in July 2012.  Under his stewardship, Edinburgh Airport has consolidated itself as one of Europe's leading airports with being named Best European Airport of its size by the ACI for an unprecedented third time in 2013.  Gordon was awarded Director of the Year in the 2014 Institute of Directors Awards and Director of the Year 2015 in the Edinburgh Chamber of Commerce Awards. His leadership, influence and expertise has continued to steer the airport to achieve unprecedented success, with long-haul passenger traffic up almost 90% last year.
Rebranding the airport as the place where 'Scotland meets the world', Gordon has overseen airlines including Qatar Airways, Air Canada and Turkish airlines commence servicesat Edinburgh, driving passenger numbers to over 10 million in 2014 - an increase of 4% on the previous year. 
The airport has now completed a £25m security expansion as part of a five year, £150m investment which Gordon has led to ensure customer service remains at the core of delivery as the airport expands its capacity. Gordon has most recently completed a deal with Etihad Airways who will be commencing flights very soon.
Gordon cites much of the success of the airport to his belief in developing partnerships with key organisations as well as making extensive use of data and market research to secure new airlines coming to Edinburgh in what is a highly competitive environment.  It is this approach, combined with the introduction of new technology which has been key to driving the success of the airport which now has an average of 25,100 passengers per day, with over 40 airlines serving 100 worldwide destinations.
Gordon is a Director of the Airport Operators Association and a board member of the Scottish Tourism Alliance and Visit Scotland. Previously, he spent 4 years with BAA running Glasgow and Edinburgh airports from 2007 to 2010 followed by 2 years as CEO of Bahrain International Airport overhauling the facilities there and creating a profitable business for the first time.  He has held a number of senior positions with leading transport operators including commercial, general management and business development roles.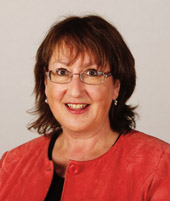 11:05am:  ANNABELLE EWING MSP - MINISTER FOR YOUTH & WOMEN'S EMPLOYMENT
Annabelle Ewing was promoted to the Scottish Government on 21 November 2014 in Nicola Sturgeon's first reshuffle, becoming the Minister for Youth & Women's Employment.  She will be sharing with us the Government's plans for higher level Modern Apprenticeships, the support packages available to SMEs employing modern apprentices, support available from Skills Development Scotland to help SMEs train and develop their staff and an overview of the Working Together Commission and how it will impact on SMEs.
As SNP MP for Perth (2001 - 2005), Annabelle earned the reputation of being a spirited campaigner on issues such as Hepatitis C, compensation, Deepcut and the Black Watch.  At the 2011 election, she was elected to the Scottish Parliament as an additional member for the Mid Scotland and Fife region.
Annabelle graduated with EC Law Honours from Glasgow University in 1981.  Following postgraduate studies in Bologna and Amsterdam, she spent 10 years as a Brussels based lawyer, before returning to run a small legal practice in Glasgow before being elected.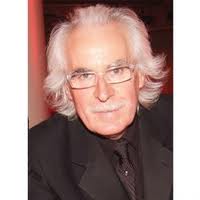 11:25am:  CHARLIE MILLER OBE - FOUNDER OF CHARLIE MILLER
Charlie Miller is an iconic name in Scottish business and Charlie was awarded an OBE in 2012 for serviced to the hairdressing industry. In 1965, Charlie opened his first hairdressing salon which has since grown to 5 salons in Edinburgh, a successful hair academy and a sought-after artistic team who are regularly booked for magazine editorials, industry shows, film festivals and music events.
Charlie has won and been nominated for several of the world's most coveted hairdressing awards. Very much family concern, Charlie's sons, daughter-in-law and all Directors of the business are a highly dynamic team. Presenting on the world's stage (including prestigious events such as Mondial Coiffuer Beauté Paris, Hair Expo Australia & the L'Oréal Professional Colour Throphy and Alternative Hair Show London) to styling A-list actresses, including Tilda Swinton and America Ferrera, as well as leading the hair team backstage for the past 11 years at the MTV Music Awards has made Charlie Miller a globally recognised brand.
Charlie will be sharing with us his journey from its organic growth to his core business values. After hanging up his full-time scissors in 1998, Charlie continues to focus on the company's marketing, PR and business development and in 2007 he became committed to cutting and styling wigs for Teenage Cancer Trust (TCT) teenagers and young people undergoing cancer treatment, a role he has now handed over to his son Jason. During that time, he was also responsible for, and instrumental in, the creation and launch in Scotland of the successful wig initiative, 'Hair 4u', now managed by the TCT and together it has been actively spread out across the rest of the UK. A true legend in the Scottish business community, Charlie is a sought after speaker with a fantastic story to tell.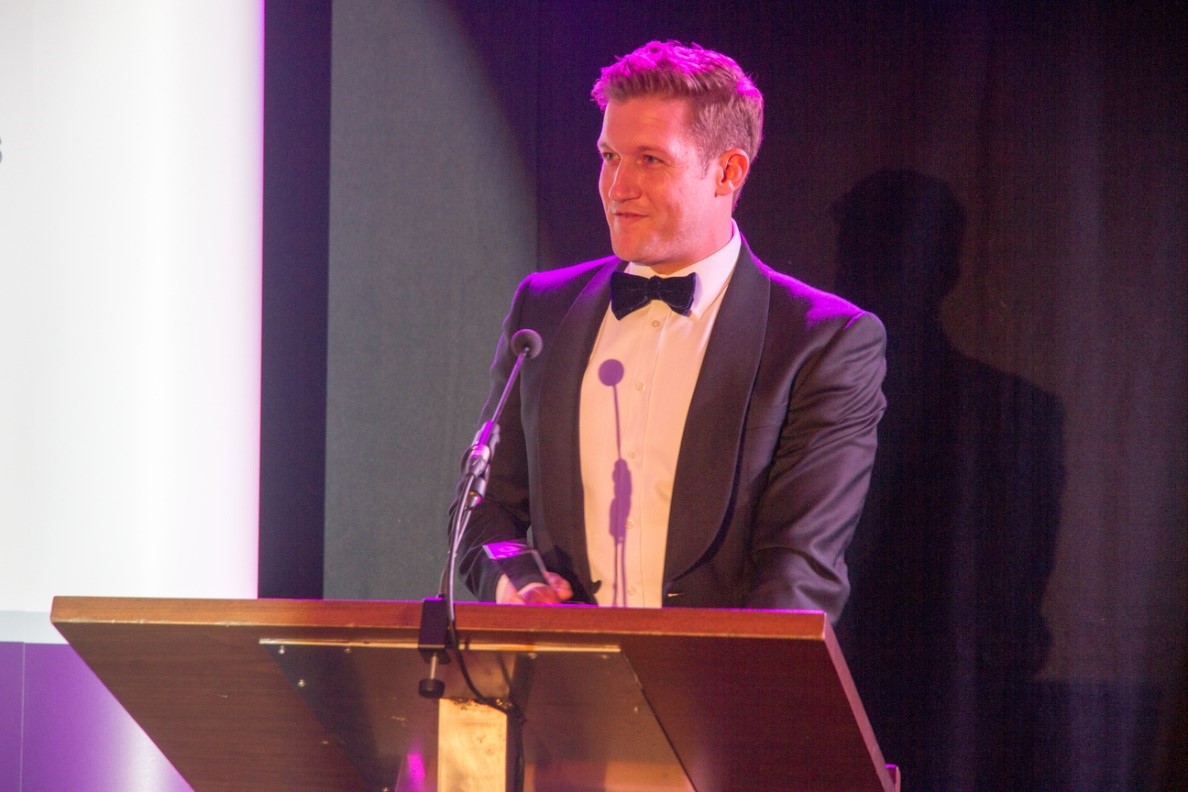 12:05 AM:  STUART HUNTER, CO-FOUNDER OF ADVANCE GLOBAL RECRUITMENT - WINNER OF OUR 2014 ENTREPRENEUR OF THE YEAR AWARD
Stuart Hunter is co-founder of Advance Global Recruitment and won the WeDO Scotland 2014 Entrepreneur of the Year Award, the youngest ever person to have won this award. Stuart impressed the judging panel with his modesty, passion, professionalism, the outstanding growth he has achieved with Advance Global Recruitment and his commercial acumen.
Stuart graduated from Napier University in 2004 having studied Sports Science. Following a year out travelling, he decided to forego the sports science route and joined Now Recruitment in Edinburgh, where he stayed for 4 years, leaving as a Senior Consultant. As a trainee consultant, he billed the highest amount of fees achieved by any trainee consultant in 20 years.
On leaving Now Recruitment in 2011, Stuart co-founded Advance Global Recruitment with former Now colleague Cameron Taylor, venturing into a market they knew nothing about but recognised it as having high growth potential.
AGR provide world-class, skilled personnel into the international offshore oil, gas and renewables sectors, more specifically within the ROV, Survey & Inspection and Drilling markets.
AGR employs 14 staff in Edinburgh, 3 in the Dubai office which opened in 2013, supplying clients in the Middle East, and will be opening an office in Houston, Texas, in March 2015. They provide personnel to 40 countries across the globe. AGR achieved a turnover of £700K within their first nine months of trading and projected turnover for 2015 is £10M - an extraordinary achievement in a global recession. Amongst their many clients, AGR supply staff to Maersk in Denmark and Boskalis in Holland, two of the biggest oil and gas contractors in the world. Their client retention rate is 97.4% and Stuart cites much of the success of the business to not having employed anyone with more than 6 months recruitment experience. The AGR Academy takes place weekly and helps to train young consultants. Now aged 31, Stuart is still active  on the sports field and played for Rangers until the age of 16. An avid charity supporter, he is passionate about his business, people, and giving back to others.  
 PROGRAMME
8:30am: Registration – tea/coffee & bacon rolls
8:50am: Welcome - Belinda Roberts, Founder of WeDO Scotland & Michelle Quance - Chair of the Conference Steering Group
9:00am: Ryan O'Rorke - Founder of Flavourly & Andrew Dobbie - Founder of Made Brave
9:40am: Young Members 'Pitching for Talent or Investment' Presentations
10:15am: Tea/coffee & cakes
10:30am: Gordon Dewar - CEO of Edinburgh Airport
11:05am:  Annabelle Ewing MSP, Minister for Youth & Women's Employment
11:25am: Charlie Miller OBE - founder of Charlie Miller
12:05am: Stuart Hunter - Co-Founder of Advance Global Recruitment, Winner of WeDO 2014 Entrepreneur of the Year Award 
12:45pm: Presentation of the 2015 WeDO Scotland Lifetime Achievement Award
12:55pm: Close - Gill Eastgate - General Manager of WeDO Scotland
1:00pm: Lunch & networking
1:30pm: Event ends
Please note that ticket sales close on Monday the 25th of May at 12 noon. 
If you have any questions, please email hello@wedoscotland.com or call us on 08708 759 793.
A variety of sponsorship packages are available, please email us on hello@wedoscotland.com and we will send you more information.
With thanks to our sponsors:

Click HERE to visit the Santander website

Click HERE to visit the Webit website
When & Where

The Glasshouse
2 Greenside Place
EH1 3AA Edinburgh
United Kingdom


Thursday, May 28, 2015 from 8:30 AM to 1:30 PM (BST)
Add to my calendar