Event Information
Refund Policy
Contact the organiser to request a refund.
Eventbrite's fee is nonrefundable.
Sunday 09:00-10:00 Leadership class, 12-16 years old Sunday 10:00-11:00 Public Speaking class, 8-11 years old
About this Event
Leadership Skills at K Education
Strong leadership skills are essential to success in life. From a very young age, we are faced with an abundance of choices that we must act upon, we can either choose to 'follow the crowd,' or take on the role of a leader. Each option comes with its rewards, as well as its consequences.
Children are no different when it comes to the choices they face, though the content may be different, the options remain the same. Teaching your child to be a leader has many great rewards: Children with strong leadership skills are less prone to peer pressure, are more inclined to avoid dangerous behaviors, and are more likely to succeed both in studies and later in life.
There are many ways to instill strong leadership skills in your children and teach them the traits that a good leader holds. Below is a list of simple, yet effective ways K Education teaches your child how to be a leader, instead of having them follow the crowd.
Lead by example
The best way to teach your children something is to live the lesson yourself. By showing your children that you are the type of person who leads, makes the right choices, and doesn't follow the crowd to 'be cool' - they will likely pick-up the trait of a leader themselves. Our lessons at K Education delivers this style of teaching.
Teach your child about ethics
A child who has been thoroughly taught the difference between right and wrong, or good and bad, is more apt to make their own choices in life, rather than follow the actions of others.
Developing good values
We teach children the importance of good life values, such as; Accountability, Justice, Teamwork, Honor, and Independence to help ensure that they make good choices in the future. By instilling, and living, by these rules, your child will have a base in which to form their decisions.
Building Communication skills
Strong communication with your child is imperative if you wish to raise a leader. We listen and support them with our lessons which helps them to open up and grow with confidence.
Build trust
If you want your child to be a leader you must trust the choices that they make. We don't overwhelm them with our opinions, or our lectures, but instead try to allow them to make their own decisions with the trust that you raised them well and we delivered structured Leadership development lessons. Smothering your child will not help them to flourish or grow as a leader, trust is the key to success in the parent/teacher-child relationship and we will help them to gain the independence that a leader needs.
The importance of goals
Our teachers will teach your child how to set and achieve their goals, shaping them to grow as a strong leader one day. Goals are the roadway to success, and teaching your child the importance of goals will help them throughout their lives. Even at a young age children can be taught about goals, and here at K Education we will help them see the power in such a skill.
K Education's Leadership skills are a great tool for life, and those who possess them are usually successful and happy in whatever they do. Teaching such skills to your children can make a world of difference in their lives. We remember that even the greatest leaders sometimes make mistakes. If your child happens to stumble, we will guide, teach, support and help them get back on their feet to face the challenge again with a strong heart and an open mind. That is what will make them a true leader!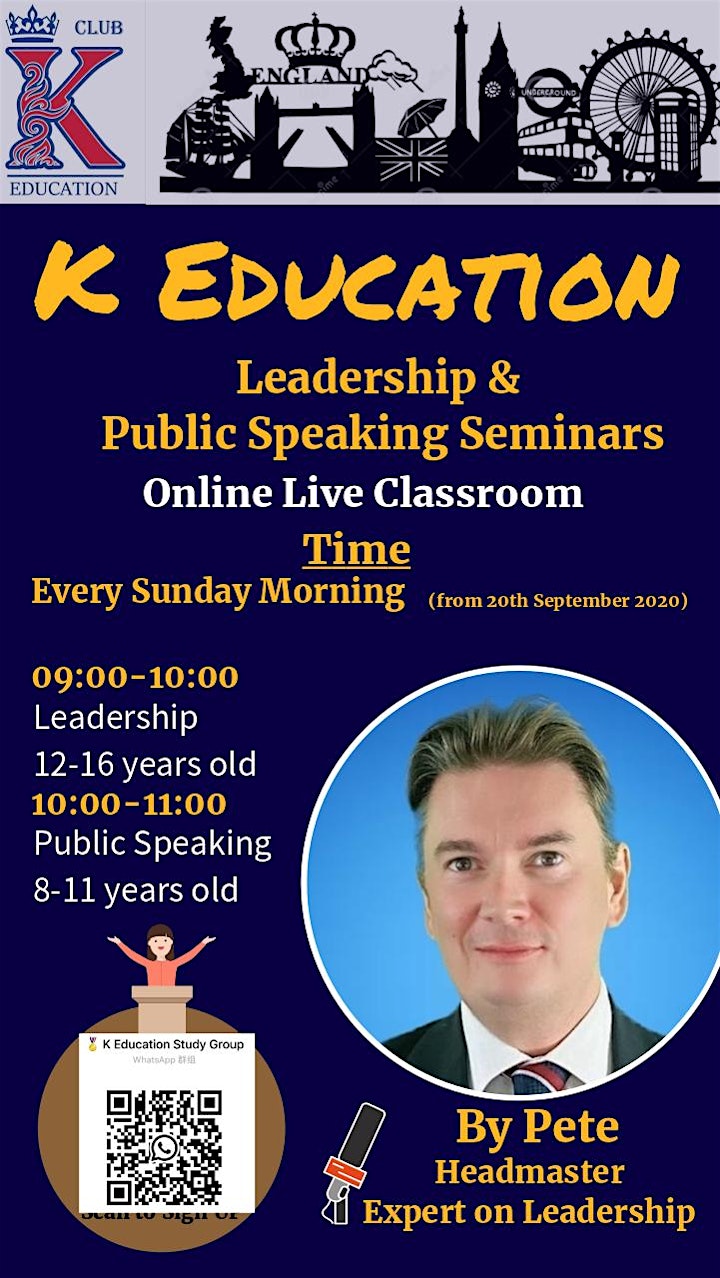 Location
Refund Policy
Contact the organiser to request a refund.
Eventbrite's fee is nonrefundable.