Description

                                       Summer 9-Hole Golf League
                    Every Wednesday & Sunday Throughout the Summer
To welcome you to our 9-  Hole league we will be running these competions every Wednesday and Sunday.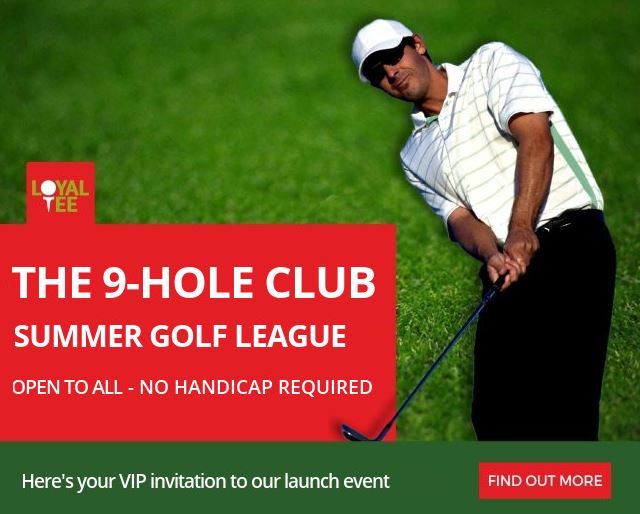 Event Details:
Every Wednesday (anytime) & Sunday (after 2pm). Perfect for a quick round!

Held on the first 9 holes of the main course.

Automatic entry into the Weekly 9-Hole Club League.

Stableford points - half full handicap, rounded up.

You enter as many times as you want each week - your best score will count.

Anyone can play! Don't worry if you don't have a handicap - we will issue you with a handicap following your first 'qualifying' round.

Your best five weekly scores will be added together and the player with the most points overall wins a year's full 7-Day membership worth over £572
Entry Fees:
£12 per game which includes your green fees

Loyaltee Club members pay just £2 entry fee
Prizes:
The winner of the league will receive a year's free membership worth over £572.

Scores published weekly by email.
How to Book:
Call 01257 265380 to book your tee time.

Alternatively, simply turn up and pay on arrival.

Make sure you pre-register for your FREE 2 pack of Srixon balls - complete the form below.
Terms & Conditions
Green Fee/Entry Fee
£12 green fee is valid on Wednesday (anytime) and Sundays (after 1pm) - normal prices will be charged at all other times. Cannot be used in conjunction with any other offer or promotion. Loyaltee Club members can play at any time on Wednesday or Sunday and pay just the £2 entry fee. You must be a Loyaltee member to play in the 9-Hole Club, you can register online or instore for free. www.glendalegolf.co.uk
9-Hole League
You may enter as many times as you want each week, by playing on either a Wednesday or a Sunday after 1pm and paying an entry fee each time you play. Your best score will be submitted into the Weekly League. £1 from each 9-Hole Club green fee/entry fee will be put towards the Weekly  League prize. The format for each game is Stableford points. In the event of a tied score, count backs will be used.
Handicaps
League handicaps are half of your full handicap, rounded up. If you do not have an official club handicap, we will calculate your League handicap based on your score from your first round. The winner from each game will have his/her handicap reduced by one stroke. League handicaps are not CONGU approved handicaps and your scores will not affect your official handicap. Maximum stroke allowance for 9 Holes: 14 men, 18 ladies.