About this Event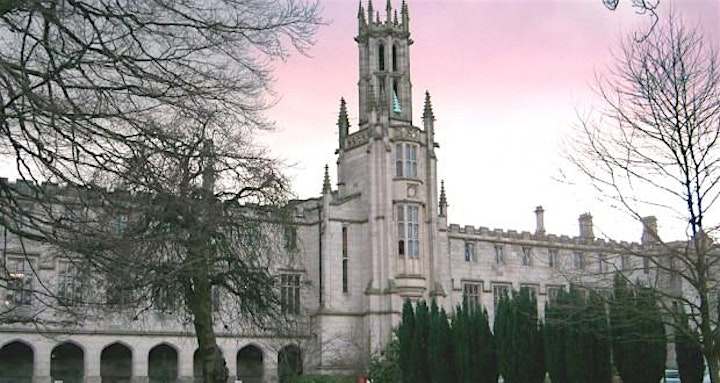 BMHC Friday Prayer for the Local Muslim Community
The following information is important for worshippers who are planning to attend.
Friday Sermon and Prayer: 1:30 PM
Men will pray in the Marquee and women will pray in the Building
People with the following conditions should not attend the prayer
Those aged 65+, or children under the age of 12
Those with underlying health conditions and at moderate and high risk from Corona virus (see details on the NHS website)
Those who have symptoms of COVID-19 (new persistent cough, flu, fever or a lost sense of taste or smell)
Those who live or have regular contact with COVID-19 patient(s)
We have prepared our facilities according to the Government Guidelines to prevent the spread of CORONA Virus. In this respect, we have set certain rules and urge you all to strictly follow them in our mutual interest.
Preparation Advice
Please ensure you bring the following before you come to pray at the BMHC:
Your own Prayer mat
A shoe bag
Face mask/covering
Your own folding chair (if you need one)
Perform wudu at home (as wudu facilities and toilets will NOT be available).
Pray Sunnah at home if possible
Advance Registration and entry Procedure
Entry is via advance eventbrite booking in the first place; remaining places will be assigned via manual registration process.
Please help by coming early and joining the queue. Our health and safety team will take the following steps:
Record or confirm your details (full name, phone number and postcode) via scanner, mobile video or CCTV cameras.
Check if you have your prayer mat, a face mask, no high temperature and a bag for your shoes.
Close the entry gates as soon as the maximum number of people is reached as per government safety and social distance regulations.
Social Distancing Rules
While at the centre, please take extra care to comply with these rules:
Stay calm in the queue and keep at least 1+ metre (or two arms' length) apart from each other
Sanitise your hands, from the foot operated sanitiser at the entrance, after putting your shoes in your bag
Refrain from touching anything with your bare hands (e.g. door handles or wall etc.)
Enter the prayer hall and lay the prayer mat at the marked spot
Wear a face mask at all times.
During prayers and whilst leaving the centre after prayers:
Please listen to the Khutba calmly.
After the prayer remain at your place for Duas or remaining Sunnahs and do not rush to the exit.
Do not hug or hand shake with anyone.
Please do not gather anywhere on the BMHC grounds and follow 1+ metres (or two arm's length) social distancing rule while leaving
Thank you for your cooperation and understanding.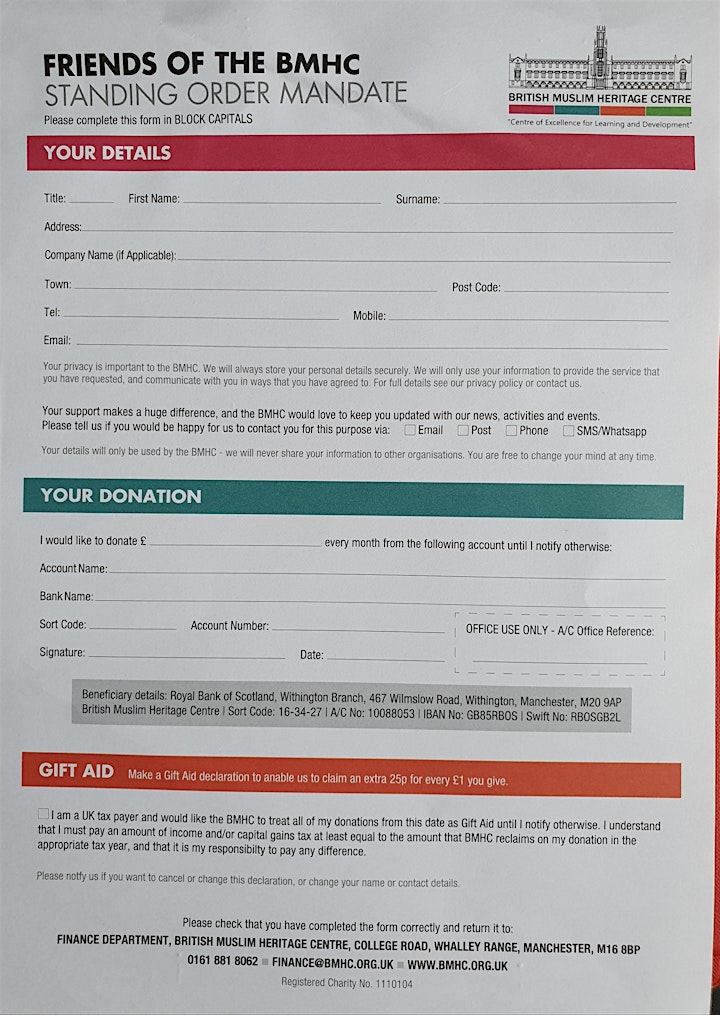 Friends of the BMHC - Standing Order Mandate:
BMHC is in financial difficulties; We request our local and Muslim Community to support the centre by donating as much as possible, even £1 per week would be appreciated.
Please set up a standing order to donate monthly and inform the BMHC if you make a gift aid declaration.
Bank account details are as below:
Royal Bank of Scotland
Account Name: BMHC
Sort code: 16-34-27
Account No: 10088053