Silat is a complete art, a unique combination of training the mind, body and spirit.
About this Event
SILAT (INDO-MALAY) MARTIAL ARTS
awareness | balance | communications | concentration | confidence | co-ordination discipline | sensitivity | self-defence | stance | posture | alignment | grappling forms & sparring | hand & foot defence | tendon exercises | escaping from locks & holds | building internal energy
About The Instructor
Abdur-Rahman Blanchette Naqshbandi has been studying Martial Arts from the tender age of ten.
His journey began with Judo, which he studied up to Junior Black Belt. He was fortunate to represent the British Judo Team competing in numerous competitions in both Europe and America. He studied and taught Judo at Junior level until the age of 20 at which point he began to learn Kung Fu.
He studied the two main styles of Kung Fu over the next fifteen years and his teachers included Master Gerry Tan. Again, he competed in the sport as well as becoming a Martial Arts instructor.
It was during his studies in Kung Fu, that he was drawn to Silat. He initially studied the Malaysian style under Master Arifeen in London up to Instructor level.
He continued to train in this style for many years as well as teach it. He then studied the Indonesian Style with Master Abdun-Nur up to Instructor level.
In 2005, he visited Grandmaster Firdaus in the Village of Cimande, Indonesia. There he enhanced his studies and was granted permission to teach the Indonesian style of Silat to those in the West.
He then visited Malaysia in 2009 for a brief period and trained with Master Shamsun-Noor who is based in Gumbak. Again, he received a license to teach the Malaysian form of Silat to others.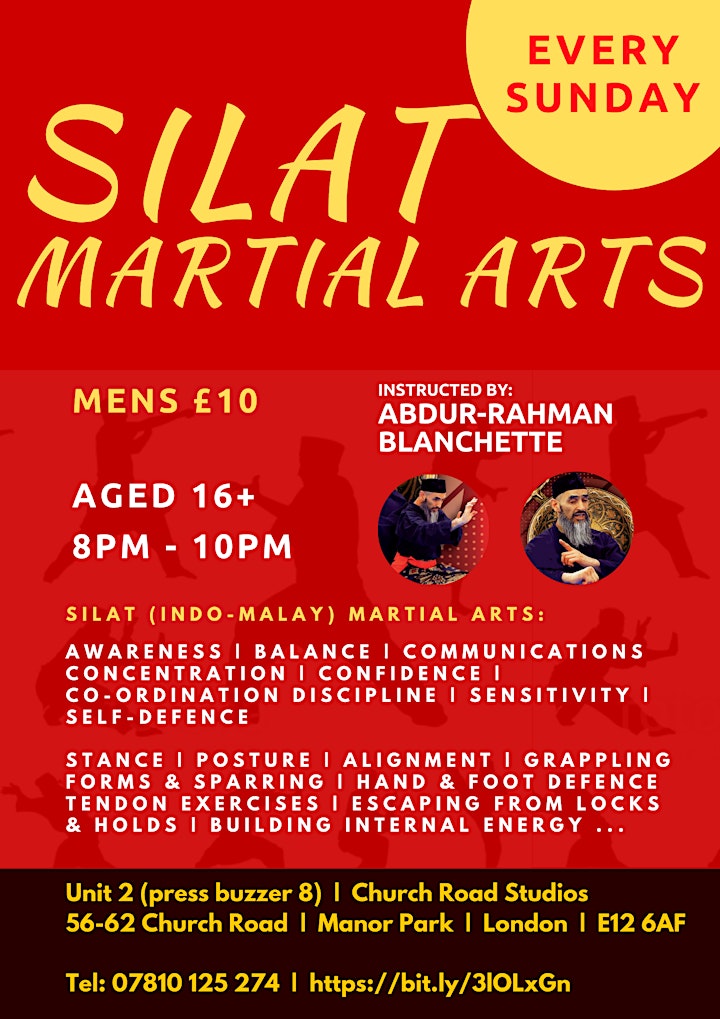 Silat Martial Arts – The Royal Art of Self Defence
Philosophy - Be Honest Train Hard
Silat is an Indo-Malay martial arts training system. Being a complete art, it is unique because there is no need to borrow from or study other arts for answers or principles.
Level 1 Study
• Stance
• Posture
• Alignment
• Hand and foot defence
• Forms and sparring
Level 2 Grappling system
• Tendon exercises
• Escaping from locks and holds
• Building internal energy
Level 3 Art of Silat
• Feeling from the heart
• Combining all concepts
• Warrior dance application
Combination of training the mind, body and spirit resulting in improvements in:
• Sensitivity
• Awareness
• Balance
• Coordination
• Confidence
• Communication