Description
The zombie apocalypse is one of the most prominent narratives of the post 9/11 West, represented by popular movies, TV shows, games, apps, activities, and material culture. In this talk at Heffers bookshop, author Greg Garrett will explore why stories about the living dead serve a variety of functions for consumers and explains how representations of Death and the walking dead have appeared in other times of great stress and danger, including the Middle Ages and World War One.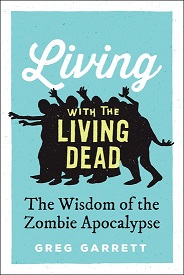 Greg Garrett blogs on books, culture, religion, politics, travel, and food for The Huffington Post. He is the author or co-author of twenty books and one of America's leading authorities on religion and culture.

Tickets for this event are priced at £4 in advance (inc VAT, £5 on the door) and can be purchased through this page, by calling 01223 463200 or in person at Heffers bookshop. Please note that tickets are transferable but not refundable.
If you are unable to attend but would like to request a signed copy of Greg's new book, Living with the Living Dead, please send an email via the 'contact' button on this page.