Welcoming the Light - Advent Retreat Day
About this Event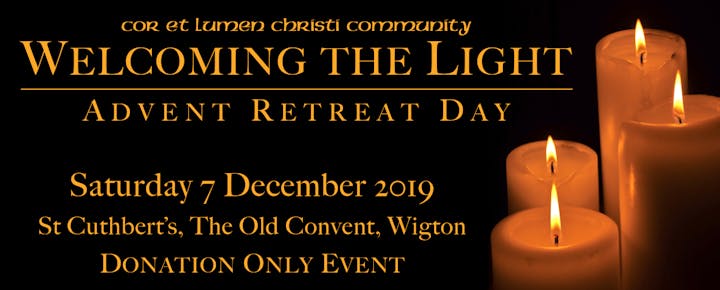 "THE PEOPLE WHO WALKED IN DARKNESS HAVE SEEN A GREAT LIGHT. THOSE WHO DWELT IN A LAND OF DEEP DARKNESS, ON THEM HAS LIGHT SHINED." (ISAIAH 9:2)
There is deep darkness and confusion in our land today, yet the Light of Faith shines as bright as ever. "The light shines in the darkness, and the darkness has not overcome it" (Jn 1:5).
Advent is a season of preparation and watchfulness. Let this Advent be a time of preparation to welcome Jesus, the Light of the world, into our hearts again. Take a break from the commercial Christmas rush, to stop and reflect on what it's really all about. Come and prepare, spend a day away, getting ready to welcome the Light.
This day includes inspirational teaching, as well as space and time for praise, adoration of the Blessed Sacrament, prayer ministry, reflection, and creative work with the Scriptures and themes relating to the Advent season.
This day is led by Niklas and Birgitte Carlsson. Niklas and Birgitte have been married for 25 years and have six beautiful children. They have been members of the Cor et Lumen Christi Community for 20 years.Birgitte is a fully trained catechist in the Catechesis of the Good Shepherd and runs an Atrium in the community house in Wigton. Niklas, who has an MA in Applied Theology, regularly leads healing miracle services and teaching conferences. They are both passionate about communicating the treasures of the Catholic faith.