Description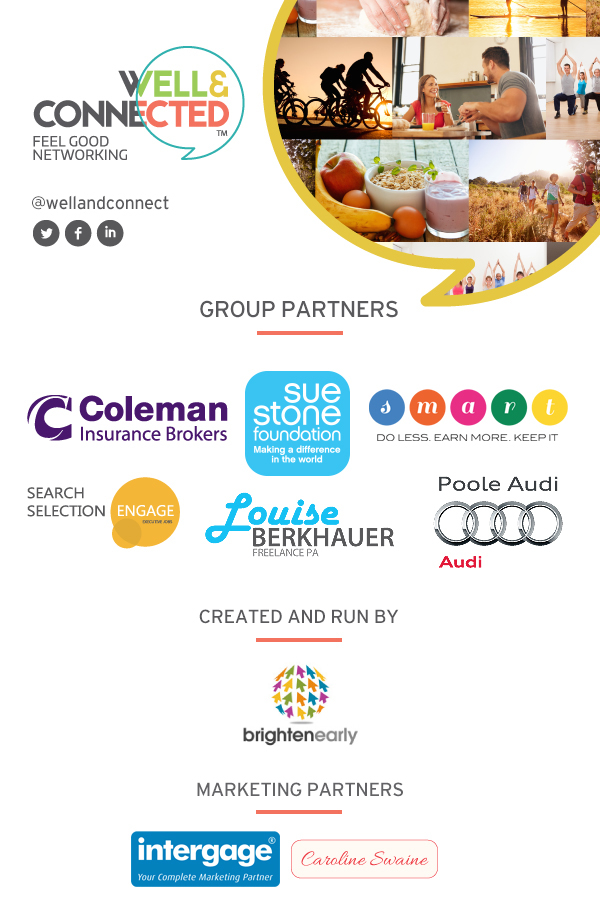 Well & Connected is reinventing and bringing new life to business networking by adding something a little different into the Dorset networking scene.
All events are business orientated, however their purpose is to inspire personal connections, which are unequivocally the foundation and fuel behind all worthwhile business relationships, referrals and opportunities.
Join the flock of business owners who like you are craving networking that truly nurtures your mind, body and business, leaving you energised and set for growth.
If you'd like to find yourself networking with likeminded and dynamic people in an energising atmosphere then we'd all love to see you at this event!
What to expect....

We have a unique and energising format that naturally and comfortably inspires compelling and positive conversations to cultivate real personal connections and business relationships/opportunities. It goes a little like this...
7:30am/8:00am - Arrive>Drink>Chat
Please note doors open no earlier than 7:30am, but once they do you can grab a drink and meet other members.
8:00am/8:20am - Share a Story
A favourite among members and one of the most unique elements of Well & Connected. It's simple, you'll love it (we promise!) and there is nothing to prepare!
8:20am/9:30am - Food>Drink>Chat
Tuck into a nutritious breakfast and introduce yourself and your business to two tables of people.
You'll get 60 seconds to introduce yourself, your business and finish off by sharing the most positive thing to happen in your business or life in the last few weeks or something you're passionate about.

9:30am – Dash off or stick around
The event finishes, but networking continues if you wish...
Food & Drink
We have a selection of nutritious food available, which may include:
Granola or Porridge

Natural Yoghurt

Fruit Salad

Breakfast Rolls


Jam/Honey

Coffee, Selection of Teas and Water

We hope the above caters for most dietary requirements. The venue also plans to have gluten free bread available on the day of the event, so please let us know if you would like this when signing in to the event on arrival.
Transport
There is plenty of FREE parking available on the premises for those that need to drive.
Feel free to walk, run or cycle to the event. The Play Golf Bournemouth centre changing rooms open at 7:30am so you are welcome to shower and/or change here prior to the event opening at 7:30am and kicking off with our Share a Story slot at 8:10am
What to Bring
Just yourself and some business cards. Please note we reserve space for banner stands for our Partners only.