About this Event
We are very excited to be hosting our very first Wellbeing Fayre in Cupar.
This event will be a fundraiser in aid of SAMH. (Scottish Association for Mental Health.)
There will be stalls, workshops & kids activities - something for everyone!
SCHEDULE FOR WORKSHOPS, TASTERS & TALKS NOW CONFIRMED!!!
Be quick to book online via Eventbrite workshops (marked with a *) as spaces are limited. Where tasters & workshops are bookable on the day, please do come early and enjoy the full day with us - there will be plenty to keep you busy...guaranteed!
If you would like to volunteer to help out on the day, please message us 😊
_______________________________________________________________________________________
Absolutely delighted to have Maggie from Fabulous Faces Fife coming along to provide FREE facepainting for the kids (young & old 😊) at our fundraising Wellbeing Fayre on Saturday 19th Oct from 10am - 4pm 🙌🏻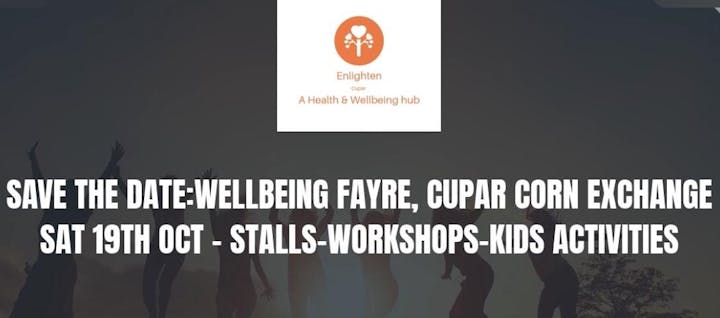 How amazing is this day out going to be!!!
You have to put it in your diary NOW!!
We already have :
🧡 30 + health & wellbeing stallholders confirmed
🧡 6 speakers
🧡 6 workshops
🧡 Holistic therapy tasters
🧡 FREE facepainting & activities for kids
AND THERE'S STILL SOME AWESOME ANNOUNCEMENTS TO COME !!!!!