Wellbeing In The Community 2014 - Ealing (11th October 2014)

Saturday, 11 October 2014 from 12:00 to 17:00 (BST)
Event Details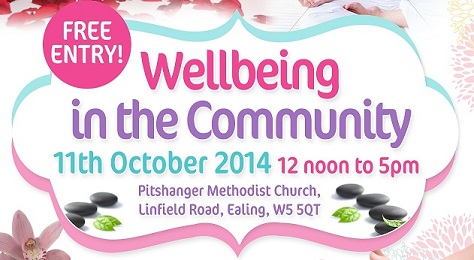 This event is for businesses and individuals (basically anyone) who are interested in health, wellness, natural therapies, fitness, holistic treatment, nutrition and other well-being topics, services and products.
The event is OPEN to public and is FREE to attend. Please come with your family, friends, and colleagues to meet professionals who would be sharing product, services, advice and tips on Wellbeing, Fitness, Nutrition, Stress Management, Health issues, Fertility, Pain Management and many other topics.
Child ren are also welcome and we will have a refreshment (hot and cold drinks) sale on the day. 
Our exhibitors so far:
Collagen Colway: Distributor of high end, pure and natural skin care products and supplements based on native fish collagen. It's unparalleled as an anti-ageing product that activates the skin's natural renewal processes. It has a unique ability to stimulate our own formative cells to immediately boost their collagen production, resulting in an improved skin elasticity and smoothness – younger looking skin.
Eknoor Healing: A small business run by Manjit Kaur, offering Bowen Technique , Reiki, Acupressure, Indian Head Massage, Ear Candling and Facial Massage as well Kundalini Yoga classes.
Bianca Vidal – Forever Living Products: Natural organic aloe vera health and well-being and beauty products. Forever and its affiliates have become the largest grower, manufacturer and distributor of aloe vera and bee products in the world. Avoiding the use of herbicides and pesticides, our patented stabilisation process ensures our aloe vera is essentially identical to the inner leaf gel.
Margaret is accredited Life Coach and NLP Master Practitioner. Her job as a coach is helping individuals' identify their desires, talents and dreams and giving them confidence and skills to achieve their goals and aims, which will lead them to more fulfilled, healthy and balanced life. 
Do you want results fast? Margaret is known for showing people how to get top results fast, increase their confidence and create the lifestyle they want.
More and more people are recognising the value of coaching as they strive to overcome challenges, improve their circumstances, and achieve success and fulfilment in their personal and professional lives.
Offer for the day:  15 minutes taster session - on "How to deal with stress". During this session Margaret will share one of the most effective stress-management techniques to help you deal with difficult situations. You have a chance to win great prize: 1 hour personal coaching session with Margaret
The Womb Wisdom Keepers:  They offer support to women who are suffering from low esteem, abuse, violence, infertility, through Women Circles, emotional support with Family Constellations, energy treatments
Sukhi Bhogal – Nikken:  Nikken natural technologies help you overcome physical stresses, poor nutrition, poor hydration, insufficient exercise, poor sleep, the stresses of artificial light, and chemical pollution in our air and water.
Nikken natural technologies use energised spring-like Pimag water, ionisation, the earth's magnetic field and the sun's far-infrared energies to help your body restore and heal itself and create a healthy home/office environment.
Energise your health and environment by incorporating our sleep system into your bed; by bringing nourishing light, pure clean air, and spring-like Pimag water into your home and workplace which will be more in harmony with your bodies and nature.
EE's Cosmetics: Natural handmade and herbal therapies and their application in health and beauty. Whether they be Face Creams or Serums, Cleaners or Masks, Body Scrubs or Butters - all are manufactured with the specific intent of caring for you in a  gentle & nurturing manner. EE is confident you will find their natural & refreshing Aromas as pleasing as their effects.
Positive Birth ROCKS Forums are the voluntary group we are exhibiting at the Wellbeing in the Community event. They run in association with The Positive Birth Movement - an international initiative set up to reduce fear and stigma around the childbirth period and normalise attitudes towards pregnancy, birth and beyond.
The Positive Birth ROCKS Forums are free informal meet ups for those with an interest or experience in the childbirth period (expectant parents, parents or birth workers) to meet those local to them, share information and experiences without judgement, gain and offer support and encouragement, laugh and learn.
Groups are held fortnightly in and around Ealing.
Pure Natural Fresh:  Offering Pure, organic, vegan body care cosmetics and food supplements. These products are suitable for diabetics, pregnancy, infants and most allergy sufferers. Certified cruelty free - without any animal testing - they are produced sustainably and environmentally friendly. 100% different - Pure, Vegan, Diabetic safe, Natural and most importantly Fresh!
Pure Gym:  They are a 24/7 gym so you can train at a time to suit you. They believe everyone should be able to keep fit and healthy. That's why their goal is to bring you world class fitness equipment at an affordable price. 
When & Where

Pitshanger Methodist Church
Linfield Road
W5 5QT Ealing
United Kingdom


Saturday, 11 October 2014 from 12:00 to 17:00 (BST)
Add to my calendar
Organiser
Supporting local businesses, to help them promote their products/services via events, fair and expos. Contributing to the local economy promoting BuyLocal.                  
Having run a number businesses in the last 15 years and working with various industries we have launched this venture to support local businesses to promote themselves using online strategies and offline events, fairs and exhibitions.
 We are very passionate about keeping business local and helping local business owners raise their profile and exhibit their expertise by showcasing their products and services at our themed events.
We are creating local exhibitions for local businesses in the local communities within London and the surrounding areas.