This webinar aims to provide jobseekers with advice on how to look after their wellbeing and maintain resilience during their job search.
About this Event
Over the past 12 months Covid-19 has significantly disrupted the job market, forcing many organisations to restructure and unfortunately to make redundancies. As a result in some sectors, there is increased competition for the available roles and it is taking many jobseekers longer to secure the right position. Although the job market has begun to improve as businesses adapt to current working conditions and the risk of the virus reduces, this has had a negative impact on jobseekers as they face often longer than normal unemployed. The experience of submitting applications for dozens of jobs, attending interviews and then because of the increased competition facing rejection, all takes its toll on personal wellbeing. Such jobseekers currently face huge levels of stress and anxiety, which can make it difficult to remain persistent and motivated in their job search.

Our webinar 'Wellbeing and resilience: Advice for jobseekers' in partnership with Mind: Lambeth & Southwark and Suzanne Penny, Career Studios aims to provide jobseekers with advice and tips on how to look after their mental health and wellbeing during these difficult times, helping them to remain resilient and maintain their motivation to continue their job search.
We'll be joined by Alastair Smith-Agbaje and Dorothée Bonnigal-Katz from Mind: Lambeth and Southwark, and Suzanne Penny, Learning & Development Consultant and Career Coach, from Career Studios for a panel discussion. Find out more about our guest speakers below.
This event takes place on Thursday the 25th March 2021, 11am – 12noon, and will include the panel discussion, as well as 10-15 minutes for Q&A at the end.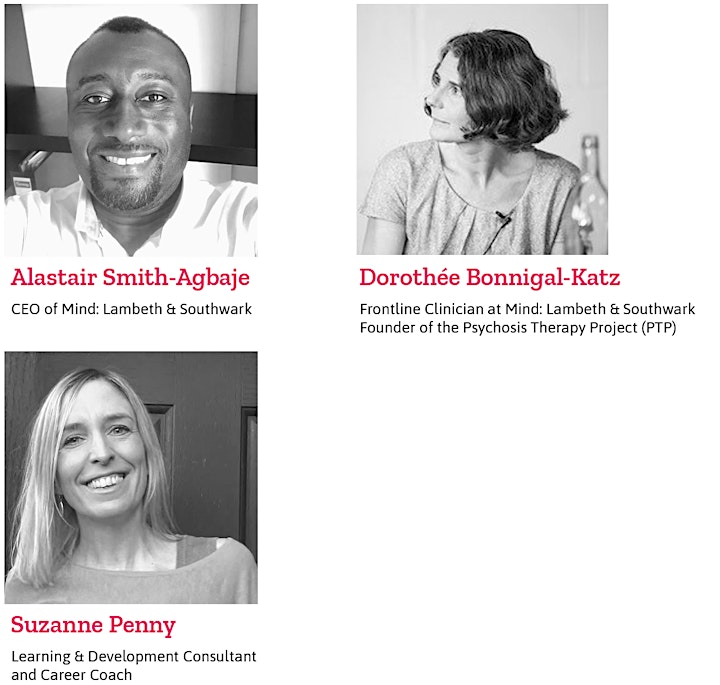 Our Speakers
Alastair Smith-Agbaje, CEO Lambeth & Southwark Mind
Alastair is passionate about the wellbeing and support of vulnerable people within the communities, in particular individuals who struggle with low self-esteem and mental health related issues. Alastair has a background in financial accounting. He has worked for a number of organisations in senior leadership roles, within corporate companies, charities and local authorities based in United Kingdom.
Dorothée Bonnigal-Katz
Dorothée Bonnigal-Katz is a psychoanalyst and a frontline clinician working with severe mental illness in the community. She is the founder and clinical director of the Psychosis Therapy Project (PTP), a Community Interest Company delivering specialist talking and art therapy in deprived areas across London. She is the manager of the psychosis therapy service operating at Lambeth & Southwark Mind.
Suzanne Penny
Suzanne Penny is a Learning & Development Consultant and Career Coach, with extensive experience providing support to individuals and organisations through redundancy. In addition to 1-2-1 coaching, Suzanne combines expert facilitation and group coaching, to bring people together who may be at a career crossroads or job searching. Suzanne is a firm believer that searching for a job doesn't have to be lonely and soul destroying, and offers interactive, small group training and coaching on change and resilience, career clarity and confidence and all aspects of modern job search techniques to navigate the challenging job market. Her background includes over 15 years' experience in the recruitment sector as a Learning and Development Manager and in-house and agency recruiter. In addition, having worked with market leading outplacement organisations, Suzanne offers outplacement and career development training to organisations. Having been through redundancy twice herself and been out of work as a sole breadwinner, she is extremely passionate about using her skills and expertise in supporting others at this difficult time.
Your Host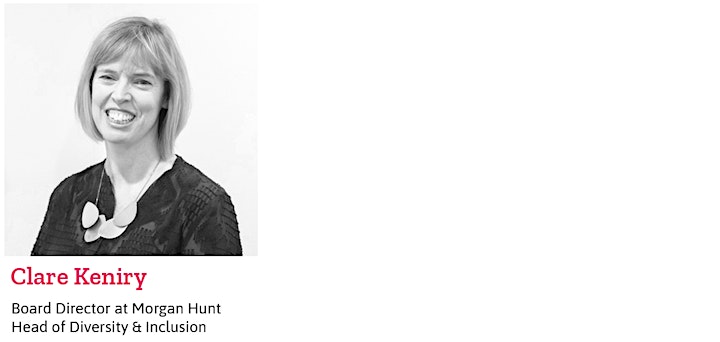 Clare Keniry
Clare is a board Director at Morgan Hunt. She oversees the Morgan Hunt Technology recruitment business and has over 20 years' experience working within the recruitment industry with extensive networks spanning both the private, public and not for profit markets, having worked across the UK and Australia.