Sales Have Ended
Ticket sales have ended
Thank you for your interest in this Wellbeing that Works live workshop. This workshop is all fully booked but there may be spaces available at future events so please do take a look. If you would like to know more about how we can support your business please email info@wellbeingthatworks.uk
Event Information
Refund policy
Contact the organiser to request a refund.
Eventbrite's fee is nonrefundable.
Sales Have Ended
Ticket sales have ended
Thank you for your interest in this Wellbeing that Works live workshop. This workshop is all fully booked but there may be spaces available at future events so please do take a look. If you would like to know more about how we can support your business please email info@wellbeingthatworks.uk
A series of wellbeing workshops for HR, leaders and managers which enable increased wellbeing, for you & your business...for life
About this event
Hi everyone, thanks for your interest in Wellbeing that Works.
If you want to come along and join us for one session initially to find out if we are a good fit for you and your organisation, then we have a first session introductory offer. Enter promo code WELLBEING for 33% off.
We'd love for you to sign up for 6 or12 sessions to demonstrate a long term investment in yourselves and your teams and to embed a positive culture around wellbeing - for more information about joining 6-12 sessions email info@wellbeingthatworks.uk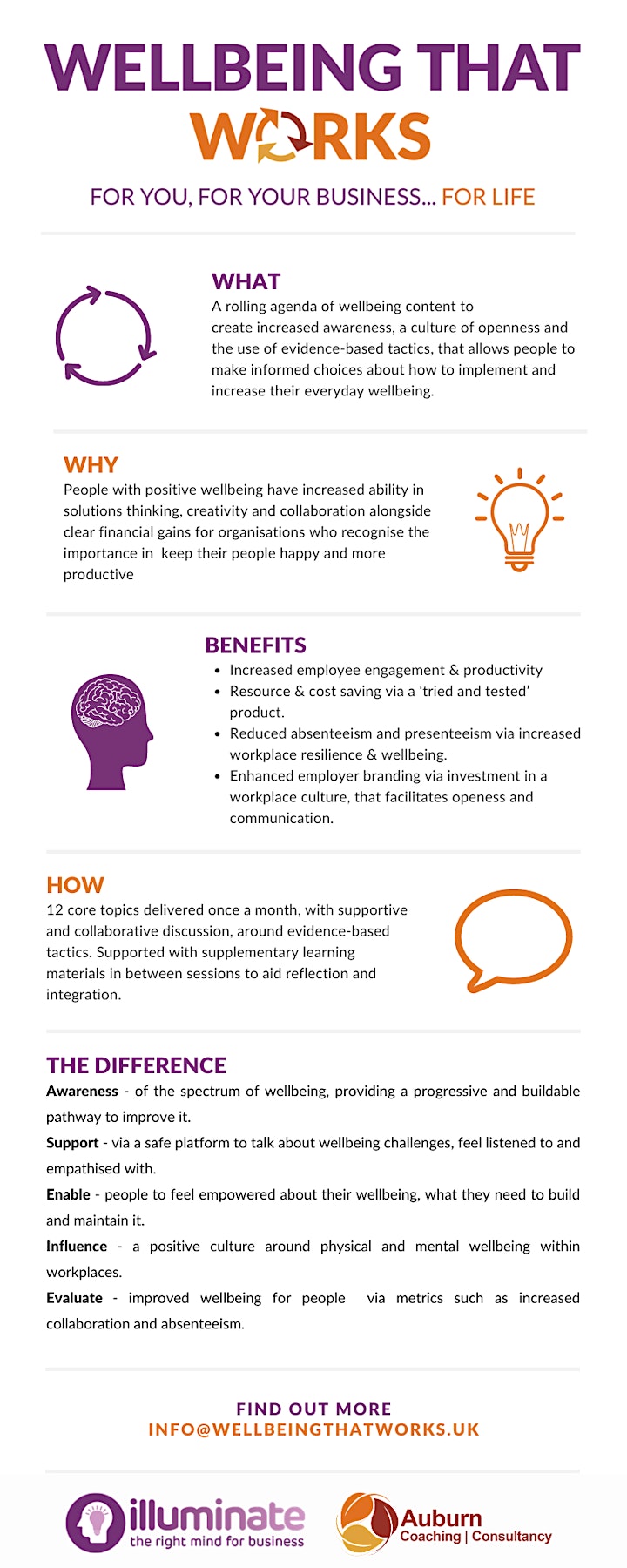 How does it work?
Our experts, Clare & Lisa facilitate a series of 12 live workshops (once a month) in a safe and informal environment. Workshops are highly interactive, with supportive and collaborative discussion, around evidence-based tactics supported with supplementary learning materials in between sessions to aid reflection, integration and bring about positive behaviour change.
There is also the option to incorporate measurement to show progression against investment.
What will be covered on 20th November?
The first workshop in the series explores wellbeing and self-care with the aim of identifying strategies and tools that will enable each of us to bring about positive behavioural changes for ourselves and to take back to the workplace.
We will explore the current landscape and potential impact on wellbeing for ourselves and our staff and consider effective ways of implementing a wellbeing strategy that is inclusive, gains maximum engagement and helps to overcome common challenges faced by organisations.
Future topics in the series will include (in no particular order):
Mental Health
Resilience
Managing Fatigue
Lifestyle Factors
Managing Anxiety
Personality Preferences
Purpose
Self-Compassion
Work-Life Integration
Developing A Growth Mindset
Presence / Mindfulness
Why invest in Wellbeing that Works?
The current landscape brings with it many challenges both at home and at work. We are all learning to navigate our way around constant changes, uncertainty and often our wellbeing takes a hit.
People with positive wellbeing have increased self-awareness for the benefit of themselves and those around them, increased ability in solutions thinking, creativity and collaboration in life and business. In turn there are clear financial gains for organisations who recognise the importance of early intervention and preventative measures to keep their people in the workplace, happy and more productive.
Key Benefits:
Increased employee engagement & productivity in a challenging climate
Resource and cost saving via a 'tried and tested' product
Reduced absenteeism and presenteeism via increased workplace resilience & wellbeing.
Enhanced employer branding via investment in workplace culture
Building a culture of support and openness that facilitates better communication within the organisation
What makes us different?
Expert: Both Lisa and Clare are qualified and knowledgeable in terms of the topics, the professional delivery and the facilitation of sessions. Due to the complimentary skill base, Lisa and Clare are able to cover and offer a wide array of expertise and options for users, rather than a one size fits all solution, to ensure a maximum impact for both users and the organisation.
Evidence Based: Lisa and Clare are passionate about offering a range of tactics that are predominantly evidence based, ensuring that those involved can choose options that feel suitable for them and produce outcomes that are more tangible; alongside the ability to measure adoption and implementation.
Collaborative: The creation of a safe environment encourages open discussion around the challenges in implementing wellbeing in day to day life and business, creating a supportive environment that leads to greater understanding and implementation. Collaborating with other organisations also offers the opportunity to make new connections and provides different perspectives to create further learning.
Consistency: The regularity of the delivered sessions combined with supportive materials helps to create the habit of practising wellbeing, meaning more implementation, benefit and engagement across the sessions.
Tried and Tested: The suite of topics has been developed, delivered and built upon during the past six months to an audience that covers employees from SME's, corporate business owners and relevant professionals such as HR managers. The topics used are complementary and provide a natural progression on a pathway that builds the foundations of positive wellbeing.
Cost Effective: The cost of the sessions makes them accessible and affordable for multiple members of staff, meaning greater implementation and pay off for the organisation. We are also able to extend out applicable topics to the wider business through delivery of bespoke packages created for individual organisational needs.
Date and time
Location
Refund policy
Contact the organiser to request a refund.
Eventbrite's fee is nonrefundable.
Organiser of Wellbeing That Works: Live Workshop
A bit about Illuminate...
Illuminate enable forward-thinking companies to create happy, engaged and productive workplaces that are proactive about mental health and wellbeing, through a range of training, facilitation and consultancy support.
Through understanding the values and culture of your organisation we deliver straightforward, practical and evidence-based solutions in an empathic, engaging and reinforced way.
We do this because we believe that work gives us a sense of purpose and purpose is vital for our mental health and wellbeing .