Description
WELLINGTON VICTORIAN CHRISTMAS MARKET is a brand new event in the town centre.
A free family fun 'one-day' event happening on the same day as the Christmas Lights Switch On in Shropshire's premier market town.
With a 'Victorian Rascals' spirit, this traditional Christmas Market will have a local produce theme with fantastic gifts and well-sourced products on sale to make for an entertaining and high quality seasonal shopping experience.
We anticipate visitors and shoppers in town will number between 5,000 and 10,000 people free entry for vistors and here are the TRADER details and the BOOKING information for STALL-HOLDERS, CATERERS & VENDORS.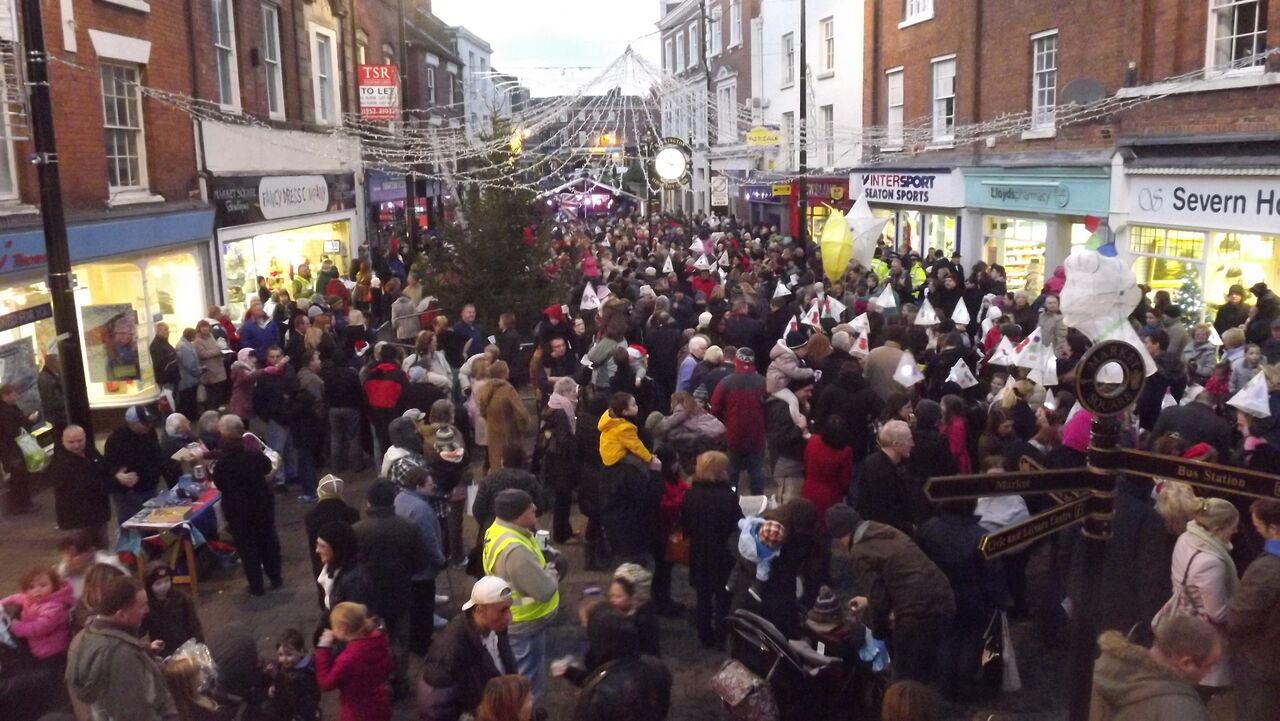 Shoppers will start their Christmas season with us and we will be creating a wonderful spirit for the day.
Christmas Windows in town will be decorated with a CHRISTMAS CAROL theme and there will be roasted chestnuts, mulled wine & cider.  The colours and scents of the festive season will be enhanced by Roasting Turkeys, Slow Cooked Pork, Christmas Trees, Shropshire Christmas Puddings, Shropshire Gins & Beers, Local Chocolates, Festive Fare, Handcrafted Gifts and Artisan Food & Drink. We will be decorating the market with festive effects, pine branches, straw, hay bales, lanterns & Victoriana and there will even be a 'Human Christmas Tree' joining in the fun.
There will be workshops for Christmas Cooking and Children's Circus Masterclasses.
Stalls and Food stands will bring you down into the town centre via Duke Street, into the Market Approach onto the Market Square around the Christmas Tree and through into the main Market Hall where all the Christmas Stalls will be decorated and full of fabulous products
Street Entertainment throughout the day will include a Victorian Human Statue for those photo-opps, a Penny Farthing bike in the Square, fabulous circus stilt walker, an up close magician & Christmas themed circus acts. The new Christmas Lights for the town are being designed and constructed by a local expert company, they will be switched on at 5pm and will be spectacular.  The local electrical contractors are working with us to ensure that this is one amazing day, they are helping us light our stalls, supply us with magical mini Christmas Trees and are even dressing up themselves and helping decorate our Christmas Market stands.
This is where our Electrical Elves live: https://cmk-electrical.co.uk
We will be setting up dedicated Street Food Zones and ALL Traders will be expected to dress for the theme! Ideas for costumes and stall decor will be provided on your booking confirmation....
Trade Stands available:

GENERAL TRADE STANDS £50.00 Approximately 6ft frontage and 5ft depth with customised banners to your business and lighting supplied
CATERING PITCHES £100.00 for catering spaces, stand alone street food vans and units

ADVERTISING & PROMOTION
-          Direct mail to businesses and homes in Wellington
-          Flyer to schools
-          Flyers to shops, bars and offices in the town centre
-          PR with press releases 4 weeks ahead of the event
-          The event will be featured on the website www.christmasmarkets.com 
           http://www.christmasmarkets.com/UK/wellington-christmas-market.html
-          Promoted on our own www.wellingtontowncentre.com as well as the Council's own website and FB page
Your own goods/services will also be included in the ADVERTISING and your business will be listed in the WELLINGTON CHRISTMAS CARD handed out to shoppers 'on the day'
It promises to be a great day for business, a festive day for local people and a happy start to the festive season for the town.....