WELLNESS DAY RETREATby the River Lea YOGA + SOUND BATH + SELF-DEVELOPMENT WORKSHOP + WALK IN NATURE and along RIVER + DELICIOUS VEGETAB
About this event
WELLNESS DAY RETREATby the River Lea
YOGA  +  SOUND BATH  +  SELF-DEVELOPMENT WORKSHOP 
+ WALK IN NATURE and along RIVER + DELICIOUS VEGETABLE SOUP 
With "FAYRE the Retreat" & "Yogi Master Pallavi" from India
"Join us for a rejuvenating day of Yoga & Sound healing to release tension in the body & mind, Walking in nature to reconnect us to mother earth, and Self-Development to provide insight & tools to manage life more effectively"
A Day of Peacefulness & Self-Connection in Natural settings of radiant beauty.
Located in Zone 2 Between London N16 & London E5 you won't find another location as naturally tranquil as this one and yet so central.
What's a Holistic Wellness Day Retreat like?
Our retreat space, rich in natural light, is located a few yards away from River Lea, just between beautiful Springfield park & Markfield Park on its side, and Hackney Marshes & Walthamstow Marshes on the opposite side, allowing for the most peaceful walks. 
The Sound Bath.
The Gong Sound Bath will be a session featuring four instruments. On a fundamental level, music is just organised sound.
Sound therapy, however, deconstructs music into pure sound, harnessing the knowledge that sound can have a powerful effect on our emotions.
We believe that we are all made up of different energy frequencies.
Sound frequencies are then used to interact with these, thus attempting to rebalance the body's energy. The sound practitioner feels the body movements of participants, and uses a combination of relaxing as well as stimulating sounds to try to rebalance the body.
Gongs, chimes, singing bowls, and more may be used in different types of sound baths. According to one of our regular clients: "Clients are wrapped up in these sounds like a cocoon, and allowed to go on a journey."
Yoga.
The Yoga section of the day is indeed geared towards the level of all participants & generally combining elements of Yin, Slow Vinjasa, Hatha & Restorative Yoga.
It could not be otherwise as we run one-off events, not courses, therefore the majority of participants tend to be new clients, and their yoga level varies immensely depending on the events.
We always considered this to be an advantage, as our yoga sessions are about being in tune with the atmosphere of the day retreat and with the yoga approach of calm presence. 
Indeed we like Yoga practice to work for beginners as well as for regular practitioners at our day retreats, and our understanding of Yoga is certainly more about one's state of mind than about abilities to perform postures. We do strive for Yoga practice to help one release layers of the ego to find a more authentic place internally, while cultivating strength in the body to calm the mind. Yoga helps you connecting to your body & breath and so, to this moment. Yoga holds you in all of your complex & colourful emotions & can connect us back to a more primary way of being, which allows for a deep reorganisation. 
It allows us to let go & to see ourselves & our lives with clarity, finding that old habits & conditioning begin to subside & die out. Through work with the breath, the movement of the body & letting go of incessant thoughts, one can find healing & inner strength.
The Wellness & Life Goals WORKSHOP.
The workshop will be centred around exploring life goals and providing tools to deal with the stresses of our modern lifestyle. Don't worry - it won't feel like group therapy. The workshop is mostly facilitator led; the sharing part is totally voluntary and certainly not expected.
The workshop will enable each participant to identify some specific life areas that they particularly care about, and the actual role that those are currently playing and representing in our daily routine. That in order to empower one to use the retreat experience as a framework to then attune oneself to daily actions & thoughts that feel meaningful and fulfilling.
So, the day retreat will indeed be an opportunity to switch off from one's own routine and connect with oneself; acknowledging whatever is going on & letting go of it.
The Silent Walk.
Silence is a powerful companion when you are going through a strong and stimulating - perhaps unexpected - experience like an encounter group. We will therefore take some time between sessions to walk along the river in silence - meditating, processing and giving the inner world space to flow freely, without external input.
Lunch 
A delicious & healthily nutritious homemade Soup (always a Vegetable one) will be included in the fee paid. 
Sweet Potato Soup Ingredients: sweet potatoes, peppers, tomatoes, red curry paste, coconut milk, olive oil, garlic, coriander, peanut butter.
On occasions we offer a different soup than the above; the soup on offer on the day would be to our discretion eg a delicious spinach soup, etc. You can phone us on 07765164873 one or two days before the event if you would like to know.
Location.
Located in Zone 2 Between London N16 & London E5 our group spacerich in natural light, is blessed to be located in a river area naturally tranquil and yet central.
Our Holistic Wellness Day Retreats.... combine workshops & classes delivered by very experienced and fully qualified sound therapists, counsellors and yoga teachers in order to provide a contained, safe & healing environment.
Such safe psycho-physical climate is instrumental to enhance participants' awareness of their holistic selves in an environment that's immersed in nature and the 5 Elements i.e.:
The Water of the River, the Fire/warmth of the Yoga & Facilitators' Empathy, the fresh Air of the marshes,
the Wood of the Trees & Earth felt through the Grounding exercises and therapeutic workshop's Safe Climate.
Organiser of Wellness Day Retreat | YOGA + SOUND + SELF GROWTH + RIVER WALK |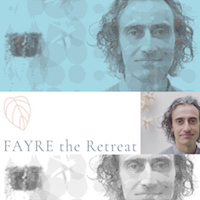 Francesco AKA FAYRE the Retreat is a widely experienced Person-Centred counsellor, establishing over ten years of expertise in Group Therapy, individual empowerment, community & personal development, issues of social inclusion & diversity, addiction, loss, helping communities to thrive, spirituality, impact of media & technology on ability to develop & flourish, family & couple therapy, systemic family constellations, and the work of Rudolf Steiner.
With formal training in Carl Rogers's Person-Centred Therapy, he affirms that respect, trust, openness & honesty are the essential elements that shape his humanistic approach. A philosopher and a traveller his work and inspiration globally span over Italian, British, Indian and Japanese cultures.
In India he studied and explored the deep rooted societal, spiritual and experiential wisdom illustrated by authors such as Devdutt Pattanaik and Indian Classical texts like the Yoga Sutra.
Drawing parallels between Carl Roger's views and that of the Ancient Indian thought and way to knowledge & fulfillment, has had an organic influence on his approach to his work.